Traveling To Portland, Oregon? Here Are 6 Ways To Get Food And Drink Right.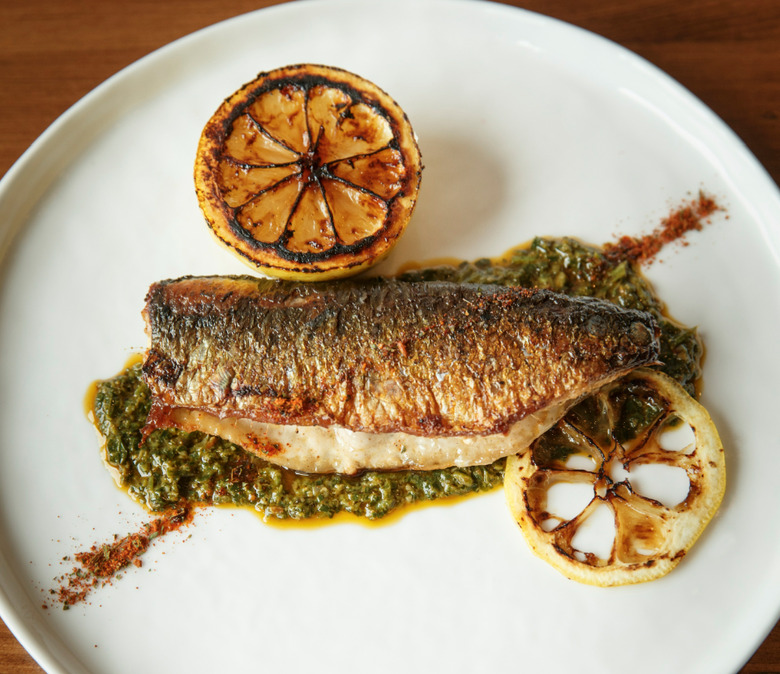 Jenn Louis of Lincoln works magic with b
You already know this, but it's worth repeating every year or so. There's no shortage of great eating in Portland, Oregon. But there are restaurants leading the pack, whether it's with category-defying cuisine or quirky takes on Asian street food. Here, we share what restaurants should be topping your list right now.
Levant
Owner and chef Scott Snyder, who's well-versed in classic French techniques, puts his signature spin on Middle Eastern, North African, Sephardic and Mizrahim cuisines for original and provocative food. You've never tasted flavor combinations like this before. The falafel, for example, swaps out chickpeas with fava beans for an alluring pale green color and delicate, creamy filling. Plated with tahini, Israeli pickles and zhoug — a spicy green chili-based paste — it's difficult to imagine a more creative or sophisticated version. In Snyder's beef crudo, ruby-red petals of freshly sliced beef mingle with a fruity pepper relish, briny olives and bits of charred feta. Each forkful delivers layers of richness that slowly melt together. If you only can visit one Portland restaurant right this very moment, this is it. 2448 E Burnside Street, 503-954-2322, levantpdx.com
Xico
It's corn, more specifically, masa, that's the cornerstone of the menu at this modern, airy Mexican eatery by chef Kelly Myers (formerly at Nostrana). Every day, the masa is ground in-house before it finds its way into countless delicious items, including warm tortillas and freshly fried chips, which arrive with a tray of unusual, flavor-packed salsas. One salsa is the Sikil P'ak, a creamy, slightly chunky dip made of toasted pumpkin seeds. It's nutty, slightly sweet profile provides a pleasant change of pace from the typical spicy and tangy characteristics of most salsa. The much-touted house pozole, like the tortillas and chips, also gets a delicate update. Instead of pork, Xico's version is made with seafood and orange, which lends the hominy-studded broth a bright, clean flavor. And don't pass on the smoky mescals, which are available by glass and by flight. 3715 SE Division Street, 503-548-6343, xicopdx.com
Barwares
Tucked behind its sister restaurant Smallwares, Barwares sports a garage-like look and casual vibe, making it one of the city's best bets for late-night sipping and grazing. The plates here — all of which are meant to be shared — are guided by Asian ingredients and an eclectic point of view, which makes sense considering chef Johanna Ware's background (she's worked at Momofuku Ssam and Noodle Bars in New York City). Kombu-cured rolls of fresh salmon sit on top of tangy yogurt and are topped with bits of sweet beets and umeboshi dressing. And if you think you've tried kale in every shape and form, think again. Barwares' version features tempura-fried leaves doused in fish sauce and sprinkled with mint and candied bacon for an aggressive but balanced flavor profile. Ware's refined take on a Szechuan classic, mapo dofu, swaps out tofu with chawanmushi, a silky Japanese egg custard, which cradles a fiery ground pork mixture. Pair a few of Ware's bold plates with some sake; they're smartly organized here by flavor profile: fruit, earth and flower. 4605 NE Fremont Street, 971-229-0995, smallwarespdx.com/barwares
Lincoln
True, Lincoln isn't the newest game in town. But since opening its doors in 2008, this friendly spot has quietly grown in confidence and polish. And it's not only locals who've taken notice. In fact, last year chef Jenn Louis was awarded a Food & Wine Best New Chef for perfecting produce-forward, honest and uncomplicated cooking. And that's why Lincoln remains an essential Portland restaurant, even more so now than at opening. A sublime example of Louis's less-is-more mindset is her beloved baked eggs. Two fresh eggs are cracked into a dish and finished in the oven with cream, Castleventrano olives and breadcrumbs. What emerges is something impossibly indulgent and rich — a sum far more enjoyable than its individual parts. Do yourself a favor and order a handmade pasta, too. Ranging in texture from light and lofty to dense and toothsome, Louis's versions are matched with thoughtful ingredients – water buffalo tongue, turkey egg – that enhance rather than compete with the starch. Louis has grown into such an expert at turning out one style in particular, gnocchi, that she's penning a cookbook (due in the fall of 2014). 3808 N Williams Ave, 503-288-6200, lincolnpdx.com
Tasty N' Alder
Why should decadent morning meals be limited to the weekends? That's the question Tasty N' Alder, the third restaurant by chef John Gorham, tackles with its wildly creative and diverse breakfast offerings. And it's a bountiful bowl here that's got locals talking. It's filled with sticky rice, house-made kimchi and pickled cucumbers, gochujang-glazed crispy chicken, and topped with — in true Portland fashion — a fried egg. Equally hearty and filling is the playfully named Duck...Duck....Steak! Slabs of juicy, medium-rare Piedmontese skirt steak arrive with a golden duck egg, sunny-side up, and potato wedges fried in — what else? — duck fat. Should you be lucky enough to have the rest of the day off, dive into some of the house "Marys" or "Bubbles." The Dockside replaces vodka with gin, and gets punched up with kummel (caraway liquor), Old Bay Seasoning and boiled shrimp. The Kentucky Peach steers the classic brunch bellini south with a splash of bourbon and Combier Peche, a French peach liquor. 580 SW 12th Avenue, 503-621-9251, tastyntasty.com
Sen Yai
Noodles take top billing at Andy Ricker's newest addition to his mini empire, a laid-back shack inspired by the versatile, humble dishes (kuaitiaw) that are slurped from early morning to late night in Thailand. With punchy hues (aqua and primary red and blue), posters splashing the walls, and outdoor picnic benches, the restaurant is colorful and comfortable, bearing the hallmarks of Ricker's other cult eateries. While the house Phat Thai is a familiar safe bet, we say dive into lesser-known specialities like the Kuaitiaw Reua (Boat Noodles). Deeply dark, herbal-infused broth gets hit with three types of beef (stewed, poached and meatballs), your choice of noodles, and a fistful of fresh water spinach, bean sprouts and herbs. Mama Phat, a staple of Thai college students, swirls instant ramen noodles with eggs and assorted vegetables for a satisfying snack. There's terrific vegetarian eats, too. Featuring locally made wide rice noodles stir-fried with eggs, Chinese broccoli and black soy sauce, the Phat Sii Ew gets a smoky bite from the scorching wok it's fired in. 3384 SE Division Street, 503-236-3573, pokpoksenyai.com
---
More Portland stories on Food Republic: