How To Stock Your Pantry Before Making Charcuterie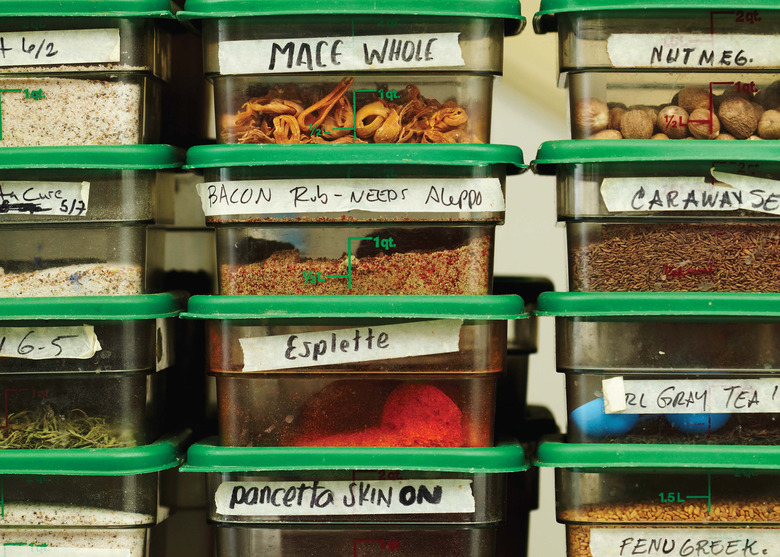 We may receive a commission on purchases made from links.
Taylor Boetticher and Toponia Miller, the husband and wife team behind San Francisco's The Fatted Calf, have just released the book In The Charcuterie, an extremely thorough guide to making sausage, salumi, pâtés and other meat treats for the home cook. Now, making charcuterie at home isn't some hobby you pick up over a weekend; it takes a lot of thought and effort. Which is why we recently phoned Miller to discuss the first steps needed to stock your pantry before making charcuterie.
Before going into what Miller has to say, it's worth noting that In The Charcuterie's opening chapter, "The Charcutier's Pantry," is a great place to start. The section details the various salts you'll need and how to use them for preservation and curing. It lists the spices required for charcuterie — the essential spices list features 32 of 'em, from Allspice berries to Fenugreek to Turmeric. Herbs, fruits and mushrooms are all in the mix as well. Boetticher and Miller know the trade well: At The Fatted Calf locations in Napa and San Francisco, the team serves as charcuterie, restaurant, butcher shop and school — the classes they offer actually inspired the book, as Miller tells us.
What was the ultimate inspiration to turn what you do at the Fatted Calf into a book?
We've been teaching classes here for the last three years. It's inspiring for us to teach. It's exciting when people are exiting about what you're doing. There was a lot of enthusiasm from the classes — people wanting to do this at home. We teach probably nine different classes, and a lot of the information that's in the book is inspired by questions we had from the class, or things we were doing in the class — like a lot of the recipes that [ended up] in the book. That inspired us to take the next step and write the book.
What would be the first step to take if somebody wants to make charcuterie at home?
Other than maybe taking a class and buying the book, the first step is to take a look at their spice collection, make sure they have a good assortment of whole fresh spices that they should purchase from good spice store supplier, to buy spices in bulk instead of little packages in the store. When you're dry curing, you'll be using curing salt, so you should have both curing salts on hand, #1 and #2. When you make salami, you have to use dry herbs rather than fresh herbs. We always dry our own herbs, so we have a small assortment of freshly dried herbs, such as rosemary, lavender, thyme, oregano. That's something can be easily done even at home: you can just buy a bunch of herbs and leave it to dry. We offer in the book some of the recipes like brandied fruit, which is nice for garnishing terrine. And we do use a lot of dry mushrooms for making pâté. These are things you should have in addition to fresh meats.
You talk about salts a lot in the first chapter. Can you talk about the importantce of the role that salts play?
Mainly, they're for seasoning, preserving and drying. You're using them first to season, second to preserve. In general, we use a very fine salt, when we make salami or pâté, because it's more readily absorbed into the meat. Coarse salts we usually leave for finishing.
What kind of space do you need in your home to make charcuterie?
We make a lot of stuff just in the kitchen. Even here at the Fatted Calf, we do a lot of air-dried stuff at room temperature in our kitchen. We have like drapes over it essentially. For a lot of the small items, like skinny salamis or the herb salami that's in the book, you don't need a special type of environment. You just need a clean area with airflow and some kind of idea of what the temperature is in the space is good, like having a thermometer will help you determine is this a good spot or not, because different types of salami take different temperatures. Basically, the larger the item, the more you need to keep it cool and regulated. Something small that's going to cure quickly, you don't need to be that careful, because you're really drying rather than giving it a full curing process. Something skinny like a salami in a lamb casing will dry in just two weeks — you'll be ready to eat it. But if you're making a large beef bung, that's going to take you six months. In that case, you'll have to be more careful. We've done it in our garage and in our house, but in general, the more it's regulated, the more evenly it is going to cure, and you'll have better results.
What would be your suggestions people who are looking for a cool weekend project?
It depends on what project they would want to tackle. For example, if you want to do home butchery, something simple like making your own guanciale, you don't need much. But people who want to do home butchery, I would definitely suggest that they take a class [first].
What are some of the basic tools or knives you'll need to get started?
You would already have most of the knives: a paring knife, a boning knife, a chef's knife. You want to have a big clear work area, especially if you're making sausages. Also, I would suggest, if you're going to be doing this on a semi-regular basis, you should purchase a real meat grinder, an electric one. I find people getting frustrated about equipment. A stand-alone grinder only cost $150. A little sausage stuffer that holds 5 pounds would be perfect. The only special equipment is the sausage knife, and it only cost 5 bucks. It's a good investment. It's got tines on one end for pricking the sausage and a blade on the other for cutting.