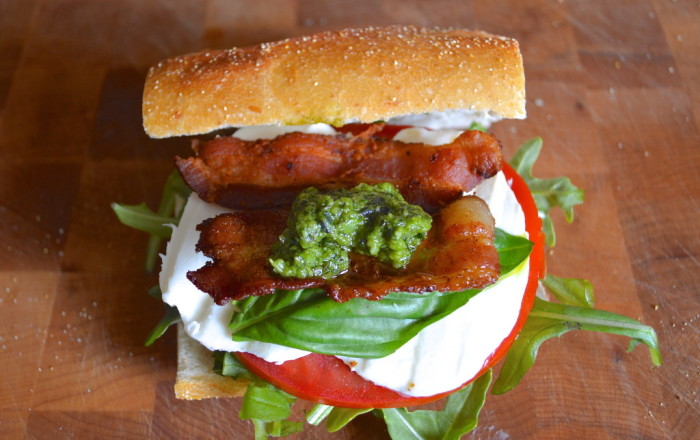 It's apparently time for me to weigh in on this 300 Sandwiches thing, like the time peer pressure made me go on a Gluten-Free Singles date. For those of you who don't get bitch-slapped by viral nonsense all the live-long day, 300 Sandwiches is a blog penned by a perfectly nice young lady who's being extorted to create and deliver sandwich after sandwich to her boyfriend in exchange for a diamond ring. Did I get that right? No?
I would make a dude 300 sandwiches to not propose, ever, and just continue watching Star Wars while I gchat-complain about it to my girlfriends (which is what's probably actually happening here). Want me to stick around, future husband? Don't get a ring, I'll just lose it while shaping meatloaf. Instead, simply install a massive Viking range with a 24-inch-deep wall hood and a white brick backsplash and rest assured I'll thoughtfully curate you better things than wack-ass "Lazy Elvis" sandwiches for the remainder of your days. And not make you sit through my dumb intros read aloud in a Kristen Bell voice.
That all said, these look like solid tokens of oddly delicious if not totally misguided affection/cries for help. Note: I am explicitly not contributing to the "international discourse about gender and love." That's not what your backlash is called, 'o devout ringless she-crafter of Sir's-between-Star-Wars-nom-noms. I'm saying "these sandwiches sound like they don't suck at all, objectively speaking. Right on."
Wouldn't it be funny if her boyfriend was "kind of kidding" when he suggested the 300 sandwiches thing and called it off with a "Babe, This Was All A Classic Misunderstanding Sandwich," containing a turd and some marshmallow fluff? Let's make a deal: stop doing this publicly and I'll copyedit your sad-wich memoir for freesies.
Blogs we love on Food Republic: