Drink This Beer: Stone Farking Wheaton W00tstout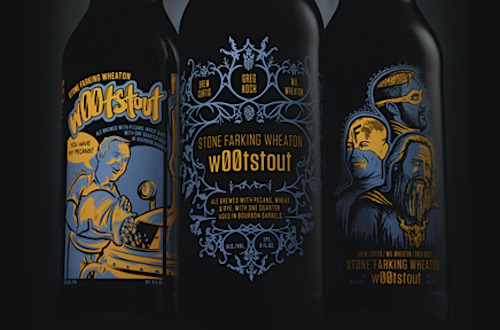 The '80s: they determined teen archetypes, like the jock, the princess and the weirdo. Only the nerds, however, got revenge, coming back in the 21st century to determine not only how we compute, but how we interact socially. Ironic, isn't it? They also brew bitchin' beer.
Case in point: Wil Wheaton, geek icon and one of three entities behind "Stone Farking Wheaton W00tstout," a 22-ounce bomber of awesomeness available in stores that may or may not be near you. That's why we published a guide to beer trading. When I first heard that Wheaton was teaming up with Stone Brewing Company and Drew Curtis of snarky news aggregator Fark.com, my geeky, beer-loving journalist heart grew three sizes too large (and my liver followed suit).
Geeks know Wheaton. The wider world will recognize him from recent appearances as a darker version of himself on The Big Bang Theory and the less-popular (but far better) SyFy show Eureka. He first introduced himself to my world in his iconic role as Wesley Crusher on Gene Roddenberry's classic Star Trek: The Next Generation. For the uninitiated, that's post–Captain Kirk, before Captain Janeway and has blessedly little to do with Star Trek: Deep Space 9, which will never be spoken of here again. Back to the beer, before I get mad.
Unlike other child stars who tend to hit the deep end of crazy, Wheaton used his fame for good. With the help of geek goddess Felicia Day, Wheaton created TableTop, a weekly video blog that helps reintroduce the world to awesome board games. He's also an author, speaker, actor and general inspiration to the geeky masses.
When I learned the brew Wheaton helped develop was a mix of pecans and wheat/rye grains, one-quarter of which had been aged in bourbon barrels before being reintroduced to the mix, I knew that like Gollum after a ring of power, it must be mine, all mine. W00tstout takes all of those sweet, quirky elements and mixes them with Stone Brewing's proclivity to pump up the flavors on a logarithmic scale, then slap you in the face with it. The end product has the alcohol content of wine (13 percent by volume) with a sweetness underpinned by a tangy backbone of rye that lends savory notes to its otherwise dessert-like character.
Nothing's more fun than running an experiment on the unwary, so I uncapped a bottle at a friend's birthday celebration in a cabin in the Shasta-Trinity National Forest so remote that it comes with instructions on what to do if you encounter an illegal marijuana grow (none of them encourage smoking it). As tasters tossed out terms like "chocolate" and "coffee," one participant mentioned off-hand that in his home country of New Zealand, this beer would "put a shine on your turd." Somehow, that didn't seem derogatory.
But that's the beauty of this beer. It's nothing if not complex drunk today, just months after its bottling, and with those ingredients and that alcohol content, it seems primed to stand the test of time. If it's anything like Star Trek: The Next Generation, it will only get better with age.
Check out these beer stories on Food Republic: