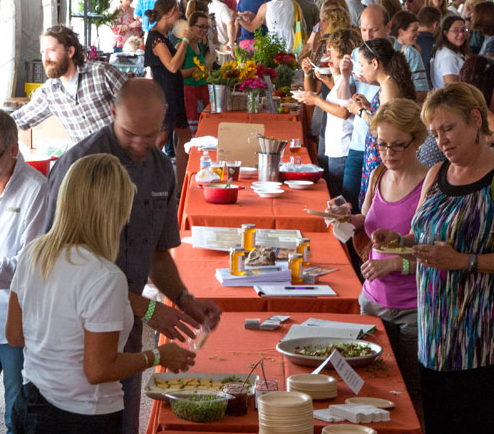 Emmy award-winning – and Food Republic favorite – weekly Chicago restaurant television show Check Please! has curated a stellar lineup for their second annual Farm To Table Festival, which features 20 chefs partying on a working farm in Southwest Michigan.
The event takes place on Sunday, September 1 at the Round Barn Winery in Baroda – driving distance from Chicago, Indianapolis and Detroit – and will pair chefs with family-owned Michigan farmers and local beverage and boutique food artisans. There will be outdoor cooking demonstrations, gourmet tasting samples and meet-and-greets with acclaimed chefs.
In conjunction, over 20 wineries and breweries will setup pouring samples. The tented celebrations will last from 12:30 p.m. to 4 p.m. For more information and to purchase tickets, which are $95.40 (half price for children), visit the festival's website.
Some of the restaurants participating include:
Pleasant House Bakery
Hopleaf
Soe Cafe
Reds on the River
Café des Architectes
The Peasantry
David's Delicatessen & Coffee
La Sirena Clandestina
Small Bar Division
Owen & Engine
Three Aces
MK
The Ideal Place
Local
Nana
Food Dance
Bistro on the Boulevard
Browntrout
Read these Chicago stories on Food Republic: