Until It Cools Down A Little, Eggplant Will Be Considered The New Meat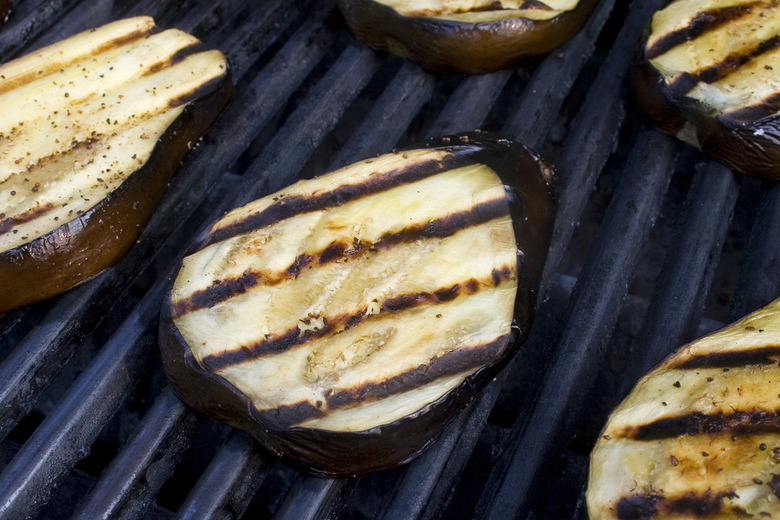 Sometimes I imagine what my stomach's up to. I'm finished worrying about my liver, especially after the weekend I only just wrapped up. In the winter, when I'm devouring short ribs and bacon-wrapped anything and cheese-stuffed everything, I imagine my stomach converting all that richness into whatever it takes to keep me warm. In the summer, just now over the weekend, I imagined my stomach battling off chunks of steak with a sword. It was too hot out to digest meat; my innards just wouldn't do it. Craving something heartier than tofu, I turned to eggplant.
Last fall, we published 68 two-sentence Sicilian eggplant recipes. I've referred back to it at least a dozen times for eggplant ideas. Here are a few highlights I've turned to when the thought of grilled tofu as a vegetarian option made me sad.
Toss pasta with fried baby eggplants, olive oil, fresh tomato and spicy peppers.

Focaccia: top with oven-dried tomatoes, eggplant pulp, goat cheese and thyme.

Eggplants "a schibecci," like a ceviche with mint, vinegar, sweet tomato sauce and caciocavallo cheese.

Toss pasta with tomato sauce, topped with fried eggplant pulp and smoked ricotta.

Eggplant "caviar" — roasted eggplant pulp with garlic, blended with lemon, salt and pepper, plus ricotta and parsley.
Those are all good hot weather dishes. I recommend that you peruse and find the lunch that speaks to you. The second it gets chilly I'm going to add a ton of browned sausage to any/all of those recipes and more than likely top it with mozzarella and broil it nice and good. But I'm also the person who says/yells, while walking to the subway in a blizzard, "It's almost summer."
Regardless, the eggplants at the farmers market right now are beautiful, plump, shiny and produce a nice hollow thud when spanked. Hey, I don't judge your tomato-squeezing technique you're so proud of; don't belittle my eggplant spanks.
More Meatless Monday for lunch on Food Republic: