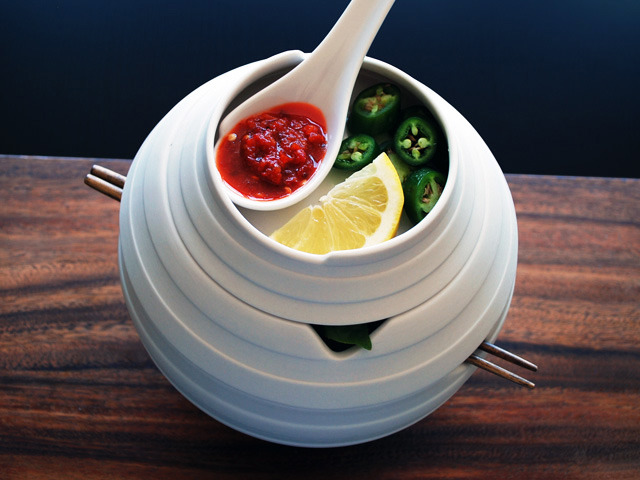 Necessity is the mother of invention, and a relentless craving for pho is as dire a need as any. Plagued by cravings for the Vietnamese soup dish, New York Designer Omid Sadri created a piece of tableware to keep all your fixings in one place. He's pitching his design — called "Lantern' — on Kickstarter. It's a functional and artistic magnum opus. Pho' real.
Sadri first conceived the project while he was studying at the Pratt Institute in Brooklyn, and he has spent the past two years perfecting the design. The vessel is comprised of four components for storing and assembling the broth and its garnishes: a large bowl, a medium-sized middle dish, a small top dish and a spoon. The pieces fit together to form a sleek, ribbed sphere — an aesthetic inspired by Vietnamese paper lanterns. When fully assembled, the Lantern measures 6 1/2 inches tall and 7 inches wide and holds 24 ounces of liquid. Made of high-quality porcelain, the Lantern is both microwave and dishwasher safe. According to Sadri, the layered structure both facilitates transportation and makes for an interactive eating experience.
The scheduled delivery date for the Lantern is July 2013, and he will begin shipping samples in August for the product's first production run. And now that this guy has put all the pieces together for you, you can brush up on how to how to eat that pho like a pro.
Here's more information. Kickstart this!
More Kickstart projects on Food Republic: