Paul Liebrandt's play with foie gras is a teaser in more ways than one. For starters, it's on the menu at The Elm, his much-anticipated opening in the King & Grove Williamsburg in Brooklyn. Secondly, just look at it! While The Elm is expected to be a more casual eatery compared to Corton, Liebrandt's boundary-pushing fine dining mecca in Tribeca, this avant-garde masterpiece of foie goodness might be as casual as it gets for the exacting British-born chef.
Here, Liebrandt pairs key flavor components from two parts of Asia — shiso blossoms and Thai long peppercorns — with plum, pistachio and a salad of burnet, which adds its own aroma of melons. Served with a peppercorn brioche, it's hardly humble. But for the chef, it simply makes sense: "I like foie just as much as anyone else — it's not a particular favorite of mine. However these flavors work so nicely together and make for a unique contrast." Read on for his breakdown.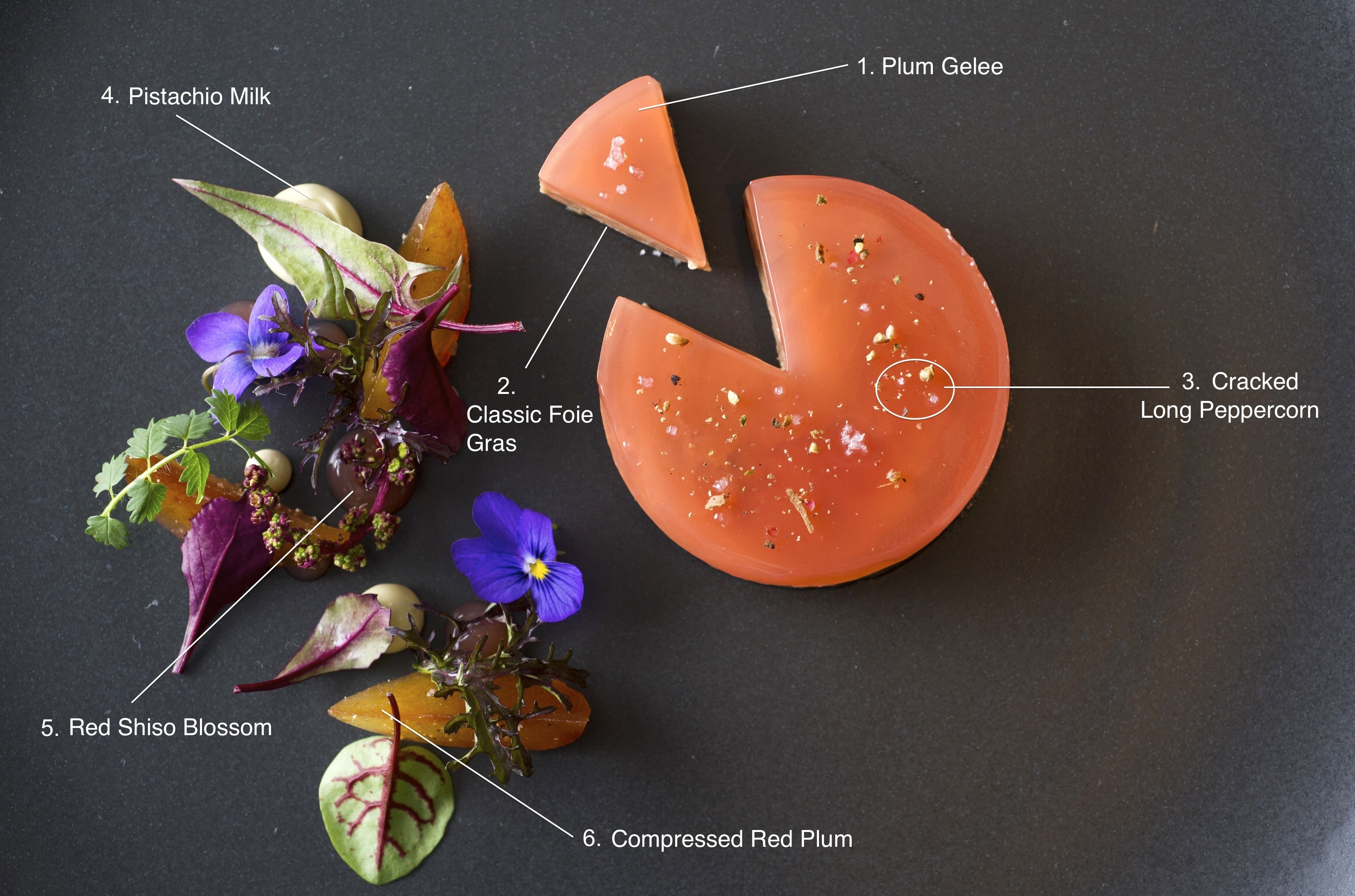 1. Plum Geleé | A consumé of red plum and Szechuan peppercorn. "I cook the plums with a touch of white wine and the peppercorns, and let it sit overnight to mature and develop flavor. I then press the clear juice out, and gently mold and place atop the foie gras."
2. Foie Gras | "The foie gras is cured for 24 hours, then I mold it into a terrine and steam gently before topping with the plum geleé."
3. Cracked Long Peppercorn | A Thai variety and hotter than traditional black pepper, but also a little bit sweeter, the gently cracked peppercorns add a nuanced flavor to the foie gras and geleé.
4. Pistachio Milk | "I blend pistachio and water together and allow the mixture to sit overnight. Once the flavors have matured, I extract the excess water to achieve a thicker, buttery consistency."
5. Red Shiso Blossom | Picked from the tops of shiso plants. "Shiso lends a very minty component with a touch of anise, a profile that goes beautifully with the plum and Szechuan pepper."
6. Compressed Red Plum | "The plum is compressed in the cooking liquid from the plum and Szechuan peppercorn consommé, allowing it to absorb a full[er] flavor."
The Elm, 160 North 12th Street, Brooklyn, NY, 718-218-1088, theelmnyc.com