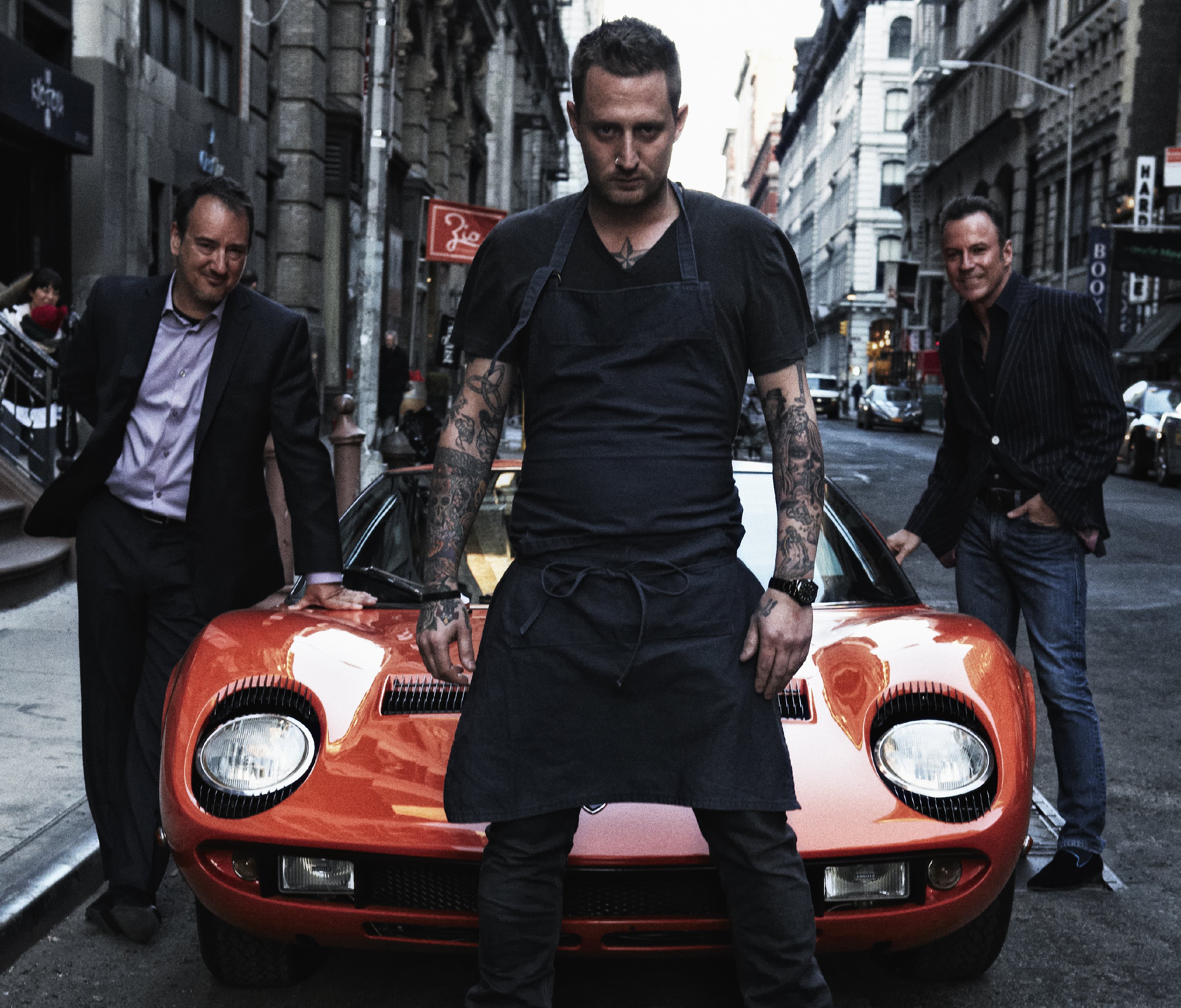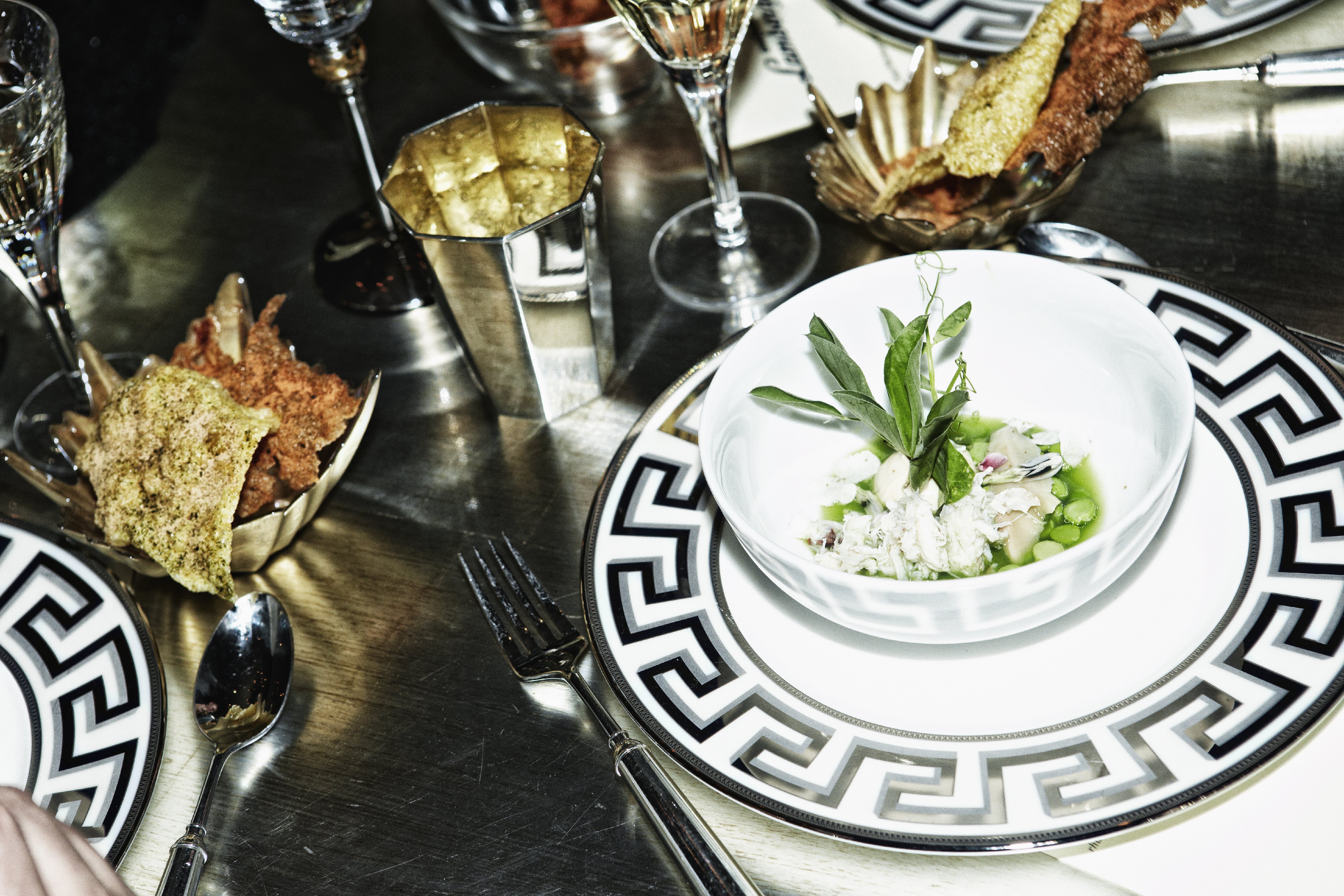 Last week our editorial director Richard Martin was invited to a 12-person dinner prepared by Los Angeles chef and TV guy Michael Votaggio — who was in New York to celebrate his inclusion in the 2013 Food & Wine Best New Chef class. Voltaggio was tasked with preparing six courses in the Flatiron apartment of event planner Colin Cowie. Richard had a reservation at Carbone that night, which doesn't come easy these days. So I ended up the man for the task, seated at a cozy round table sipping Châteauneuf-du-Pape with motorcycle racer and cookbook author Gabriele Corcos and assorted beautiful Friends of Cowie™ while Lamborghini's charming COO Michael Lock held court at the head of the table. There are journalists stationed in Fallujah, and there are journalists stationed at things like this. This is why it's sometimes difficult for me to even say the world journalist out loud. But so it goes.
Here is a rundown of what was served, which included some of the greatest hits from Voltaggio's West Hollywood restaurant, Ink:
Spring peas, Dungeness crab, surf clam and almond
A burst of spring and a big crowd favorite in Los Angeles (where it's sort of always spring). All texture.
Egg yolk gnocchi, morel mushrooms, asparagus
More flavors of spring, with a heady "gnocchi" preparation. The liquefied egg tightly enclosed within the egg "pasta" bursts on fork contact. Though very much gnocchi-like, the pillow is prepared completely with egg. Super woodsy morels completes the diner's proverbial walk in the forest.
Sea bass, cuttlefish pho with beef tendon
My first bowl of pho since returning from Vietnam is likely the most refined version you will find. Even with cuttlefish subbing in for the typical beef brisket, Voltaggio nailed the broth (star anise, clove).
Lamb belly, vadouvan, faro, kale
I spoke with the chef after this course because I was so blown away with the preparation. I actually excused my self and ran to the small NYC apartment kitchen to give the man a fist pump. Holy wow. Voltaggio explained that he was kind of over pork belly, instead preferring the highly underrated lamb belly. The dish can scare the shit out of people — lamb fat can be pretty gamey if you're not careful. Vadouvan is a type of curry powder.
Beef cheeks, turnips, onion caramel
I was getting close to white flag time, but sous-vide beef cheeks. Ok, twist my arm.
Iuzzini then took over with a rhubarb consommé with lemon/sour cream sorbet, coconut "Dippin Dots" and an assortment of "textures of chocolate" with something called nitro curd. The spendy French wine had taken control by then, but all I can say is that this man is inspired. As for the Lambo parked outside, it was not included in the gift bag. Regardless, it was pretty damn cool.