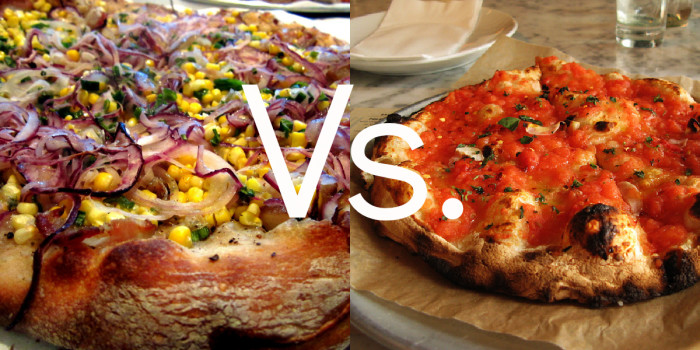 Yesterday, we noted how high-end travel glossy Travel & Leisure recently dropped their Best Pizza Towns In America list — placing Chicago in first place and New York not in second place. It's stirred some debate around the office, and on our readers' Facebook and Google+ timelines. So we thought it would be fun to have a little IM back-and-forth on the topic. In the blue corner: David Tamarkin, Food Editor at Time Out Chicago. In the red corner: Matt Rodbard, Food Republic Contributing Editor, Michigan native and 10-year NYC resident. You can join the fun in the comments section.
Rodbard: OK, knuckle crack. (Not really.) I grew up in Michigan, my father was raised in Rogers Park. So I know what's up. Chicago pizza is deep dish, cheese on the bottom, overrated yuck.
Tamarkin: Whoa. Fall back, Rodbard. Two things you do obviously do not understand: 1. Chicago pizza is not just deep dish. 2. Deep dish is delicious. (Except Gino's East, which is disgusting.) I think Chicago was rated best pizza town because of the various styles we have.
Rodbard: OK, this is a matter of taste then, which is not what this is all about. It's about the pizza scenes, and variety may be the spice of life, true, so how you going to tell me that NYC is a one-trick pony? And, yes, I loved that corn pizza went I went to Great Lake two summers ago.
Tamarkin: Not a one-trick pony. A limp, soggy one-trick pony. OK, I'm not saying that's the only pizza you have in New York, but that's the only pizza that self-identifies as New York, whereas Chicago has at least three unique styles: Deep dish, cracker-thin, square-cut bar style and Great Lake, the best pizza in the galaxy. Everybody knows we wouldn't be having this discussion were it not for Great Lake.
Rodbard: That's pretty funny, given Great Lake is CLOSED (yeah?) and it wasn't mentioned in the article, but we're not here to talk about a luxury travel magazine making food listicles. OK, that New York City pizzeria slice you are talking about? Yes, it can suck big time. And it's expensive now, as are our subways. But, man, Roberta's is making pies straight from their garden with ingredients like kale and kabocha squash — with wonderful balance and acidy (I'll stop myself with the food writer jargon gone wild).
Tamarkin: Bitch please. You know Great Lake — which is merely on pause, not closed — was on that T&L list and was taken out at the last second. Or at least I hope that was the case. If it weren't for Great Lake I don't think Chicago has a great case, honestly. As for Roberta's, I will take your word for it. I haven't been, as I'm allergic to hipsters. Also, kobucha pizza sounds disgusting. The hell?
Rodbard: But let's talk about Neapolitan-style (extremely hot fires blistering crust, barely cooking the center, fresh herbs and great imported cheese on top). NYC does that shit ALL DAY.
Tamarkin: It does. Maybe not in as great as numbers at NYC. Spacca Napoli is the real deal (bonus: they have the best burrata in the Midwest as well). And, you know, mazel tov to all NYC and Chicago spots who do Neapolitan well, but what's exciting about Neapolitan pizza? See, this is the thing about Chicago v. every other American city: We don't follow. We invent. Deep dish, Great Lake — these are new entries into the pizza genre. Okay? Don't make me start name-dropping (ACHATZ).
Rodbard: But we also have places like L&B Spumoni Gardens, which does a square pie that you might call "cracker crust" with an absolutely memorable, crave-able, world changing sauce. And what about Lahey over at Co? A well-regarded baker doing textbook Roman-style (as I've been told, never been there) with a crust that he workshopped for years. I'd color that inventive. So it ain't just the slice joints, but on that note you cannot deny the power of TWO BOOTS. You have a spot called Ian's. It started in Madison, WI when I went to college there. Ian's is a complete Two Boots ripoff. And I'll let you get the final word…
Tamarkin: The power of Two Boots? The power to do what, exactly? The only thing I remember Two Boots being useful for was as a 2am stomach-padding after too many drinks at the Phoenix. But, see, in Chicago, we don't have to live like we're in our 20s all the time. We shed our roommates and American Apparel hoodies. We evolve. We grow up. And so does our pizza.