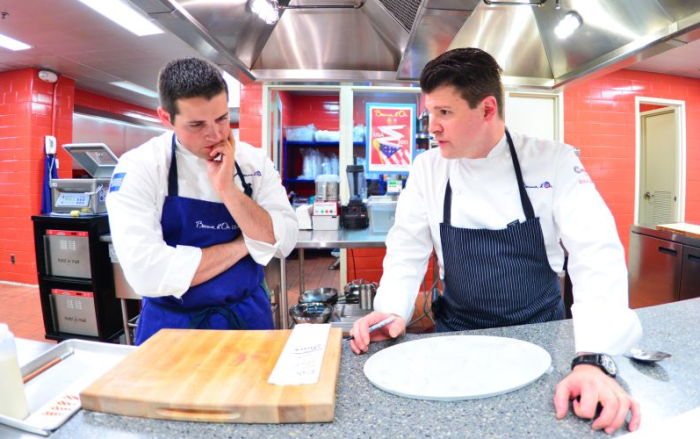 Talk about the opportunity of a lifetime. Twenty-two year-old Corey Siegel has spent the past year preparing for the prestigious Bocuse d'Or competition as captain Richard Rosendale's commis – a role reserved for chefs who are 22 or younger at the time of the competition. The two of them are representing Team USA in a contest traditionally dominated by the Europeans. With guys like Thomas Keller, Grant Achatz and Daniel Boulud training the pair, excitement and expectations are high in the days leading up to the showdown in Lyon (January 29 -30). We checked in with the young chef to see how he is handling all the pressure. (Related: Richard Rosendale Is Not Packing Light For The Bocuse D'Or).
What is your role as Richard Rosendale's commis in the Bocuse d'Or?
I will be assisting Chef Rosendale. The way we both look at it, though, is that we are a team. We pretty much split the program up — he takes care of the proteins and I take care of the garnishes. For him to be able to do the proteins, however, I have to do the knife work. So if we're doing an item that needs braising, I need to cut up all the mirepoix, garlic, shallots and herbs before I can even start any of my work.
How did Chef Rosendale select you to be his commis?
I approached him one day when he was at CIA and told him that he was a huge inspiration to me. He asked if I had ever thought of doing the Greenbrier Apprenticeship Program. I was in my second year of the three-year program there and I asked him for suggestions regarding a four-man competition that I wanted to do. He turned to me and asked how old I would be in January of 2013. He kept asking if I was sure I would be 22 and I kept replying, "Yes, chef, what are you getting at?" He then offered me the chance to be his commis at the Bocuse d'Or. All I could say was yes. Yes!
Do any really tough days stick out during your rigorous preparation?
The coaches came down on Monday and we started our first practice run, a full five and a half hour session, at 9:20 in the morning. I was at the gym that morning at 6, ran three miles and did some weightlifting. We did another full practice run on Tuesday, after staying all night to polish all the silver and completely setting up the whole program again. Under normal circumstances, we have two or three people help us set that stuff up.
Are you nervous at all about the competition?
Definitely not nervous in a bad way. Any nerves are overwhelmed by excitement. For someone as young as myself, this is such an amazing opportunity. I know we are as prepared as we can be and I definitely feel confident in Chef Rosendale as well.
How do you expect your team to do?
Ultimately, we're shooting for gold. A lot of other people would be happy with us placing in the top three, but our goal is to bring home the gold and I definitely feel strongly that we can do that. At the end of the day, though, it's "any given Sunday." We are going to execute our plan of attack as well as we can, but it's about how [the judges] perceive everything.
Is this your first time traveling outside the U.S?
My first time traveling outside the country was earlier this year, all in an effort for the Bocuse d'Or. We went to Belgium to watch the European finals and to France in October to start phase one of moving everything over there.
How was Belgium?
It was very interesting. I had just watched the movie Taken and was on the lookout for spies, people trying to kidnap everyone and for Liam Neeson to come through the door. I had an amazing experience there – the food was great and I was in the company of Jérôme Bocuse and Daniel Boulud, which was unreal. We were only there for three days and the competition was two days, so I didn't really get to spend that much leisure time.
And Chef Boulud has been assisting with preparations?
We have Daniel Boulud, Thomas Keller and Jérôme Bocuse on the Board. They are definitely involved and we're back and forth on e-mails and phone calls all the time. It's so humbling to have friends call me and say, "Do you know that Thomas Keller just posted a picture about you?" You're really taken aback and it's such an honor.
What do you hope to take away from Lyon and the competition?
Other than the gold? [laughs] You want to win and that's why you push yourself to get there, but the whole learning experience at competitions is tremendous. From this competition specifically, I've learned a lot about management. I've grown as a cook immensely, but I have also learned about communication, sponsorship, endorsement and marketing. There's just so much that goes into this competition that people don't realize.
Read more about the upcoming Bocuse d'Or competition on Food Republic: