15 Very Cool Food Festivals Around The World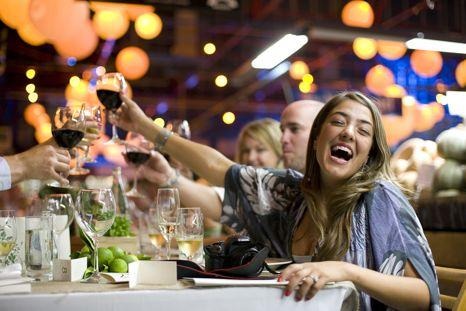 Food festivals have certainly come a long way in the past couple of years. No longer are they sparsely attended fringe events popping up in hotel ballrooms. Festivals in the year 2013 have become star-studded affairs, complete with heady promises of once-in-a-lifetime meals and coveted VIP ticket packages that cost north of $1,000. Food Republic is here to point you towards the most exciting upcoming festivals of the new calendar year — in the United States and overseas. Truffles and hot chicken even get their own celebrations. My, what a long way we have come.
Napa Truffle Festival
January 18-21, 2013
Napa, CA
It seems like just about every food has a day dedicated to it (To wit: Read our Made-Up Food and Drink Holidays We'd Like To See). Now it's time for individual ingredients to have their own festival. Travel to wine country to witness the truffle receive an entire weekend of recognition, as The American Truffle Company returns for the third annual Napa Truffle Festival. Some of the best chefs in the world known for their truffle cuisine will join the most experienced "truffle experts and scientists," recognized for their expertise and data on truffle cultivation. Get dirty learning how to forage for mushrooms, browse the expansive artisan marketplace or kick your feet back and feast on a truffle-based dinner prepared by three Michelin-starred chefs. napatrufflefestival.com
Madrid Fusión
January 21 – 23, 2013
Madrid, Spain
Yes, the Adrià brothers will be among those on hand to pay homage to an up-and-coming culinary scene in Spain's capital city. More than 100 international chefs will descend on Madrid to explore ongoing food and drink topics in both Europe and beyond. While information in English is somewhat difficult to track down, a complete schedule of events is viewable at madridfusion.net.
Beaver Creek Food & Wine Weekend
January 24-27, 2013
Beaver Creek, CO
A day on the slopes, followed by an extravagant dinner, prepared by some of the world's best chefs. Not a bad way to spend a day, right? Welcome to the second annual Beaver Creek Food & Wine Weekend. Chefs John Besh, Anthony Giglio, Tim Love, Alex Seidel, Gail Simmons and Sam Talbot will be among those producing the palate-pleasing extravaganza featuring casual, interactive and fun events from après-ski to exclusive dinners. Stay tuned for more information and an updated schedule of events from beavercreek.com.
Identità Golose

February 10-12, 2013
Milan, Italy
The website is all in Italian, so you might want to ask that Italian-speaking friend for some translation advice. But then book a ticket to Milan for this annual conference that talks food in one of the best culinary languages on the planet. The language of the kitchen. identita.it
South Beach Wine & Food Festival
February 21-24, 2013
Miami Beach, FL
Now in its 12th year, the festival drew more than 60,000 guests last year to nearly 50 events with more than 150 celebrated chefs and over 250 wineries, spirits producers and non-alcoholic beverage suppliers. Special events for 2013 include a tribute dinner for Nobu Matsuhisa with Mistress of Ceremonies Martha Stewart and a celebrity chef golf tournament. Yes, start planning ahead for this one. sobefest.com
BB&T Charleston Wine and Food Festival

February 28-March 3, 2013
Charleston, SC
Charleston's restaurant scene broke big on the national radar in 2012, so you've gotta think that this late-winter fest will bring the buzz to South Carolina. Husk, McCrady's, Oak Steakhouse and others will rep for this burgeoning city while serious national talent (from Acheson to Zimmern) descend, probably to see what all the fuss is about. Any way you slice it, this fest promises amazing 'cue, sizzling culinary conversation and probably some healthy debate about foraging. charlestonwineandfood.com
Melbourne Food & Wine Festival
March 1 – 17, 2013
Melbourne, Australia
Marking its 20th anniversary, Melbourne's annual celebration features more than 200 events that honor the city's strong culinary tradition and spills into regional Victoria. Full details of the lengthy festivities – including an event calendar – will be released on February 1 on melbournefoodandwine.com.au.
Austin Food & Wine Festival
April 26 – 28, 2013
Austin, TX
We love Austin here at Food Republic. We hooked you up with a guide to the city's best food and drink spots and even dropped a list of our favorite vegan and vegetarian restaurants. Big names including Marcus Samuelsson, Andrew Zimmern, Paul Qui and Marc Murphy will be on hand to lead over 40 cooking demos and sample from a large selection of specialty foods from the Lone Star State during the opening night's popular Taste of Texas showcase. austinfoodandwinefestival.com
LuckyRice Festival
April 29 – May 6, 2013
New York, NY
Winning the award for best festival name is LuckyRice, entering its fourth year and making stops in Los Angeles, Las Vegas, Miami and San Francisco later in the calendar. The weeklong campaign explores Asian culture through food and includes special dinners at some of the city's finest Asian restaurants. Among those sitting on the celebrity-heavy culinary committee are Daniel Boulud, Anthony Bourdain, Masaharu Morimoto and Jean-Georges Vongerichten. luckyrice.com
Mésamerica Festival
May 20 – 22, 2013
Mexico City, Mexico
Any excuse is usually good enough to fly down and explore Mexico City's mezcal scene . Having the chance to rub elbows and learn from some of the world's best chefs, including René Redzepi, Daniel Humm and Alex Atala, definitely fits the bill. The second edition of the festival is run by Enrique Olvera of Pujol (ranked #36 on the World's 50 Best List) and seeks to promote the country's cuisine. mesamerica.mx
Atlanta Food & Wine Festival
May 30 – June 2, 2013
Atlanta, GA
We've established that Atlanta just may have the most impressive airport dining in the country. But that, of course, is only scratching the surface. Check out all the food that the city has to offer at this year's four-day event, whose advisory council draws members from 14 Southern states and includes John Besh, Sean Brock, Andrea Reusing and Chris Hastings. Stay tuned to atlfoodandwinefestival.com for more information on this year's lineup and special events.
Music City Hot Chicken Festival
July 4, 2013
Nashville, TN
We can think of no better way to spend Independence Day than feasting on hot chicken at the sixth annual celebration of Nashville's legendary dish. Don't forget to bring along some antacids as city mainstays Prince's Hot Chicken Shack and Bolton's Spicy Chicken and Fish are challenged by newcomers 400 Degrees, Smack Yo Mama Chicken and Pepperfire. Just remember that mild means hot, medium will have you in tears and hot...well, you can use your imagination. mchcf.blogspot.com
MAD Symposium
August 25 – 26, 2013
Copenhagen, Denmark
We can only imagine what heady discourse (and culinary muscle flexing) is in store at this year's symposium in Copenhagen, which takes the theme of "guts" (last year's theme was "appetite"). David Chang of Momofuku and food journal Lucky Peach are guest curators at the third annual conference and gathering, spearheaded by Noma chef René Redzepi. Be sure to check out both our day-by-day coverage and favorite pictures of last year's event. madfood.co
Taste of Madison
August 31 – September 1, 2013
Madison, WI
Whether it's all thanks to Tory Miller or not is up for debate, but Madison has officially arrived on the national food scene. Benefitting United Cerebral Palsy, the two-day event featured over 80 of the city's dining establishments last year and drew a quarter of a million people. Prices are low and portions small to ensure that attendees are able to sample a wide array of local specialties. tasteofmadison.com