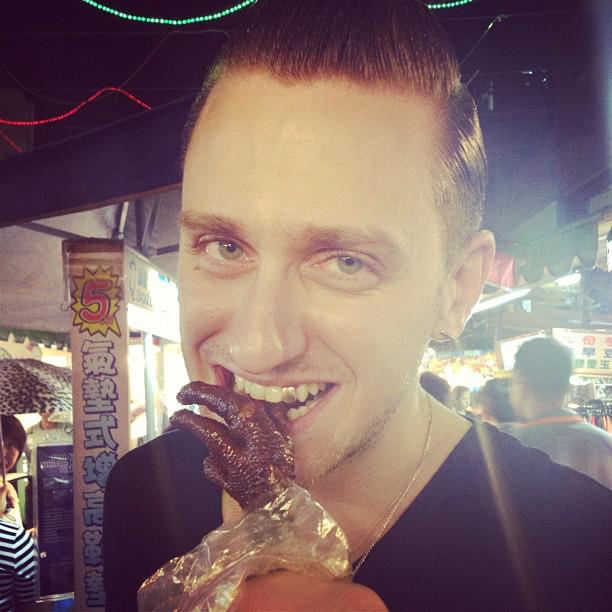 A man who puts bitters on his concert rider is most certainly not fucking around with food. And while we are meeting a lot of people with very discerning taste during DJ Week, Luca Venezia (known formally as NYC-based DJ and producer Drop The Lime) has some very particular taste as we found out in this interview. He was doing shows in Thailand and Taiwan recently and eating very, very well.
In terms of food, what is your favorite city to visit while on tour?
Melbourne takes the win on this one. [See: The 9 Best Things We Ate In Melbourne]. The produce in Australia is always incredibly fresh. And Melbourne in particular has got a huge Asian population, so Thai and Chinese is fantastic. There's also a large Italian population and it's the closest I've had to authentic outside of Italy. And this is coming from a guy who grew up with an Italian father as the cook of the house. Trust.
What's the first food to hit your lips in the morning?
Coffee. Cortado all the way. I'm more of a Lunch liver.
What are three staples in your refrigerator at home?
A gigantic bottle of sriracha hot sauce, Caveman blue cheese from the Bedford Cheese Shop, Vichy Catalan sparkling water.
Last meal you made at home was…
Penne with white wine, zucchini and ricotta salata.
What are your food or drink requirements for shows?
High West Double Rye or Maker's Mark, San Pellegrino, fruit and cheese plate, no sliced. Sharp Cheddar and blue all day.
Do you have any pre-show food rituals or habits?
My own rendition of the Peruvian ritual shot. Dip a lime one side in brown sugar, one side in coffee grinds then take a shot of bourbon and chase with the dipped bliss.
The last time you bought food from a street cart, what and where?
I'm currently touring Asia, so today in Bangkok I had some incredible tom yum soup. I live for the crazy night markets in Asia. I ate chicken hearts and squid lips (yes, squid lips) in Taipei yesterday.
If you're eating after 3 a.m., you're likely eating…
I'd cook up some spaghetti aglio olio with pepperoncino. It's the simplest, most-delicious dish you could make, it's engrained in my half-Italian blood.
Have you ever had a really good dinner at a club?
Drai's in Hollywood is fantastic. I played there a few months ago and we had dinner before hand with the whole crew. It's some of the best, and intricate, tapas. The tuna tartar is so delicious.
---
More from DJ Week on Food Republic: