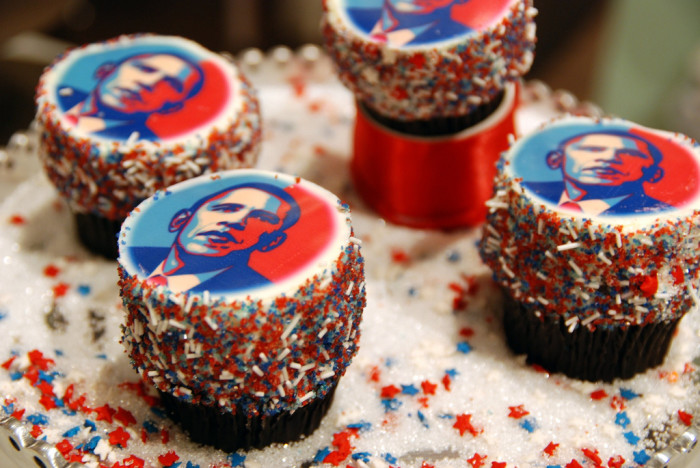 If tracking exit polls and waiting for the outcome of California's Prop 37 left you hungry and desperately seeking pizza Tuesday night, you're not alone. According to The Huffington Post, delivery orders were up 15 to 20 percent on GrubHub during the election, which was watched by over 50 million people. Some of these hungry patriots went so far as to leave election-night instructions including, "Call when you are here. Again, if you can, extra tomato sauce and a picture of kick-ass Obama!"
The increase in delivery sales seems a fitting way to celebrate the president's re-election and another four years of Obama-related food news. The Obama administration is closely tied to food politics (MyPlate, Let's Move!), promoting vegetable consumption (White House garden) and even on-trend movements like homebrewing (White House brew). During the election, restaurants played a surprisingly large role in the hard-fought race to become president.
Scott Van Duzer, the pizza-restaurant owner who famously bear-hugged the president on the campaign trail, became national news and was attacked by critics of President Obama on his Yelp page (on the bright side, he also got to attend the third debate). More recently, Romney aired an attack ad in Virginia blaming Obama's economics policies for forcing Bill's Barbecue chain to shutter its last three locations. After a little digging, ThinkProgress reported that the chain had actually been shut down as a result of several glaring health violations.
During Obama's first term, food was used not only to promote healthy eating, but also to help the president pinpoint his place in history among past presidents. According to the New York Times, the President invited the nation's preeminent presidential historians to several dinners in order to glean advice on how other Presidents, like Theodore Roosevelt, dealt with a stubborn Congress and outspoken ideological movements like the Tea Party.
Whether or not Obama will continue to use food as prominently in his next term remains to be seen. But with the campaign finally over, chronicler of Obama-eats during his first term and presumably the next — Eddie Gehman Kohan — notes that the president took a short break to celebrate his victory with a sheet cake aboard Air Force One. And while the president enjoys his win, food advocates like Marion Nestle are already drawing up their food policy wish lists for his next term. Let the next four years begin!