Plate Deconstruction: AQ's Fava Bean Falafel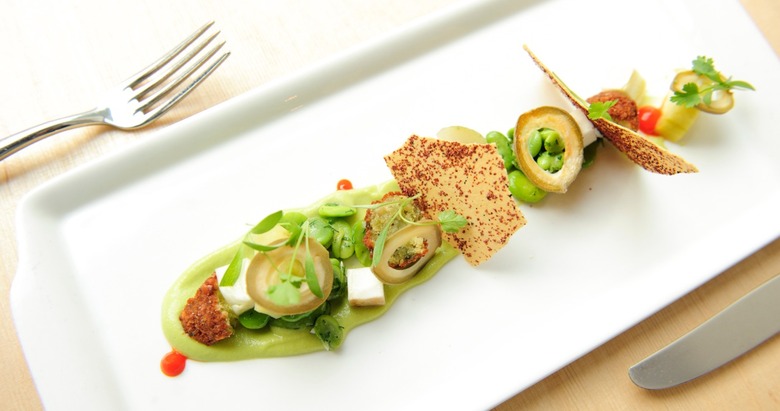 When it comes to seasonal dining, there's more to San Francisco's AQ than just timely switch-ups to the menu. The décor of the restaurant's interior actually changes as well, immersing guests in a full-on dining experience that's rarely the same.
No doubt, the awesome concept, showcasing owner and executive chef Mark Liberman's masterful hand at blending faraway flavors with Northern California's glorious bounty, clinched AQ a James Beard Award nomination for Best New Restaurant last year. Case in point: a complex and bright deconstructed falafel dish with locally harvested fava beans in the starring role.
"We were working on a fava bean dish when one of my young cooks pointed out that in parts of the Middle East, they make falafel out of fava beans instead of chickpeas," says Liberman, who added his own touches with several other in-season ingredients such as green almonds and young fennel compressed into cubes.
Read on for the breakdown.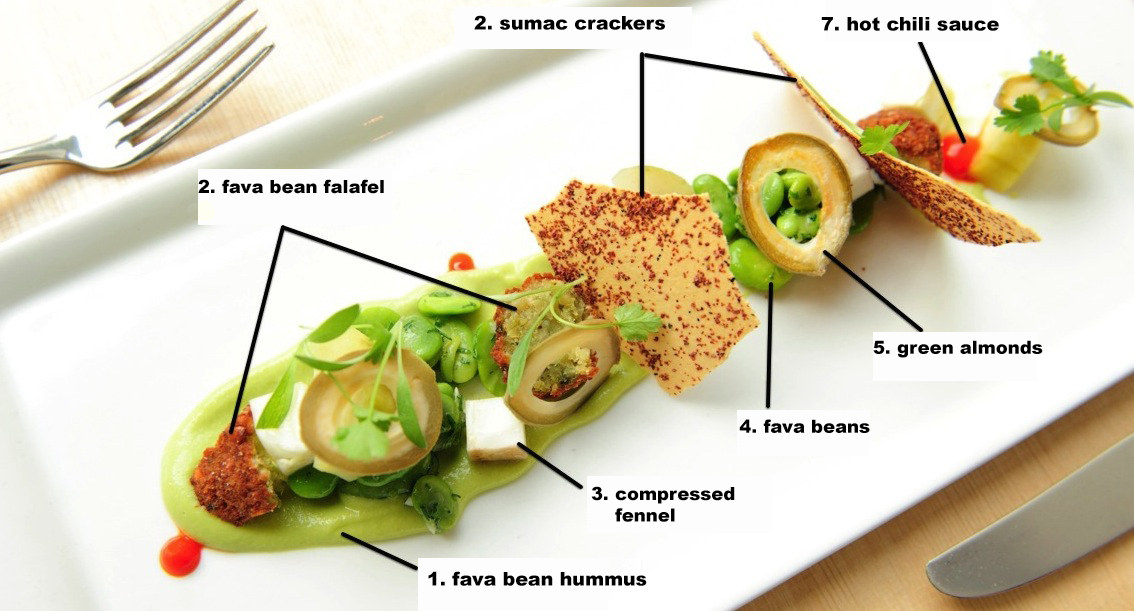 1. Fava bean hummus | Blanched fava beans are pureed with olive oil, cumin seed and raw garlic.
2. Fava bean falafel | Dried fava beans are soaked overnight in water, double-ground through a coarse grinder and flavored with spices before being shaped into small balls and deep-fried to order.
3. Compressed fennel | "Classically, yogurt is drizzled over falafel, and I wanted to incorporate that tangy flavor, but I wanted to use fennel to impart it. I compressed the fennel in yogurt, lemon juice, olive oil, sugar and salt."
4. Fava beans | Blanched and lightly dressed chopped cilantro and lemon vinaigrette made from lemon juice, lemon scented oil, sugar and salt.
5. Green almonds | "Green almonds are available for a short spurt in the early spring. Since the season's so short, we decided to pickle them whole and then shave them thin. They definitely bring a brightness to the dish."
6. Sumac crackers | Made from a batter of chickpea flour, water and salt that's spread thinly on a silpat, dusted with sumac berry and baked.
7. Hot chile sauce | A gel of salted red jalapeños, vinegar, garlic and agar agar adds a subtle sour heat.
AQ, 1085 Mission St., San Francisco, CA, 415-341-9000, www.aq-sf.com
More Plate Deconstructions on Food Republic: