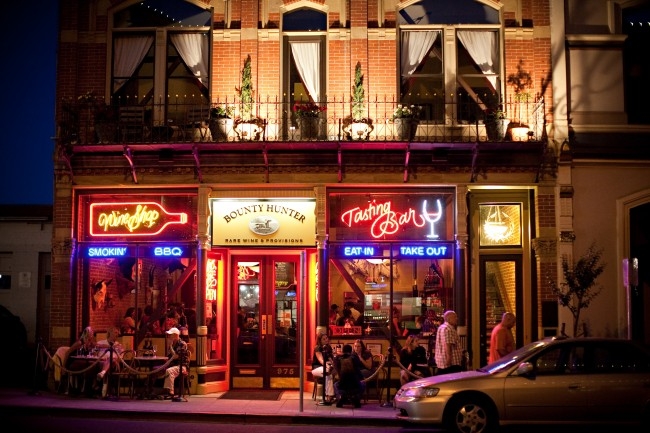 There are plenty of spots to get a good glass of wine in Napa. That's what wine country is for, right? But you can only swallow so much of the stuff before you start to crave a beer…or something stronger. Lucky for you a growing number of bars specializing in non-oenophilic pleasures is cropping up in California's most famous wine valley. On a recent visit, we surrendered to our inner boozehound, dropped the pinky and knocked back a couple stiff ones. Here are five of our favorite spots.
1. Fagiani's Bar at the Thomas
The space that now houses this cocktail bar and restaurant sat abandoned for nearly 40 years after the owner was murdered back in 1974 and the case went unsolved until 2010. Two years later, the New York-based restaurant group AvroKO has reinvented the space, bringing an east-coast vibe to the heart of California wine country. Cocktails include riffs on classics like a frozen pisco sour and a White Manhattan (white whiskey, white vermouth, kirschwasser, jasmine bitters) on tap. 813 Main Street, Napa, 707-226-7821, thethomas-napa.com
2. Goose & Gander
Another relative newcomer, this restaurant-bar features seasonal cocktails by Artisanal Cocktails author and bartender Scott Beattie. There is a strong focus on housemade infusions, garden-fresh ingredients and pickles. Expect intricate concoctions like the Mellivora Capensis (bourbon, scotch, honey, lemon, black cardamom, chili, coconut foam), or kicked-up standards, like a Manhattan made with both small-batch rye and vintage bourbon. 1245 Spring Street, St. Helena, 707-967-8779, goosegander.com
3. Pancha's of Yountville
For a real break from the niceties of California wine country, you'll want to roll up to its favorite dive bar. More than just a spot to down PBRs, play pool and smoke (as a family-owned business it's somehow exempt from smoking laws or some such nonsense), it's a local institution and the preferred hangout of restaurant employees from around the area. With Bouchon Bakery across the street, expect to see the kitchen staff settling in to unwind (and un-wine?) after hours.
4. Joe's Brewpub
We think of Napa as wine country, but the area also has a pretty rich beer history. You still see hop vines planted on stretches of country road and, back in the 19th century, the region was home to a couple large breweries. Joe's celebrates this history with its house-brewed ales like an English-style strong bitter ale and dark, brooding porter. A brewpub in wine country makes sense considering the old winemaker saying: it takes a lot of beer to make wine. 902 Main Street, Napa, 707-258-2337, downtownjoes.com
5. Bounty Hunter Wine Bar & Smokin' BBQ
Technically it's a wine bar, but don't expect hoity-toity airs and baby-sized bites at this beloved haunt. Known for its barbecued ribs and beer can chicken, wine pairing gets taken down a well-needed peg or two here. In addition to 40 pours available by the glass and hundreds more bottles from around the world, the drinks list also features beer on tap and whiskey flights (and one tequila flight thrown in for good measure). Sip your way around old Scotland or bourbon country without leaving your barstool in Napa. 975 1st Street, Napa, 707-226-3976, bountyhunterwinebar.com
---
Read more about Napa on Food Republic: