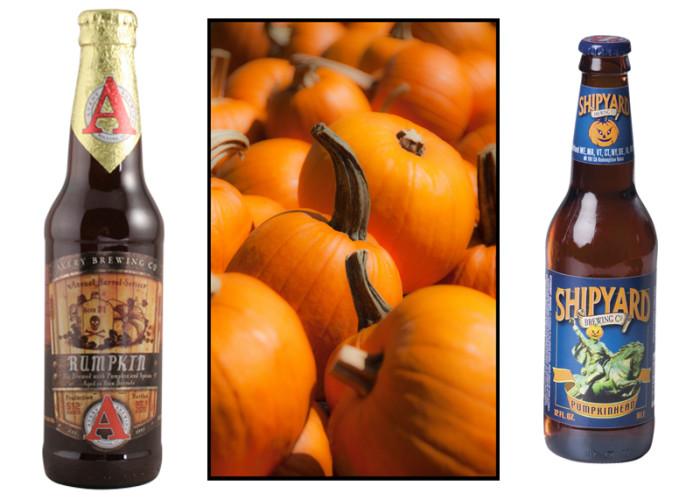 Now that Oktoberfest has come and gone, it's time to turn your attention away from the rich, full-bodied märzen lagers and instead focus on a more American celebration of fall: pumpkin beers.
Consider it a return to tradition. During colonial times, brewing grains were hard to come by and incredibly expensive. To stretch out a supply of grains, brewers turned to other indigenous fermentables, such as Jerusalem artichokes, spruces and, yes, pumpkins. Over time, as Americans began to cultivate barley, the use of pumpkins in brewing beer faded, replaced by adjuncts such as corn or rice.
Now, what's old is new again. American brewers are turning to the nation's brewing past and using the almighty gourd to create these singular expressions of fall. Stylistically speaking, pumpkin beers constitute a wide-open category. Some pumpkin brews are spiced like sweet pies, packing cinnamon, nutmeg and ginger, while others have a bitter edge — thanks to hops or even spruce tips. Witbiers, stouts, barrel-aged sours, even malt liquors—name the style, and you can likely incorporate pumpkin. Here are five to try this fall. What are your favorite pumpkin ales?
Shipyard Brewing: Pumpkinhead
The Maine brewery's crisp wheat ale spiced with cinnamon and nutmeg is so popular that it starts hitting the markets in summer, and it even has its own Twitter feed: @PumpkinheadAle. Also worthy is Pumpkinhead's stronger, sweeter sibling, Smashed Pumpkin.
Avery Brewing Company: Rumpkin
The Colorado brewery's contribution to the pumpkin field is this massive ale that tips the scales at nearly 20 percent ABV. It's then aged in fresh rum barrels, which add luscious notes of oak and sticky molasses. It's yum, indeed.
Jolly Pumpkin Artisan Ales: La Parcela
For a different take on the fall treat, try the Michigan brewery's seasonal release. Crafted with honest-to-goodness and pumpkins and a touch of cacao, the ale is aged in oak barrels and boasts a curiously appealing sour, funky character.
Rock Art Brewery: Pumpkin Imperial Spruce Stout
If your tastes run toward savory, try the Vermont brewery's slow-drinking stout brewed with pumpkin and plenty of spruce tips. They supply a piney, fresh-from-the-forest flavor and, just like hops, a bolt of bitterness.
Cape Ann Brewing Company: Fisherman's Pumpkin Stout.
If you do not favor overly spiced beers but still want a taste of fall, may I turn your attention to this Massachusetts-made seasonal. This stout is made with masses of pumpkin flesh, with allspice, nutmeg and cinnamon playing a subtle, supporting role. It's a dark, silky indulgence.
More beer on Food Republic: