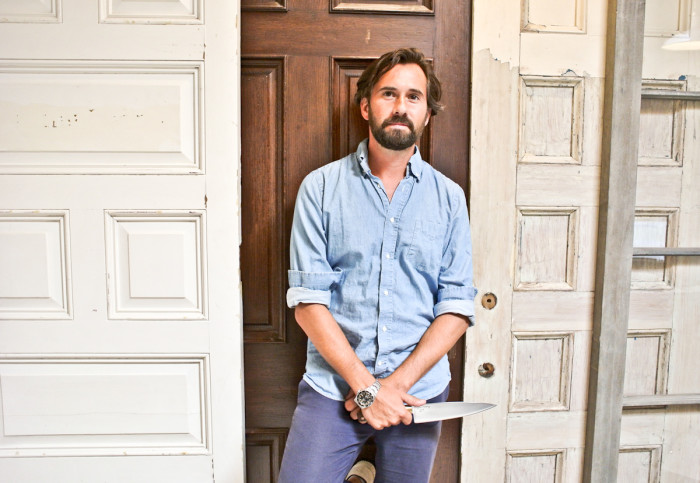 Christopher Bastin is in a happy place. It's a few hours before the opening party for Gant's new boutique on Venice, California's chic stretch known as Abbot Kinney, the company's first on the West Coast. A week earlier, he'd graduated from design head of Gant Rugger to creative director for all collections, and just an hour before we sat with him in the store's sunny window display, he'd lunched at Gjelina, one of LA's of-the-moment bistros. An unapologetic food fanatic, he also is on the verge of unveiling Gant Rugger's fall campaign, which features the chef and restaurateur behind NYC's hip restaurant The Fat Radish, as well as a denim apron and a chef's knife collaboration with Wildfire Cutlery.
In short, not a bad run for a young-looking Swedish father of three who came into the fashion business entirely by accident. And he's only getting started. Here, he tells us of the thrill of re-branding a classic American clothing company, of the hunt for different types of stylish consumers and of how the search for his Stockholm apartment included one main requirement — a kitchen large enough for a beloved French baking table.
First off, what's the difference between Gant and Gant Rugger?
If you were in an Ivy League university in the 1950s or 1960s you were either a Brooks Brothers guy or a Gant guy. In the mid-'60s we were the biggest shirt brand in the US. We always look at Gant Rugger as the obnoxious little brother of Gant. It has a little bit of fuck you attitude to it.
Gant became a Swedish-owned brand, but its roots were in New Haven, Connecticut. I take it you're embracing the brand's heritage?
Yeah, I'm a vintage nerd by default, whether it's old Sabatier knives or vintage denim. When I started at Gant almost eight years ago, I realized that we have kind of the same history as all those classic brands like Brooks and Levi's. So I started buying vintage pieces, because there wasn't any archival pieces when I started, so I wanted to build on that and make a sportswear line based on what Ivy [League] actually looked like…. Gant has always been a classic American sportswear brand but also with a European twist to it. Which is cool.
I look around this store and I'm seeing smarter looks than what I saw at the Gant Rugger store in NYC a few seasons back. So who is the audience now — a stylish guy or a more dressed-down guy?
What we wanted to do with Gant Rugger was to evolve quicker. Not with trends but with our customer and where they're going. Menswear in general — the whole vintage and heritage thing is played out the way we see it. We're going into a more dressier direction and more grown-up. The whole woodsman thing we left behind. We created a lot more tailored stuff. When you mix tailored with more casual, you get a really nice style.
What's your background?
I started working as a sales rep in a denim showroom 20 years ago. At Solo [in Stockholm] — that was like the denim hotspot. It still is. I wanted to be a rock star like everybody else and I always played instruments, so I thought I would get my foot in the record industry, and I looked for a job in a record store. I saw an ad [for a record store job], so I went to the store and it turned out [they] only sold classical music, and that wasn't really my bag. But I saw this store across the street and it happened to be Solo, so I came in and said "This is cool." [I got a job there] and I was fortunate enough to work with some of the most interesting guys in denim at that time.
Then you went on to work for H&M and Acne?
I learned so much about the industry, and then H&M called me and I was 22 maybe, and they said they needed a cool jeans guy at their buying office, so I started there. It wasn't until I started working at Acne that I started thinking that I had some kind of talent. It was fun. I did that for a couple of years, and then I was at this Swedish department store as a buyer, and I saw this ad for Gant. A colleague came to me and said, "They're looking for you! You've gotta apply for this." I don't draw; I don't have any formal training. I can't draw a straight line with a ruler. But I found other ways to get the vision through. I did some mood boards. I did some ugly sketching and showed it to them. And—
Here you are in Venice, California.
Yeah! I've got the best gig in the world! And the whole creative director role for the big brand is a new thing. I did my first day last Wednesday.
Tell us about the Gant Rugger fall campaign with the Fat Radish guys.
All our collections start with some kind of idea. I'm a foodie and love to cook — it's my only hobby. Over the past year, I spent so much time in New York, and I've seen how the whole restaurant scene has changed. It used to be fat Parisian guys being the superstars and it was very elitist. It didn't have any soul. And then a couple of years ago when I read Anthony Bourdain's book, Kitchen Confidential, I was like, "This guy's a fuckin' rock star." All of the sudden, the superstars weren't old fat guys anymore; they were these young entrepreneurs, women and men, who were changing the game. I wanted to create a wardrobe for an imaginary chef and co-owner of a restaurant on this New York scene. And it turned out to be the Fat Radish guys, basically, Ben Towill and Phil Winser. Once I started looking into what they were doing, they became the campaign guys. They look awesome. We shot them and two of their friends for the campaign. They're two Brits changing the game in their own way. They do a lot of vegetarian stuff.
Yes, like their celery root pot pie!
The food is so good. I was in the kitchen with them the other day. The restaurant scene to me is a mystery. Being in the fashion industry, a lot of people that I talk to say, "It's so glamorous," and everybody in the industry knows it's not. But to me the most glamorous job in the world is to be a chef.
I saw on your twitter feed that went to Gjelina for lunch today?
The food was so good! It was amazing. We had green peppers as a snack with this lemon zest and sesame seeds. Kind of charred — super sweet, not too spicy. We had grilled peach with prosciutto and American Burrata, which was also really tasty. Then I shared a pizza and shared a burger. The lamb burger was sensational.
What do you like to cook?
Two years ago I bought a smoker. Smoking — good barbecue — is something that's new in Sweden. We've been smoking fish and stuff, but just calling the butcher and asking for a pork butt or Boston butt — you can't get that cut in Sweden, so you have to pre-order it. So I've been smoking a lot of meat, doing 12-hour pulled pork and stuff like that. Otherwise, traditional Swedish food, which takes a long time to cook — koldolmar, [which] is like cabbage with minced meat and rice. It sounds horrible but it's amazing. It's kind of fun to cook. Stuff that my mom used to make.
Is that how you got into cooking, watching your mom?
Yes. And I try to do the same thing with my kids. My oldest daughter is 11 and she's a nerd when it comes to food. She loves to cook. She's a good cook actually.
And your wife?
Yes, she can turn anything that's left in the fridge into a feast. Since we had kids, her gig got to be to cook for the kids and I get the fun part. We cook a lot together.
Do you live in the city?
Yeah, we live in the middle of Stockholm. We'd bought this huge old French baking table — we got that first and then started looking for an apartment where we could fit it. Cooking is a big part of my life. I find myself always working and then the second I step into the kitchen is when I can leave everything. It's like meditation, because you don't think about anything. You think about cooking.
What's next for you and Gant?
We started on Fall '13, so me and the design team went to New Haven to check out the factories where Gant started out. We opened up a store on Yale's campus a year and a half ago. It's so great to show everyone — this is our legacy. And I think food is something that will stay there and be connected. Spring '13 doesn't revolve around food the way this collection does, but to me Gant Rugger, I would love to see it owning the food-fashion connection. Or food-style. The same way other brands might work and claim sports, I would love to claim food and drink.
---
More Style Talk on Food Republic: