Memphis To Host The First Heritage Pig BBQ Competition Over Labor Day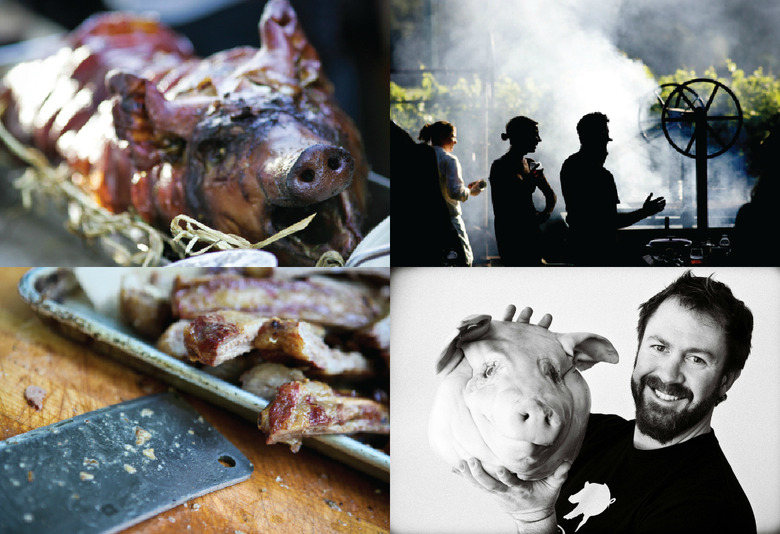 Cochon 555 founder Brady Lowe is at it again. When we last saw him, he was wrapping up his year-long heritage pig cooking competition in Aspen — an annual showcase of chefs going hog wild for ultimate bragging rights. Think coconut red curried pigskin and Vietnamese-styled cold noodles made half egg, half lardo from the precious parts of Tamworth and Red Wattle hogs. The list of chefs competing in his events reads like an Iron Chef greenroom. Marc Forgione, Michelle Bernstein, Ben Ford and Kelly English all competed in the Grand Cochon finals.
And while Cochon 555 will continue next year, Lowe wanted to bring something a little bit different to the table in the summer of 2012. Well, to the smoker. Over Labor Day weekend (August 31 – September 2) Lowe will host the first Cochon Heritage Barbecue in Memphis, Tennessee. The concept is similar to Cochon 555, in that heritage pigs are at the forefront. But the focus is BBQ, requiring teams to serve dishes in a number of standardized categories (pull, muscle, bone, stew, mayo). Weekend participants include Jamie Bissonnette, Joshua Applestone, Ed Lee and Virginia ham master Allan Benton.
"It's not just a product you call up on your cell phone, have it arrive the next day and open it with a box cutter," says Lowe of the challenge in converting the BBQ pitmaster community to think harder about their products. "It takes time, respect for the process and dedication to your customer." We chatted further about responsible barbecue and how Memphis in September is the new Memphis in May.
Why has it taken so long for heritage pigs to be aligned with competition BBQ pitmasters?
Accessibility and price are the downfall of heritage breeds. When people started cooking BBQ for competition, practice rounds were proudly tested on commodity products. I wouldn't see any reason on testing recipes on heritage pork, which is more expensive, even it was available in the area. Pitmasters learned, and won, with accessible and reasonably priced product. So after your first, second and third win, why change the formula? It becomes tradition to use these products.
But today we see a couple teams using heritage breeds and the end result is far superior. And it's only a matter of time before everyone is interested in what their food did before reaching their plate. People want to know who raised their food, and just knowing it came from a better source makes you feel good and confident while eating it — even if it costs a little more.
Beyond flavor, why else is it important for chefs and pitmasters to start using heritage pork?
Because any interest and support the pitmasters show in heritage breed pigs could potentially change the landscape of our food future. Heritage pig farmers on average raise 500 animals a year. One restaurant taking three pigs a week would make a huge impact on a family farm. We are talking about substantial growth for people raising responsible food — with a purpose and passion. Lastly, I think it's important to give your customer a choice. As a consumer, I would appreciate the chance to pay more money for a heritage pig BBQ party for 200 people
Why did you pick Memphis for the Heritage BBQ?
I selected Memphis because all the authentic BBQ experiences are there and support the idea of whole pig BBQ. When I go to Memphis I eat fried chicken from Gus's, BBQ spaghetti, wings from Central BBQ, pulled pork from Payne's or a Cornish hen from Cozy Corner. It's an awesome town and it supports the cause perfectly.
I've witnessed first hand the party atmosphere at Cochon 555 events. Describe the vibe to me...
Anything whole pig, heritage breed and farm raised with passion paired with brazen culinary talent. Add great wines, beers and spirits— plus all the things people know about Cochon events being a great time while supporting the mission of good eating and a better food system for all.
Why should you rethink your Labor Day plans RIGHT NOW?
Every time there is a first year event you can plan to be part of something very special. The entire city has embraced this new event and activities are lined up for the best Labor Day weekend ever, with or without the family. It's really one of the most amazing food weekends out there. If you like BBQ and bourbon, then you need look no further, this is your church and better yet, it's all natural.
Food Republic will be at the Heritage BBQ as a supportive media sponsor. We will also be hosting an after-hours brunch and midnight bourbon toast at the Court Square Center on Friday, August 31 from 10:30 p.m. to 1:00 a.m. You can purchase tickets here.
---
More BBQ coverage on Food Republic: