Fried Mexican Grasshoppers, Chapulines, Will Knock You Out Of A Taco Rut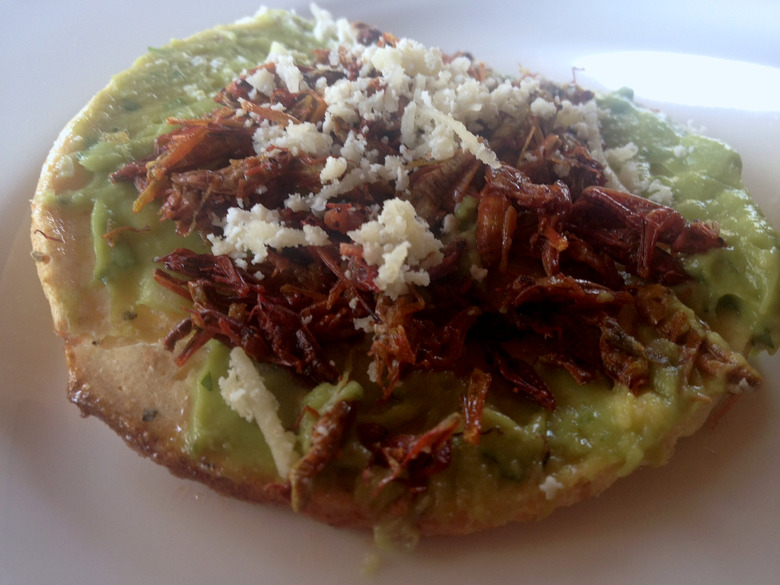 I hopped down to Oaxaca over the weekend to check out the Zignum mezcal distillery and discovered my new favorite food, which also happens to hop. Mexican fried grasshoppers, chapulines, will knock you out of a taco rut faster than a speeding mouse in a sombrero. They're in prime season right now. And, believe it or not, you'll get as much protein out of it as if you ordered asada or carnitas.
I like to look my prey in the eyes before I eat it. And every time I encountered these awesome little bugs, which was more or less every time I ate, I was rewarded with about a hundred pairs. They're crunchy with a toasty, yeasty flavor almost like potato chips. The chile-lime kind — that's what these little guys are seasoned with after a quick deep-fry. I had them in tacos with a little chopped onion and some salsa verde, on tostadas with guacamole and queso fresco, and, having fallen head over heels for their crunchy texture and savory, addictive flavor, I bought a large tub at the airport and just started munching on them straight-up. I imagine they'd also make good croutons.
Now, it says on the immigration form to declare food, plants, insects and other organic materials at customs. I did not declare the second tub of grasshoppers I bought for fear they would be taken away, and now I'm on the run from the feds. I imagined the alternative scene would have involved them taking me away kicking and screaming about a new era of Mexican-American tacos and freedom to eat bugs, potentially segueing into a hysterical rant about sustainable protein, but los dios del duanos were good to me and I waltzed right past, contraband intact-o.
All four bottles of mezcal were also okay. On that note, big smoky margarita party on my roof at 7.
---
More Mexican food for lunch on Food Republic: