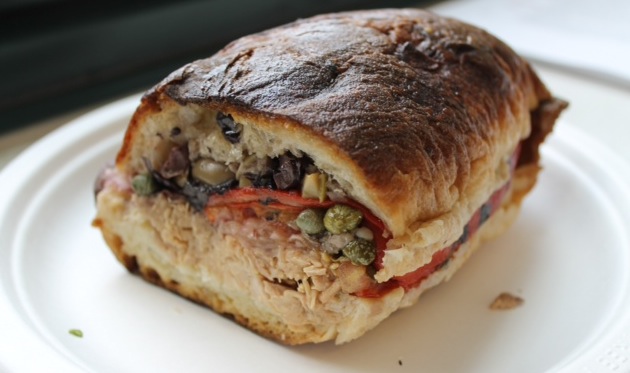 Bleecker Street in New York's Greenwich Village seems to exist in another land, far away from the big city. Tree-shaded sidewalks sidle up against manicured brick townhouses and cute stores with clever names like "La Petit Puppy" and "Marie's Crisis Café." This is a land of twee, quirky little restaurants, long on charm and – all too often – short on invention.
But I was there for the tuna fish. More precisely, the canned tuna fish.
While well known as an American lunchbox classic, canned tuna actually has an international presence. In France, it is the basis of pan bagnat, a Gallic version of America's infamous tuna fish salad sandwich. Like the American version, it is a workingman's standard — a lunch that is convenient, easy to make and doesn't require fresh ingredients. But that's where the similarities end.
While American tuna fish salad leans heavily on refrigerated ingredients like mayonnaise and relish, the French version takes its taste profile from canned, preserved ingredients, like olives and capers, that don't require refrigeration. In fact, the sandwich's pickled, brined and cured flavors evoke another classic "working girl's" dish – Italy's pasta alla puttanesca, a.k.a. "whore-style pasta," so named because the "lazy" women who make puttanesca can't be bothered to go to the market every day.
Unfortunately, pan bagnat isn't easy to find in the U.S., least of all in actual working class neighborhoods. And so it was that I found myself in moneyed, cutesy Greenwich Village. My destination, L'AOC, fit perfectly with the vibe of the neighborhood: the façade was cheeky-yet-austere, with lots of little windows and blue paint. Inside, the scarred wooden tables and half-paneled interior evoked the kind of neighborhood bistro where Julia Child might have wooed her husband (or at least the kind of place where Meryl Streep might have played Julia Child wooing her husband). The maître d' sported a white shirt and vest, as well as a passable French accent, and with a little squinting, it wasn't hard to imagine L'AOC transported to the Left Bank.
The waiter offered all the standards — the escargots, the confit de canard, the coq au vin — but I was a man on a mission. I was there for the tuna fish, a pan bagnat that, unlike most of its competitors, hews pretty closely to the original. I quailed a bit at the price: $15 for a tuna fish sandwich is steep, but this was for research, and money (well, up to $20, at least) was no object.
When the sandwich came, it looked lovely: a shiny baguette laden with roasted red peppers, tomatoes, onions, boiled egg, olive tapenade, briny canned tuna, and a few slices of anchovy. Unlike most New York pan bagnats, it wasn't dolled up with avocado or fresh basil or shredded chicken or lardons. It was pretty and vibrant and more or less true to form. Still, something was missing.
Pan bagnat, as we've already discussed, is a workingman's sandwich: long on flavor, low on price and made to sit at the bottom of a lunchbox. Traditionally, it's fairly ugly: made at least a few hours ahead of time, it's designed to rest overnight in order to give the flavors a chance to meld, not to mention soak through the crusty, hard bread encasing them. In fact, that's where the sandwich gets its name: in an early French dialect, the term "pan banhat" meant "wet bread." Unfortunately, L'AOC's sandwich was dry as a bone.
Beyond that, the classic pan bagnat is a bit overstuffed, a glorious mass of fish and veggies that pushes the boundaries of the bread. L'AOC's version was tasteful and polite, a genteel construction with picturesque profusions of pepper and egg hinting at the wonders within. While L'AOC had managed to maintain most of the original ingredients of the sandwich, they had missed the point: the clean, tasteful, manicured morsel on my plate bore no relation to the lusty riot of flavors and textures that it claimed to evoke.
Luckily, I wasn't forced to rely on L'AOC's interpretation. One of the most wonderful things about the pan bagnat is that its reliance on preserved foods means that most of the classic ingredients are available at a standard grocery store. After trying the Greenwich Village version, I hauled out the recipe that I've used for years and put together a more authentic – and much cheaper – version. If you're interested, I've enclosed the recipe below.
Pan Bagnat
Ingredients
1 loaf crusty French bread, ideally about 12 inches by 4 inches
1/4 cup olive oil
4 garlic cloves, minced or pressed
2 five-ounce cans olive oil-packed tuna fish, drained
1 red onion, very thinly sliced
1 ounce anchovy fillets, drained and chopped
2 tablespoons brine-cured capers, drained
One small jar (7.25 oz) roasted red peppers, drained
3/4 cup mixed olives, pitted and chopped
2 tomatoes, thinly sliced (optional)
2 hard boiled eggs, chopped (optional)
Directions
Slice French loaf in half lengthwise and scoop out the interior, leaving the outer crust intact.
Combine olive oil and garlic, then brush inside of bread, adding more oil if necessary to completely cover interior.
Crumble tuna fish and spread over bottom half of bread. Layer onions and tomatoes (if using). Combine chopped anchovy with capers, then spread the mix over the tomatoes.
Layer with boiled eggs, if using, then roasted red peppers, and finally olives. Place final bread half on top.
Cut sandwich in half, and wrap each half with plastic wrap or place in ziplock bag.
Let sit at room temperature for 2-3 hours, or refrigerate overnight.
Serves 2 generously, 3-4 with lighter appetites.
---
More sandwich stories on Food Republic: