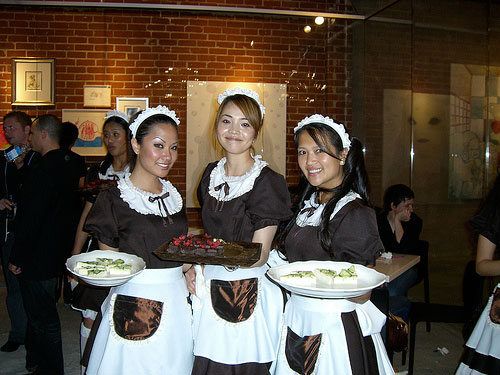 If you spent any time in the L.A. art world in the past four years, then you know Royal/T. The big, colorful gallery in Culver City combined bold contemporary installations with an edgy eatery featuring tongue-in-cheek Japanese-style tea service.
The waitresses, in their cutesy maid uniforms, were an extension of the overall Japanese aesthetic, which inspired founder Susan Hancock's private collection. This week, the space is closing its doors. But it's going out with a bang. Actually, make that a baaaa…the chef Sandra Cordero is bringing her Cordero Negro concept (cordero means "lamb") to Royal/T July 26 and 27 for the gallery's final event.
The two-day pop-up is a fitting end to Royal/T's run. The last exhibit is also fitting: The Art of Cooking is curated by Hanne Mugaas, who was raised in a family of chefs and restaurateurs. Cordero's meal will feature 12 courses, inspired by her childhood growing up in Galicia. We talked with her about the relationship between food and art.
Do you think food and art pair well together?
What Sue [Hancock] tried to create at Royal/T was a place for people to come together and enjoy art and food. I think a lot of galleries can be intimidating to people. So, bringing food and art together is more like, "Oh, let's go for a coffee…and we'll get to see some art, too."
You got your start in the café at Royal/T. Do you have a background in art?
The art part was a new thing for me. I come from the front of the house, actually. I was hired as a consultant to open the café within the art space. Working at Royal/T, I realized I wanted to conquer the kitchen, as well. So, I took a course… I had to start again at the bottom and ended up working in the kitchen in four different restaurants here in L.A. Then I got pregnant with my baby girl and decided to start my own little company. That's how Cordero Negro was born.
What inspires your cooking?
I'm half Dutch, half Spanish. I grew up in Amsterdam, but spent all my summers in Spain. Galicia, which is right on the sea, honestly has the best seafood in the world. I think all Spanish people are foodies, really. That is where I got introduced to food.
Some people say cooking is an art. Do you agree?
Oh, I don't know. Cooking is creative. For me, "art" is a big word. I definitely think it's a creative outlet. The plating can become very artful. But then you eat it and you poop it out, so… I don't know. I feel like people get very serious about the subject matter. We're not saving lives; we're not brain surgeons here. As long as people enjoy it, that is what's important to me. And hopefully I can educate people a little about where food comes from in the process. That part I do find important.
What are some of the dishes to look out for tomorrow night?
The chorizo sausage with succotash and saffron corn velouté is something I'm very happy with. We have some piquillo peppers filled with goat cheese, which is pretty simple, but the goat cheese is being made fresh for the event, so I'm excited about that. We're having a frisee salad with lardons and peaches, and the peaches are so in their prime now!
How did you come up with the name "Cordero Negro" for your catering company?
Cordero is my last name and it also means "lamb" in Spanish. It's a little play on "black sheep." It's about putting my own flag in the ground and starting my own company and not doing it in a traditional way. Most chefs follow a very traditional route. I found a different way to becoming a chef. I think I've always done things a little different in life. Maybe not as serious as a black sheep – just a black lamb.