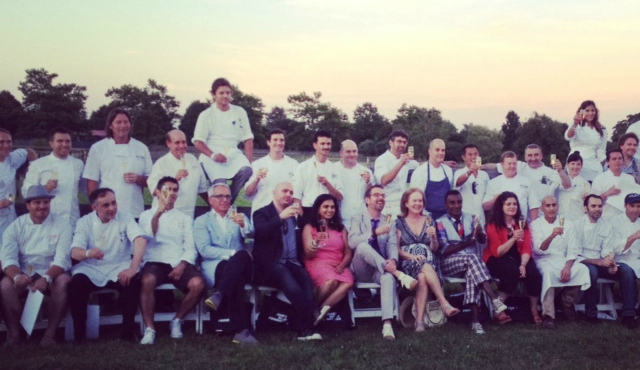 The Mercedes-Benz SL-550 Roadster is the kind of car that I always wanted on the front of my Trapper Keeper: Fire engine red, dropped low to the ground, loud and fast. V8 under the hood, pulling G's on the Long Island Expressway fast.
It's the kind of car that the parking attendant thanks you for allowing them to park (true story). It's also the car that I'm driving (more like roaring) up a dirt road on Saturday afternoon as I approach the Amagansett Sea Salt Co., to learn about their inventive "salt farming" techniques. Daniel Humm, the nice guy master chef behind NoMad and Eleven Madison Park, is waiting for me too.
What the hell is going on?
Chefs And Champagne weekend in the Hamptons is what's going on, and Mercedes was nice enough to loan me a $105,000 whip for the weekend and set up some cool culinary events — which mostly involved drinking Champers and hanging out with some of my chef friends. Life did not suck this weekend.
But about this salt. It's really special salt that Natalie & Steven Judelson have been harvesting painstakingly in small batches for the past two years. The process is more complicated, but the essence is this: Steven, a former real estate developer-turned salt farmer, collects Atlantic Ocean seawater five gallons at a time. After the water "decants" for two days, it is poured into trays housed under plastic tarps (not unlike a greenhouse). After seven days and several washings and filtrations — including a round with an industrial pair of tweezers to weed out any interloping flies — the Judelsons are left with about three ounces of salt for every gallon of water.
But about this salt. It's really special salt that Daniel Humm uses at his restaurant after "searching for years" for the ideal product. At Eleven Madison Park the salt is left in small bowls at the table during bread service and sprinkled on fingerling potatoes, poached fish and cuts of meat.
I can describe the salt as rewarding diners with a unique sort of crunchy payoff when sprinkled atop a skewer of cherry tomatoes, as well as a not-too-salty saltiness that didn't make sense until Humm explained it further. "This is beyond salt, and it's even more about texture and the soft crunch than the actual saltiness," says Humm while standing in the windy field. "The flavor is also explosive, too and tastes of the Northeast." He goes through over five pounds a week. You can order the salt yourself for around $9 an ounce.
After parking the car at the hotel for the evening, we headed in our Sprinter van to the weekend's main event at Wölffer Estate Vineyard. (I'm responsible when it comes to pairing incredibly expensive cars and incredibly expensive bottles of bubbles. As in, I don't. Also, I wasn't about to pull a Kidd.)
As the VIP hour began, chef Humm served a brisk three-course seated dinner including an incredibly bright strawberry gazpacho with guanciale and squab with dehydrated blueberries and smoked summer corn. Rhubarb tart closed out the seasonal mastery and I started to make my rounds around the walk-around tasting.
Chefs and Champagne is a James Beard Foundation event, meaning basically everybody who is anybody shows up. From former Beard Awards winners (Chris Hastings, David Bouley, Todd English, FR co-founder Marcus Samuelsson) to rising stars (Aliya LeeKong, Mads Refslund). Some of Long Island's top restaurants, like Fresno and the North Fork Table & Inn, were also included in the 35-chef tasting.
Seamus Mullen did his signature grilled octopus with squash and tomatoes. A winner. Refslund, the Danish chef and Noma co-founder, served an egg custard that stole its flavor profile from cauliflower. An amazing trick of the senses. Samuelsson and Team Red Rooster served a fiery fluke gazpacho with shishito peppers that surprised everybody in the best possible way.
There was a cigarette girl-styled micro-green vendor (!!) and plenty of Wölffer rosé flowing, and things sort of got fuzzy by the time we got to our table at SL East. I think we got to the table. Anyways, Mercedes knows how to throw a party.
---
More Field Reports On Food Republic: