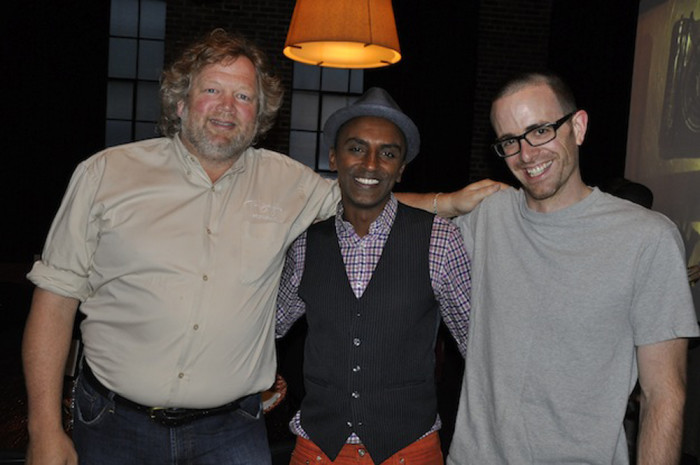 Marcus Samuelsson is on the road, filing reports from his Yes, Chef book tour here on the site he co-founded, Food Republic. He's cooking special dinners at some of the country's best restaurants, when he's not doing interviews and touring notable spots. Last week he filled us in on an eventful trip to LA, then it was on to the Bay Area. Next stop, Seattle… (And scroll down for photos from the trip).
Had a 5:30 a.m. flight to Seattle from San Francisco, which is way too early for anyone's good. One entertaining thing about leaving your party hotel that early in the morning is seeing the girls leave the premises still dressed up in their red leather pants and high heels from the night before. The flight was two hours and I was finally able to catch up on some much-needed sleep. My schedule has been go, go, go since I touched down in Los Angeles last Sunday and the one thing I'm bummed about is that I haven't really had time to go running since I started the book tour. Luckily I had Adicup back in New York to look forward to—I know I'll get my workout in there.

Upon arriving in Seattle, I met my media escort, who coincidentally took me around the city a few years ago, and we went to sign copies of Yes, Chef at Book Larder, a fantastic little bookstore run by Lara Hamilton. One of the things I've been loving to see while on tour are the independent bookstores that are still thriving in these cities. They depend on local support, and to see communities rallying to save these gems—it's great to see. After that, we headed to Starbucks HQ, where I spoke to the Black Partner Network, then to a larger group of Starbucks employees. Cecilia Carter, VP of Global Community and Civic affairs, organized a beautiful and warm reception that started with a traditional bunna, an Ethiopian coffee ceremony. And I was touched that Howard Schultz stopped by to say hi. I worked with the team back in 2007 and they're a terrific bunch—because we didn't have time to eat, the kitchen was gracious enough to fire up some pizzas that we took with us to our next stop.
I was able to take a breather from official book tour events to tour Nathan Myhrvold's Cooking Lab. Wow. Just wow. Behind his lab, where they are breeding mosquitoes, is his kitchen that inspired Modernist Cuisine. If you didn't see the fridge and the pantry next to all the equipment you would think it was just another extension of the lab. Half-sawed-off Weber grills and Viking ranges, a gigantic centrifuge and dehydrator. It was all incredible. I didn't expect anything, but chef Maxime laid out a table for us and I was able to sample some bites—vegetable soup made with pea butter, short ribs prepared like pastrami, carrot soup and pistachio "ice cream"—it all sounds common but prepared in insanely uncommon means. I tasted the future, and it was delicious.
Quick nap at the hotel and then it was off to Tom Douglas' Palace Ballroom for a demo and dinner. The only time I sat down was to sign some books, but I like to be moving about. We demo'd ramen with uni and seared pork belly, smoked artic char and a chocolate cake with sweet and luscious cherries. Man, fish in the Pacific Northwest is just unbelievable, and the meal was a hit. It was great to see some friends who came out, but the celebration was short—as soon as the dinner was over I was off to the airport to catch my red eye back to New York. Then it was off to Adicup in NYC to play soccer with my team, Blatte United.