Judging by the innumerable Pinterest accounts, Flickr pages and Instagram feeds devoted to food alone, not to mention the bevy of publications and cookbooks showcasing edibles in all manner of plating, it's clear that our appetite for food porn is nowhere near sated.
The newest entry into the fray is Gather Journal, a bi-annual publication delivering recipes that capitalize on the season's best offerings, alongside artfully composed images of the plates and their ingredients in all their striking, minimalist glory (scroll down for select images and spreads).
Here we talk with Gather's aesthete-in-residence, Maggie Ruggiero, a New York-based food stylist, about her trajectory from East Village bar owner to the pages of Gourmet — and what it takes to be a food stylist today.
So you were a bar owner before transitioning into food styling? What was the bar?
It was an East Village venue called King Tut's Wah Wah Hut. Steve Buscemi was the waiter and Tiny Tim and Blue Man Group performed there. Years later a bar in Glasgow swiped the name. Go figure.
When you went to culinary school, what was your focus?
I was all about cooking on "the hot side." At that time, women in kitchens were relegated to pastry or languished in salads. It was one of those glass ceiling things. I was all about smoke and fire — still am.
Why the transition to food styling?
I worked in restaurants but the routine wore at me. The thing about food styling is that every day is different. It's like skydiving. Whatever you need, it better be packed.
What were some of your first projects?
I sort or whored around, and then I got a staff job at a short lived but beautiful magazine called Taste. It was a remarkably collaborative experience and I sort of came into my own there. Shortly after that, I worked at Gourmet. I learned so much from Richard Ferretti, the creative director there. He makes my heart grow three sizes just thinking about him. Then they closed Gourmet. I hope for Gather's sake, I'm not the "Flying Dutchman" of publishing.
How does one "educate" himself or herself in this area? Trial and error? How did you do it?
I assisted some amazing people. I was immeasurably fortunate to work for Anne Disrude. She's an incredible stylist, and an incredible cook. I still spend Thanksgiving at her table every year, and I still do the dishes.
So would that be your advice to hopeful food stylists?
Assist a bunch of different stylists and see if it's right for you. You need to be collaborative, industrious and curious.
Would you say that you have a particular aesthetic that comes through in most of your work, or is it pretty versatile according to the client's needs?
I want to be flexible because that's how I grow. In a good collaboration there's synergy. Theo Vamouvakis is a mad genius. She prop styled much of Gather Journal. She and I had to be separated sometimes because we can go out the window with the window.
Are all your projects food-specific?
I've worked on numerous projects for M.A.C. cosmetics. The creative director, James Gager, will give me a brief like, "think Paco Rabanne futurism" or "fun house meets greenhouse." It's like looking at a marble-sized view of my comfort zone from space.
In the case of Gather, what was the desired outcome for the debut issue? How did you want to announce yourselves, so to speak?
The theme of the issue was "float," and that made for some crazy brainstorming, but when we'd talk through ideas, the air was electric. [Editors] Michele Outland and Fiorella Valdesolo gave us ample rope to hang ourselves. Each shoot was really pretty different. I think we were very go with the flow— for crying out loud, there's a meteorite next to an île flottante!
What's been your most fun project so far?
Without a doubt, Gather. Michele Outland is a muse. We had the liberty to chase ideas in a buzz kill– free environment. That's rare. If you work 250 days a year, you're lucky if you get two days like that.
Are there any food styling trends or gaffes that really irk you?
I don't know where I stand on the composited photographs, that embrace of artificiality. It's like "lookee, I got implants!" I'm on the fence.
Right now, what's your favorite type of food to work with?
I love that it's roulette. I never know what the next shoot will bring. I'm just happy I don't have to wait tables.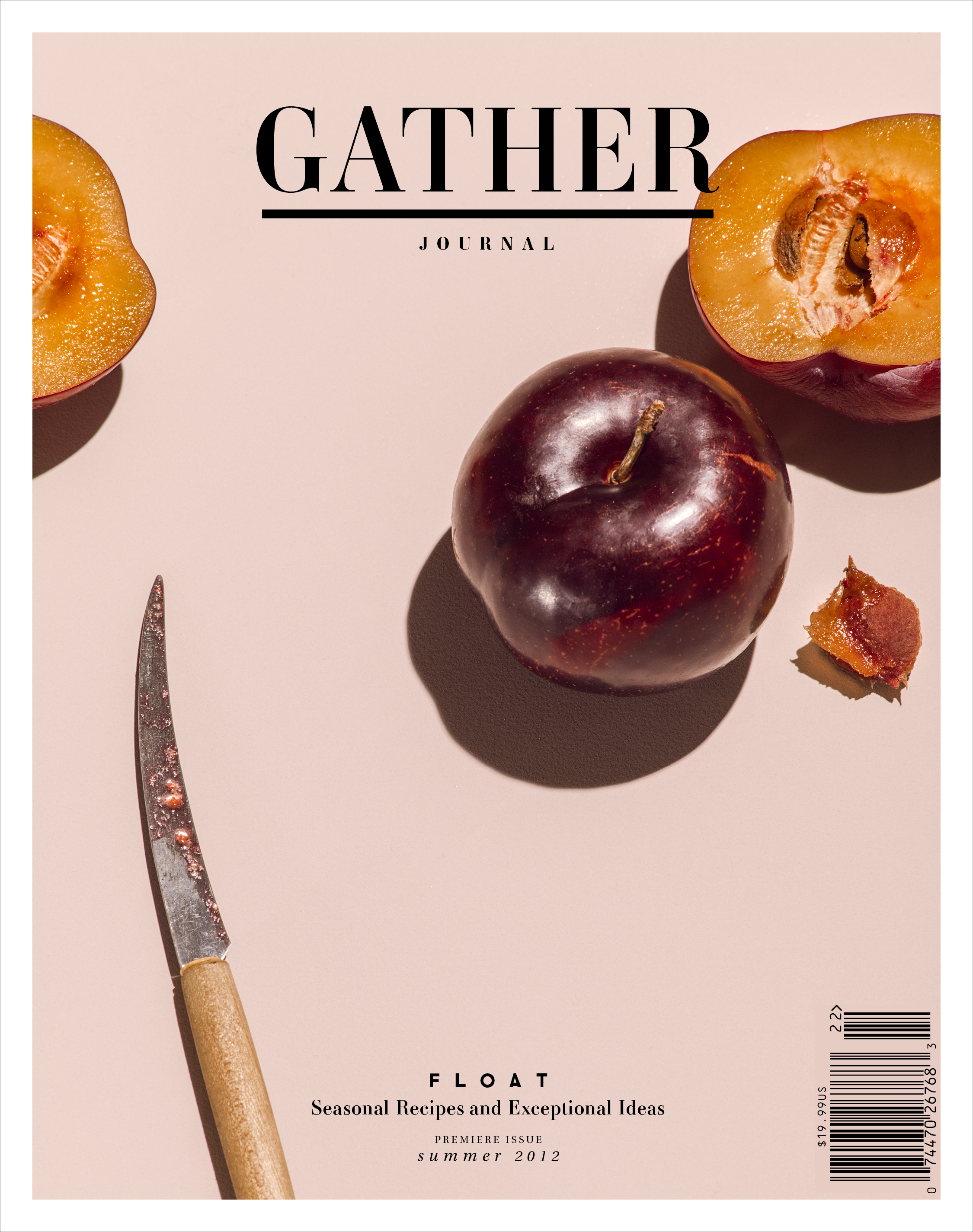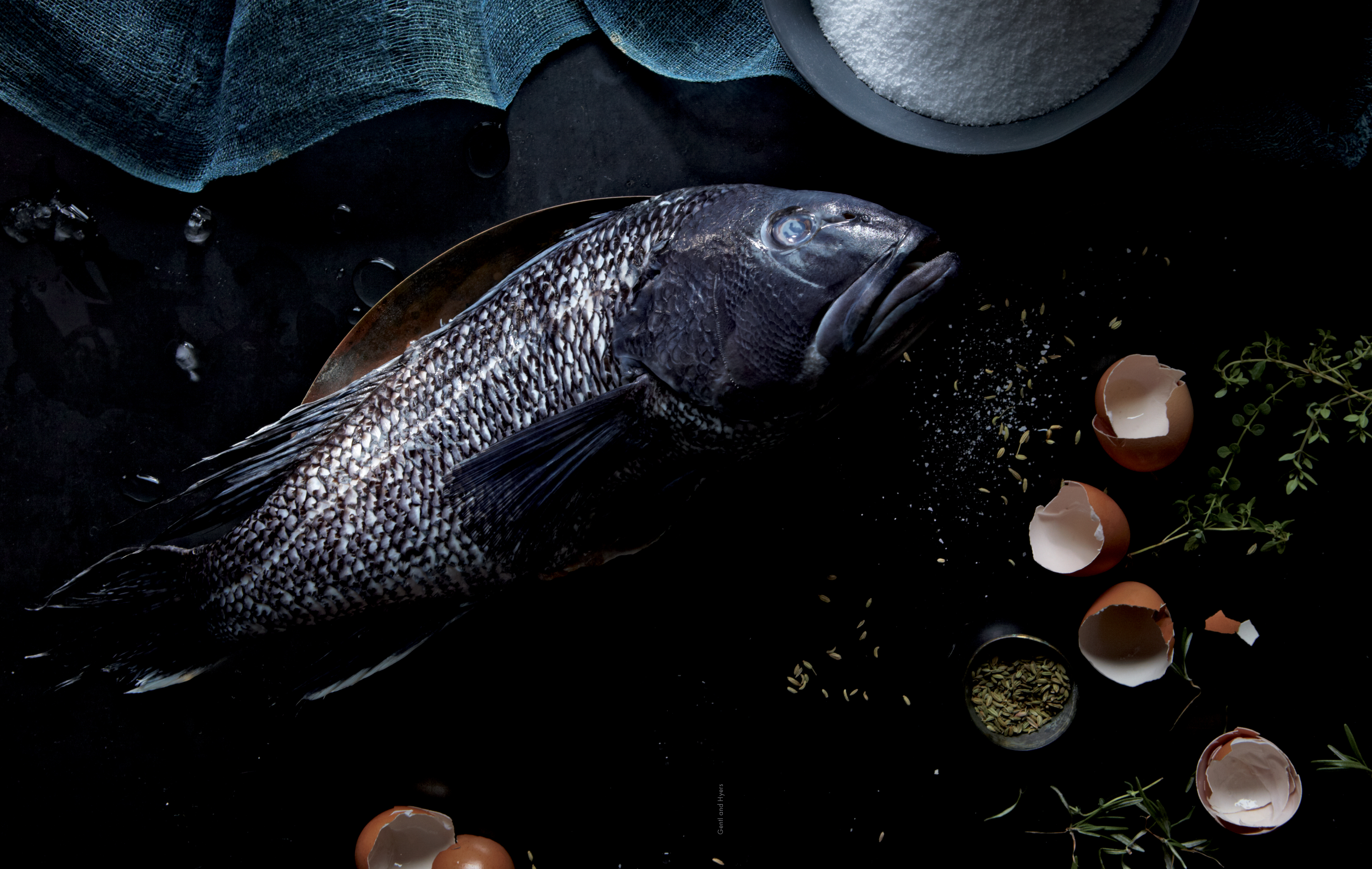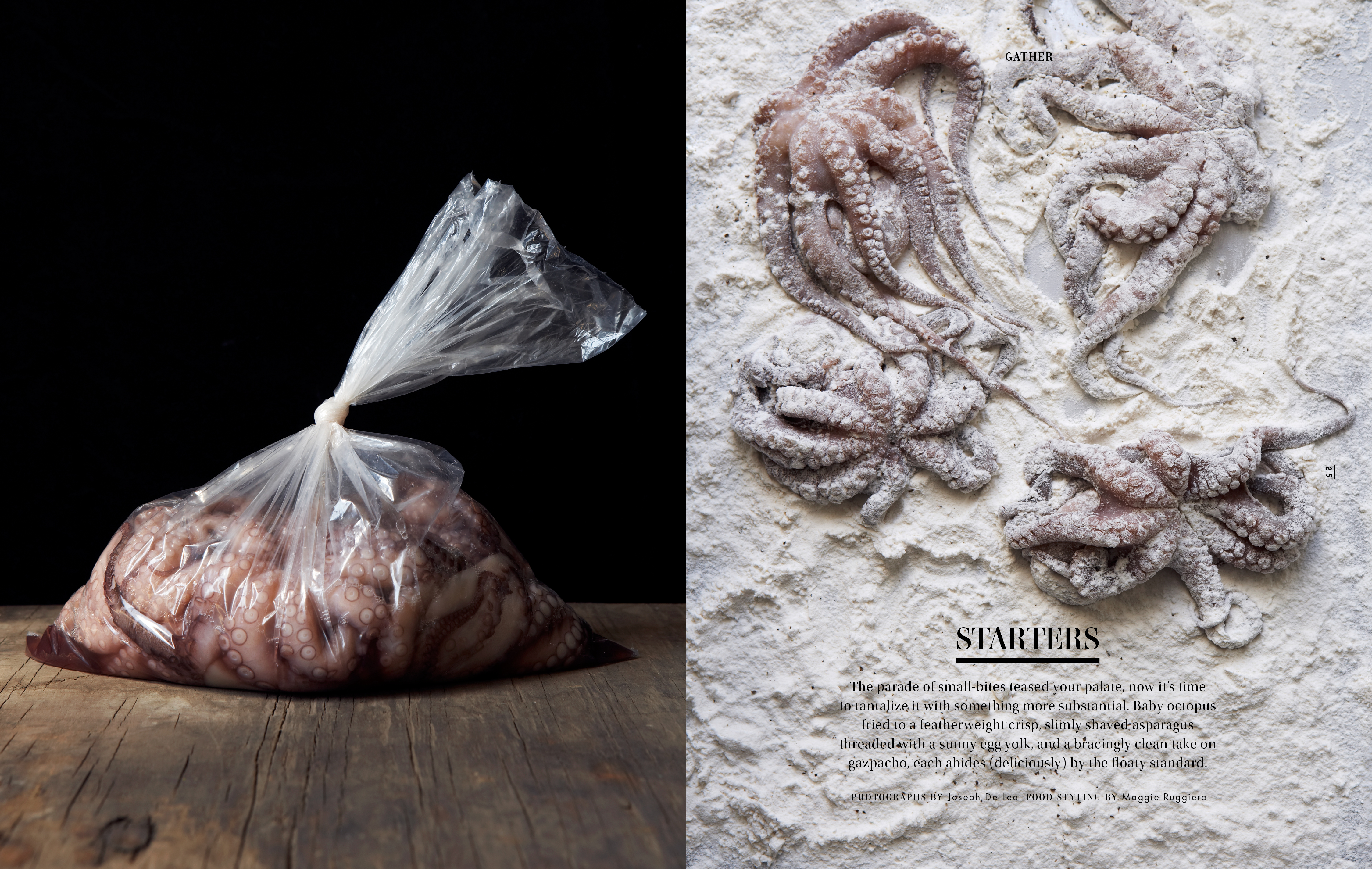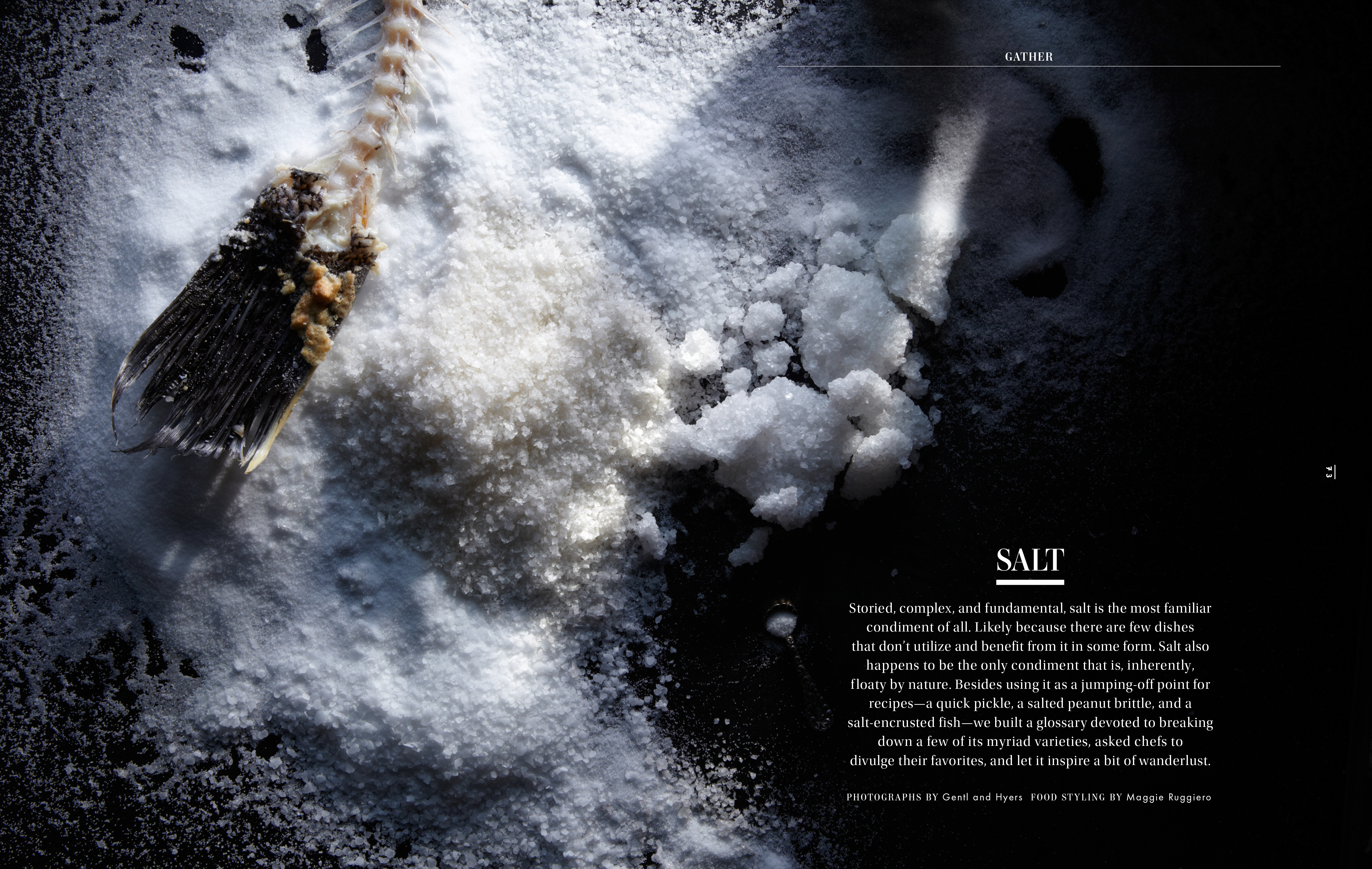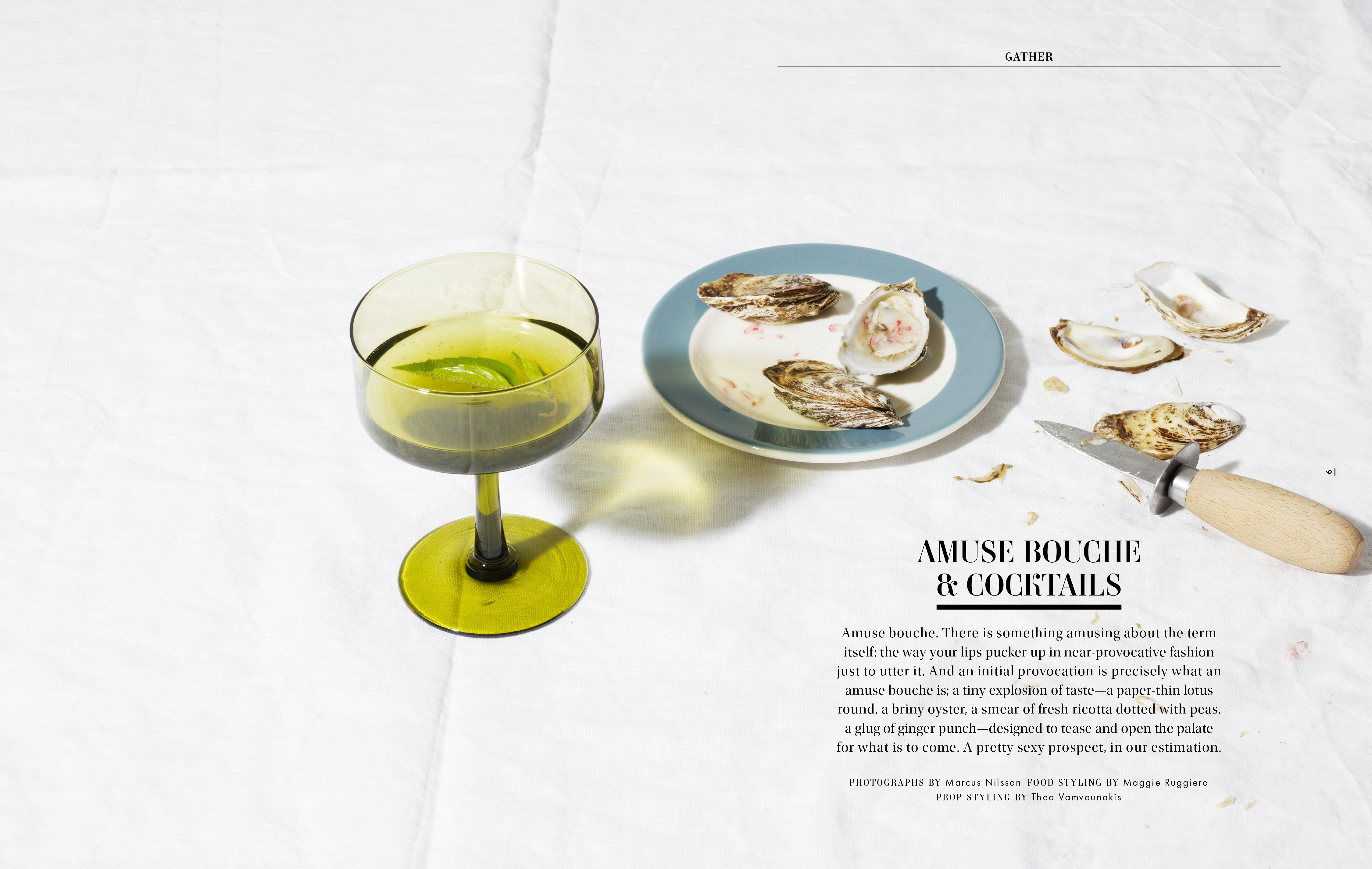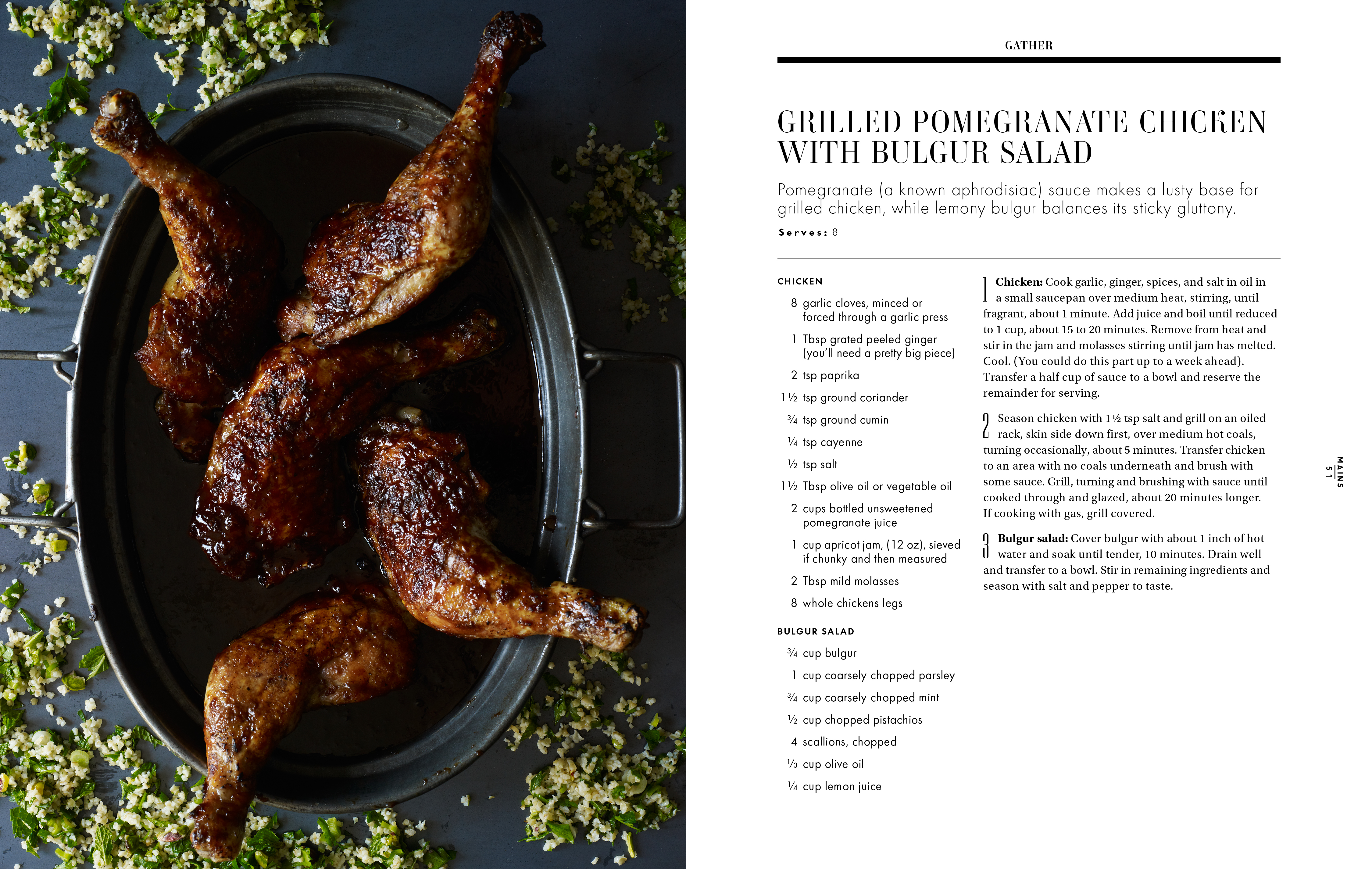 Find Issue 1 (Summer 2012) of Gather Journal at select bookstores and online, $20.