Boulder: John Besh Joins Forces With The Friulian Bad Boys At Frasca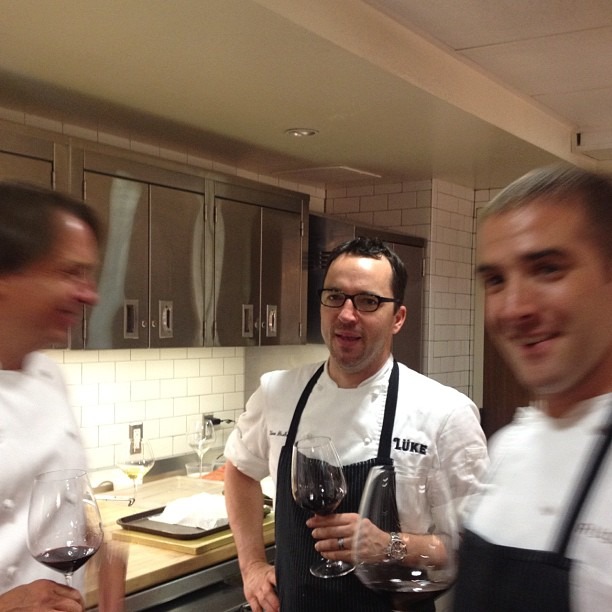 While driving the hour from Denver to Boulder on Monday night, blazing sun in my eyes and still hungover from the weekend's rodeo, the logical side of me pleaded for a night off — to rest up for what would be 48 hours of intense Mile High recon. Turn the car around, he screamed!
But as we approached Colorado's cultural boomtown on a scorcher of a spring night, the logical started to fade and the foodie sadist side started to get really, really excited.
John Besh, a New Orleans gentleman and one of the most-decorated chefs in the American South (James Beard Awards, Food & Wine Best New Chef, Top Chef Masters) was guest cooking at Boulder's popular Friulian restaurant Frasca Food and Wine. Besh, who was in town for Aspen, brought two of his top lieutenants for the dinner, who joined forces with Frasca chef Lachlan MacKinnon-Patterson and his business partner, Master Sommelier Bobby Stuckey.
So, yeah, ridiculous talent was in the kitchen doing four courses with winemaker Giampaolo Venica, who flew in from Friuli just for the occasion. (With his aggressively tailored suit, he barely nudged out Stuckey for best dressed.)
So, the food! Besh, good guy as noted, broke me off some golden pig skin while we toasted in the spacious kitchen before our seating. It was only a teaser for his cochon de lait course — a porchetta lined with corn pudding and blackberries leaving a trail of tart jus. Shaved summer truffles were added for ridiculousness.
Preceding were two remarkable seafood courses. Lump blue crab was spooned into halved avocados that rested in a chilled white asparagus soup. Stealing the show was a pan-roasted sablefish served with a briny tomato sauce shaped with just off the Fed Ex truck Louisiana crawfish. A "salad" of tiny fried eggplant cubes added a nice layer.
I admittedly skipped dessert to try the pie at the restaurant's sister Neapolitan pizza joint, Pizzeria Locale. With apologies to the person who made the hummingbird cake with pineapple caramel — I WIN! The perfect way to close out a ridiculous night. As I returned to the Frasca dining room 30 minutes later, Team Besh and Team Frasca were sitting down with several pizzas and bottles of Tocai Friulano.
It's rare to see chefs sharing a family meal in a restaurant, especially post-shift. But as birthday cookie cakes were presented to a couple of the Geminis in attendance, it was obvious that it really is family within this elite cooking circle. A special night.
The Frasca group dinners continues when Marc Vetri and Food Republic co-founder Marcus Samuelsson visit later this summer. For details visit: frascafoodandwine.com