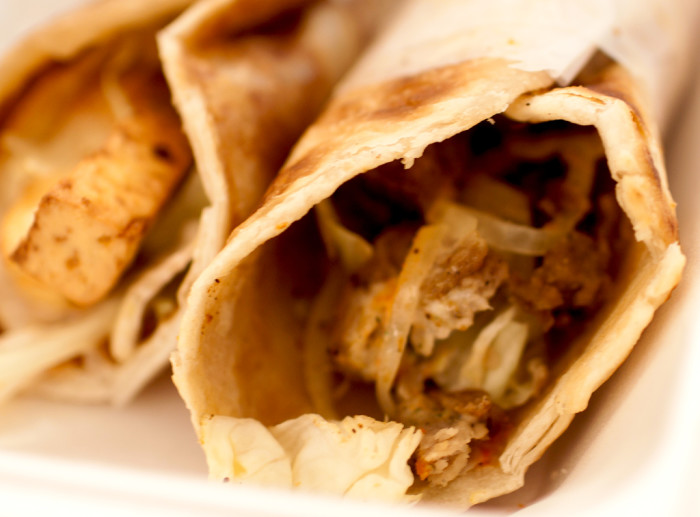 Well, make that a wrap, but hold the wrap. I've been complaining to nobody about gummy, flavorless "tortillas" with sandwich ingredients in them, otherwise known as wraps, for a long time. Thankfully, there are plenty of other things to wrap sandwich ingredients — or entirely other stuff — in for lunch purposes. Lettuce leaves don't count.
First, let's tackle the gross tortilla thing head-on. Lavash, a soft, thin Middle Eastern flatbread, makes the best traditional wrap sandwich you've had in a while. It's more flavorful, with a slightly flaky texture and is perfect for Mediterranean ingredients that just seem out of place in a traditional Mexican garb. Now's the time to break out your homemade hummus recipe. Little-known fact: hummus is good on just about any sandwich.
Further along those exotic lines is the kati roll. What's your favorite bread at an Indian restaurant? Naan. Unless it's poori, in which case, hey look at me showing off my knowledge of delicious Indian breads. Jerk. Anyway, naan is a doughy, elastic bread more leavened than lavash baked to a slight char in a tandoor oven and is the base of the kati roll. While it's great for sopping up extra curry, it's absolutely perfect for wrapping around anything for a satisfying lunch. That said, Indian ingredients like tandoori chicken, crispy fried paneer and even curried okra are particularly good. Slather it with a little homemade Indian barbecue sauce for extra kick.
More Indian is the dosa. I liken the taste of this blended rice and lentil crepe to a cross between potato chips and beer — the crepe is crispy and chewy with a pronounced fermented flavor from the batter's overnight stint in a low oven. If you haven't tried a dosa, you clearly don't like potato chips or beer and might want to find another website for lunch suggestions.
Far less Indian is the stromboli. I'd call it Italian but it's 100% American, like the oversized tortilla-clad wrap sandwich itself. This is my favorite application of the homemade sandwich. All you do is flatten out pizza dough a little more than you normally would, roll your ingredients inside and bake until golden brown and crisp. It's a really good reason to keep pizza dough in your fridge or freezer, cause everyone knows your homemade pizza's only so-so (as they devour it before your eyes). But nobody knows how good your stromboli is.
And way, way less Italian than that is Pizza Hut's new P'zolo, the new fast-food Franken-wrap with an unnecessary apostrophe and gluey buffalo chicken innards.
Well that was a nice little tour de wrap sandwich. But it didn't squash my Korean fried chicken craving. Ever start writing a lunch column about something and end up with a fierce desire for something entirely different? It's a mindf*ck.
Fine, Jess, Korean Fried Chicken on Food Republic: