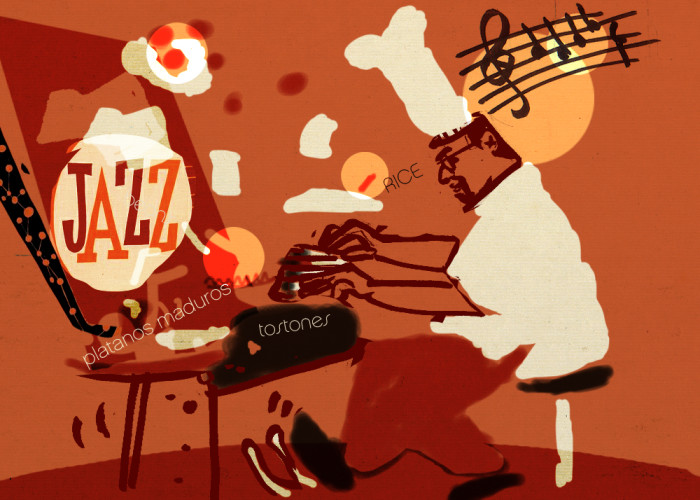 Ginny's Supper Club in Harlem will get its Cuban flavor when pianist Arturo O'Farrill and his Afro Latin Jazz Orchestra comes in for one night only, Tuesday, June 19th. O'Farrill, a Grammy-winner, Latin jazz crusader and the son of the legendary Cuban composer and bandleader Chico O'Farrill, will premiere The Offense of the Drum, a trip from slave revolt in the Americas to the Occupy Movement, driven by the sacred, smoking rhythms of Cuba, with guest African and Indian percussionists. Chef Marcus Samuelsson, a Food Republic co-founder, will create an Afro-Cuban menu and special cocktails.
Cubaphile Judy Cantor-Navas spoke to Arturo O'Farrill about the upcoming Cuban takeover of the Harlem supper club, his dinner party playlist, and making a mess in the kitchen.
You're premiering your new piece for the Afro-Latin Orchestra, The Offense of the Drum, at Ginny's Supper Club in the Red Rooster restaurant in Harlem, pairing the music with chef Marcus Samuelsson's food. Why?
I love the idea that Marcus is cooking up special things for this, and thinking about Afro-Cuban cuisine. We're going to integrate the package. You can look at our cuisine and see African influences in the way that we eat, in the culinary esthetic in Cuba and Puerto Rico, and different parts of the Latin American world. The Harlem Renaissance of the past and the Harlem renaissance of today are very affected by the Latino presence. Spanish Harlem was the home of [Cuban bandleader] Machito and Tito Puente.
This is recognition that there was a real Afro-Latino presence in Harlem from the beginning. We're planning a true interdisciplinary event with the Red Rooster and the Museo del Barrio [which is adding works by artist Tony Peralta to the party]. It's the result of a chef, a composer and art curator getting together.
You've performed in concert halls and theaters all over the world. Your latest album, The Noguchi Sessions (out July 10), was recorded at The Noguchi Museum in Queens. Why did you want to perform this new piece at the supper club?
I love the idea of creating unique experiences. One idea that we've been talking about is having the drummers interspersed with the public, performing among the tables. I don't like the idea of having a concert where the audience sits there and claps and looks at you, automatically claps after the solo. I like the model where you're laughing, you're drinking, you're smiling, you get up and shake a little. It's a continually evolving experience that involves all your senses. I like to raise a glass of wine, have a picnic basket. Music is an extension of our lives. We've moved away from that. Somehow we've gotten into this idea that jazz is music you listen to in a concert setting. And I've been as guilty of that as anyone. But I feel like people are evolving again towards music as a communal experience. It's a celebration. It's a ritual. Music should make our lives better.
Your father, Chico O'Farrill, was one of the real mambo kings, so of course there was a lot of music in your house growing up in New York City. What about food?
My mother and father had a huge social life. People like Dizzy Gillespie, Count Basie, Gerry Mulligan, Jon Hendricks would come over and there would be these massive parties. There would be all kinds of food and drink. Because my father was Cuban, my mother had to learn to make the rice and beans, ropa vieja, platanos maduros, the tostones that my father liked. The quintessential Cuban food is black beans. That's a really beautiful dish that is made in different ways all over Latin America. My mother, being Mexican, was used to hot spicy things in her food, like peppers, so hot that they would light her eyes on fire. So we'd get these hybrids of Cuban food interpreted through Mexican hands. I always felt like my father was a synthesist; he was a consummate master musician with his feet equally planted in African jazz and Afro Cuban folkoricism. That fusion happens the same way with food.
Do you cook?
I cook like a jazz musician. I take the basic format and then I just swing, baby. I improvise around that basic premise and have some amazing results. My kids like my food. I'm not sure about my wife. I'm a very good cook, but I'm not allowed to cook because I make a mess. I go into the kitchen and I create something, and there is literally food on the ceiling.
There are so many great Cuban songs about food…well, about food and sex, since they use food as a euphemism for sex…
Isn't all music about sex? It's all about life: food, song, dance. It's about sensuality, about having your senses be so overjoyed with stimulation. Sounds and tastes and feelings and gestures and thoughts. These things remind us of how human we are and how temporary we are, and why we are here. Eat that extra bowl of beans and rice. Go ahead, dance. It's what life's about.
What music would be playing a dinner party at your house?
Munequitos de Matanzas, "Vacunao," or anything from the album Oyelo de Nuevo.
Some great Tito Rodriguez records like Estoy Como Nunca. Definitely Chick Correa, Now He Sings, Now He Sobs.
I might throw in some Staples Singers.
I might throw down some Earth, Wind and Fire
I might throw down some old school hip-hop like Wu-Tang Clan.
I might throw some Jimi Hendrix on there. And classical music, Ravel.
My dinner party would include a lot of unusual musical choices. Maybe even some Steely Dan.
My dinner party would have frozen margaritas and maduros. We might have brisket. We might have barbecue next to something completely different. Maybe some Peruvian. It's a reflection of who I am: Cuban, Irish, German, Mexican. My wife is African-American and Jewish. It's a mess, man! There are people who define themselves by regularity and seclusion. But I think the more you expand and try people's food and culture, the more solid you feel about your own.
What inspired your new musical suite, The Offense of the Drum?
I was reading an article about the occupy Wall Street takeover of Zuccotti Park. On the East side, the demonstrators were calm and collected. They organized a lending library. On the West side, they were more vocal, more anarchic. That was side with the drummers, doing these impromptu crazy drum things that would go on at night.
It got me thinking about the history of drum in the New World. The Drum was always a highly charged political instrument, beginning with the early history of war when it was used to antagonize the enemy. Slaves used it to communicate. It was seen as a subversive weapon, and some places where drums were brought by the African slaves, the drums were taken away. Especially where the British and the Dutch were, the drums were taken away; the slaves in Spanish and Portuguese territories were left with their drums. And somehow, the Afro Latin jazz tradition has never lost touch with those African roots.
One of the trademarks of New York neighborhoods with a high population of immigrants was that they always had pockets at drummers. I remember as a kid always hearing drums in Central Park. As neighborhoods became gentrified, the drummers started leaving.
I think most people love rhythm, and if people understand what the drum is, what a powerful political expression it is, they understand the nature of these issues. The drum will never go away, I don't care how repressed people become. I feel like the great thing about all of this is The Offense of the Drum is not a piece born out of the spirit of anger. It's a piece born out of the spirit of human triumph, which is what jazz is all about.
---
Arturo O'Farrill and the Afro-Latin Jazz Orchestra perform at Ginny's Supper Club at the Red Rooster on Tuesday, June 19, with two sets at 8pm and 10:30pm, accompanied by Marcus Samuelsson's Afro-Cuban menu. Admission is: $25 seated and $10 standing. Tickets are available here. Ginny's Supper Club is on the lower level of the Red Rooster in Harlem located at 310 Lenox Avenue. For reservations and more information, call 212.421.3821.