Cachaça Finally Recognized In The United States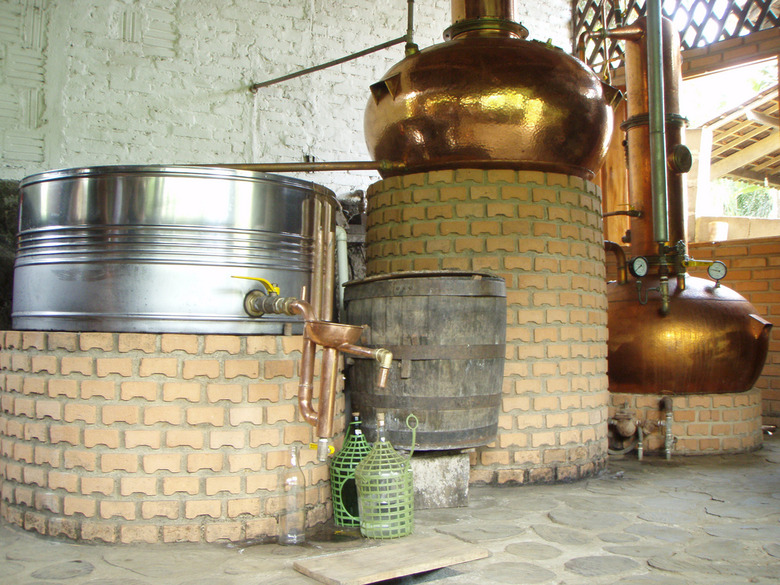 Here's a brief quiz for you: what is cachaça? If you guessed "Brazilian rum," you're now officially wrong.
In the last few years, you may have noticed a campaign to "Legalize Cachaça!" advertised at your local watering hole. Sponsored by Leblon, a popular brand, the campaign was a clever publicity stunt wrapped in a bona fide initiative to get the U.S. to acknowledge cachaça for what it is. This country has only ever recognized the spirit as "Brazilian rum." After years of lobbying, the government announced last month that it would finally grant cachaça its distinct status.
Cachaça is Brazil's national spirit, a distillate of fermented pure sugarcane juice. It has been produced since the early 16th century and is now made by more than 5,000 distillers throughout Brazil — many of them very small operations — producing a total of close to 250 million gallons a year. That's more than a gallon per Brazilian.
"It's the third largest spirits category in the world," says Steve Luttman, founder and president of Leblon. "That's because Brazil is so big and they drink a lot of it. If you go to Brazil, they drink two things: beer and cachaça. Outside Brazil, it's an emerging category. In the U.S., the market has quadrupled in five years, from 25,000 to 100,000 cases sold annually."
The main difference between cachaça and rum is that most rums are distilled from molasses, a sugarcane byproduct. There are rums, however, like Martinique and Guadeloupe's Rhum Agricole, that are distilled from pure sugarcane juice. Hence the confusion. But if you've ever been to Brazil, where the caipirinhas flow like água, there is no confusion.
Cachaça has a distinctly sweet, herbaceous flavor, with the heady yeastiness of pisco and fine tequila. In the last decade, the spirit started showing up in the U.S., especially in caipirinhas, Brazil's national cocktail, a mixture of muddled lime, sugar and cachaça. It has also been incorporated within the heady world of mixology.
The new status will come into effect sometime in the next year. For now, the United States and Brazilian governments have exchanged signed agreements to begin the process of designating cachaça as a distinctive product of Brazil here. In turn, Brazil will designate bourbon and Tennessee whiskey as distinctive products of the United States there. A fair trade, wouldn't you say?
"It definitely legitimizes the category," says Luttman. "Brazil's national spirit deserves respect. It's like, tequila used to be labeled as Mexican whiskey."
It wasn't until the 1968 Olympics in Mexico that they eventually took that off the label and tequila started becoming more important here in the U.S. Now, the same thing is going on with the World Cup taking place in Brazil in 2014 and the Olympics in 2016.
What's the future of cachaça, then? A few aged versions of the spirit have emerged and Leblon plans to release its own later this year. Of course, it's still new to many of us. So, when it comes to the Brazilian sugarcane spirit, baby steps are in order. Before graduating to a sipping cachaça, you'll want to start drinking it the way Brazilians do: in a caipirinha. Leblon continues to be recognized as a top brand in the cachaça category, most recently scoring two Double Gold medals at the 2012 San Francisco Global Spirits Awards. Here are several other cachaças to keep an eye out for:
Rochinha 5-Year ($40)
An earlier Double Gold winner at the San Francisco Global Spirits Awards, this straw-colored spirit is fruity and smoky, like a single-barrel Scotch.
Mãe de Ouro ($30)
From a family distillery in the state of Minas Gerais, this spirit is made with an eye to sustainability, with tangy fruit notes.
Cabana ($35)
Yet another Double Gold winner, this cachaça is clean and herbaceous and exceptionally round thanks to a few months spent maturing in a barrel.
Agua Luca ($25)
Call it a new-wave cachaça, with its sleek bottle and a website extolling its 12-times filtering. Light and crisp.
São Organic ($40)
This organic, small-batch cachaça, made with the "pristine water of Uruguay River," according to the website, has bright notes of cucumber and some spice.
---