Video: Tracing The Ingredients To Trace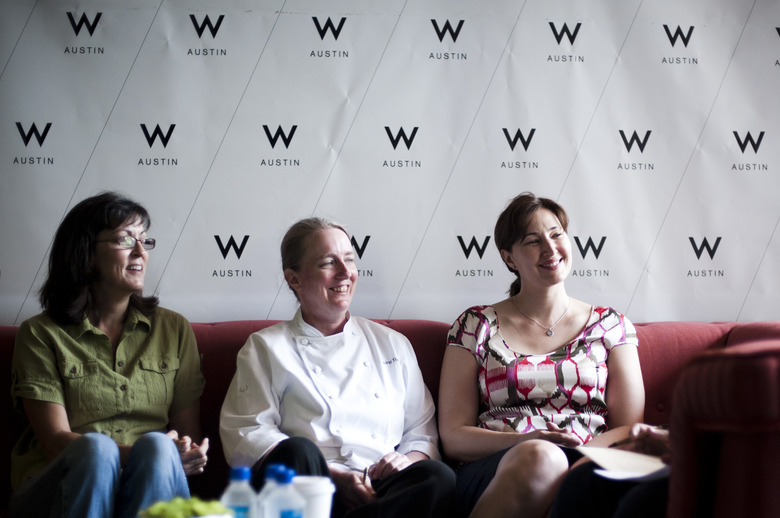 Over the past few weeks, we've been featuring videos from the Food Republic Interview Lounge that we co-hosted with W Austin hotel during the Austin Food & Wine Festival. We've seen Andrew Zimmern talk tube steaks, Tim Love and Marcus Samuelsson banter about grilling, and the Austin stars behind Uchi and Uchiko modestly discussing their quest for citywide domination. 
For me, one of the most intriguing groups to take the stage was a trio of women associated with W Austin's Trace restaurant: W Austin executive chef Nadine Thomas, Trace restaurant forager Valerie Broussard and Paula Foore of Austin's Springdale Farm, a 3 1/2-year-old urban farm that supplies Trace and other restaurants in Texas. Together, they are trying to run and supply a restaurant that has a mantra to make sure that everything on the menu is "farmed, hunted, foraged or crafted." It's a heady political statement for a restaurant that's in a hotel chain, and it's one they've been able live up to, as we found out in this talk. (Since the interview, Chef Thomas and Trace have hired a chef de cuisine, Ben Hightower, ex of Uchiko, to oversee the kitchen at Trace.)
Besides the talk of how to actually pull off the farm-to-fork concept with sustainable ingredients as locally grown or produced as possible, there's also a funny interchange about what the Trace team served during the unveiling of the Willie Nelson statue outside the adjoining Austin City Limits music venue, which occurred — when else? — on 4/20. 
---
This has been presented by our friends at the W Hotel Austin.