5 Whiskey And Beer Crossovers To Try Now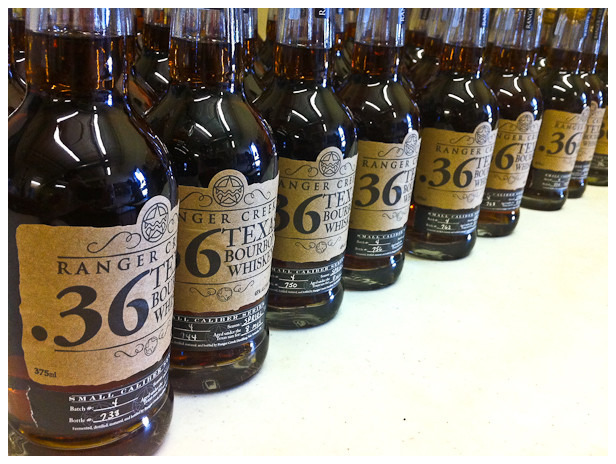 Whiskey and beer have long embraced a special kinship. At bars, a bolt of the brown stuff is often served with a cool can of beer, a one-two punch that leads to long nights and achy mornings after.
Yet there's more to this coupling than the promise of pleasure and, occasionally, pain. Whiskey begins life as a distiller's beer, or wash, that's made with malted barley, water and yeast. The difference is that beer is given a dose of hops, which contributes bitterness. Wash traditionally lacks hops, meaning it's a raw ingredient. Translation: You do not want to drink un-hopped wash.
Another crucial distinction is that distilleries are concerned about starch conversion — unlocking the sugar in grains to create the most alcohol possible. Contrasting that, craft brewers use the available grain palette, not caring that darker-roasted grains offer fewer fermentable sugars. It's all a tradeoff for flavor. This means that whiskey and bourbon require a slumber in charred oak barrels to transform the rough-edged white dog into a smooth sipping spirit.
But in recent years, brewers have begun pulling double duty as distillers, and distillers have begun relying on brewers' tricks of the trade. For example, New Holland Brewing (Holland, MI) offers a line of beer-inspired brewers whiskeys, and Kentucky's Corsair brews imperial stouts that are distilled and run through a hop-stuffed distillation column. On the other hand, California's Charbay Winery & Distillery distills Bear Republic's bottle-ready Racer 5 IPA, while Japan's Kiuchi Brewery turns its aromatic Hitachino Nest White Ale into Kiuchi No Shizuku. Here are five of our favorite spirits blurring the line between beer and booze. What are yours?
Single Malt Whiskey
Sierra Nevada supplies the Bay Area's St. George with a smoky, caramel-licked ale, which is distilled down and aged in a mixture of bourbon, port, French oak and sherry casks. The blended result is beautifully smooth and fruity, featuring notes of nuts, vanilla and chocolate.
Ranger Creek Brewing & Distilling
.36 Texas Bourbon Whiskey
Situated in San Antonio, the self-proclaimed "brewstillery" has devised a nontraditional Texas-style bourbon made with a measure of rye. While the big-barrel release is still aging, Ranger Creek has released this bold, small-barrel version with a spicy bite and sweet flavors of caramel and maple syrup.
Brewers' Whiskey Double Down Barley
The Michigan spirits makers use 100 percent two-row barley (the preferred brewing grain) to concoct this small-batch delight that's double distilled, then sent into heavily charred American oak. There's a nose of fresh, woody oak and rich flavors that dart from toffee to dark fruits.
Doubled & Twisted Light Whiskey
One of our favorite bitter beers is Bear Republic's Racer 5 IPA, a citrusy, pine-laced pleasure usually at home in our fridge. So imagine our excitement when Charbay used its as the base for this unaged whiskey chockfull of green, herbal notes and a sweetly floral complexity.
Kiuchi No Shizuku
Kiuchi's Hitachino Nest White Ale is a killer witbier spiced with coriander, orange peel, nutmeg and even orange juice. Distilled and aged in oak, Kiuchi No Shizuku (its name means first drip from the distillation kettle) calls to mind coriander and citrus, with a sweet, slightly woody finish.
---
Read more about beer on Food Republic: