In-N-Out Makes Kyle Stanley Drive Long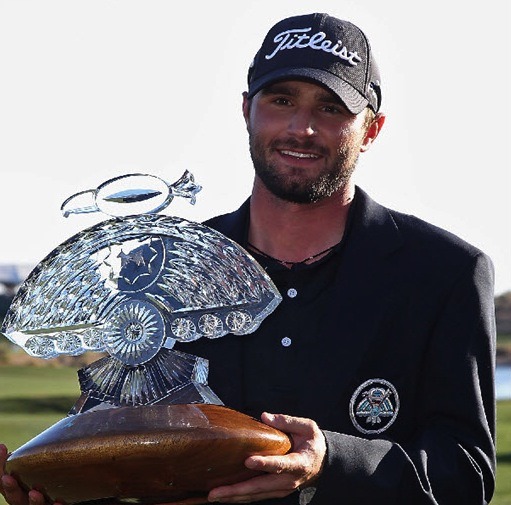 Kyle Stanley photo
The Waste Management Phoenix Open, not the most glamorous sounding of PGA tour stops, was quite the coming out party for Kyle Stanley. The 24-year-old shot a final round bogey-free 65 for a one-shot victory, his first since joining the PGA tour. In total it was an eight shot comeback, and one of the largest final round comebacks ever for the tour. It was a redemptive win for Stanley, who a week earlier suffered a late collapse at Torrey Pines.
A native of Washington and a graduate of Clemson, Stanley now lives in Hilton Head, South Carolina. Up next? A trip to Augusta, Georgia next week for his first-ever Masters.
Do you follow a particular diet while playing on the PGA Tour?
I am fairly strict about what I eat and try to eat mostly fish and chicken. Given my focus on fitness, having good nutrition is a must. However, I do cheat and really like a good steak now and then or a hamburger. But for the most part I am quite disciplined about what I put in my body.
OK, you must hit up fast food once in a while...
When I am traveling I find it hard to pass on a Chipotle if I see one, and when I am out west I always stop at In 'N Out.
How did you celebrate winning the Phoenix Open? A fancy pants dinner?
I celebrated with friends and people from the tournament. They put on a great Champion's reception and they brought in In 'N Out burgers for us. I think the celebration lasted a week, though, and we carried it back to Hilton Head!
What are some of your fitness routines to stay in shape?
I didn't start working out regularly until my freshman year at Clemson University—when I got there I weighed about 135 pounds. When I turned pro my junior year I had added close to 30 pounds of mostly muscle. I am very dedicated to my fitness and have trainers that work with me on the road, as well as back home in Hilton Head during my off weeks. We do a variety of programs, most of which include functional training.
How do you prepare before any tournament?
Time management on the PGA Tour is critical to being successful. There is so much going on and so many distractions, sticking to a regular process seems to help me keep focused with my attention in the right place.
Are there any sports besides golf that you play or watch?
Growing up I liked to play all sports. In addition to golf I played tennis, basketball and baseball. I am a huge college basketball fan and am pretty intense about following the team I grew up watching, Gonzaga. In fact, I just got back from watching their first two games in the NCAA Tournament. I follow Clemson as well, but the Zags have been in my blood since I was a kid.
Any thoughts about your chances at Augusta?
This will be my first Masters, so I am very excited to play and get to know Augusta National better. It is certainly a course that should suit my game well.
Any pro golfers that you consider role models?
I have always had a tremendous amount of respect for Vijay Singh and his work ethic. Vijay always seemed to outwork everyone and that is something I strive to do today.
---
More sports and food crossovers on Food Republic: