What I've Seen: Marcel Vigneron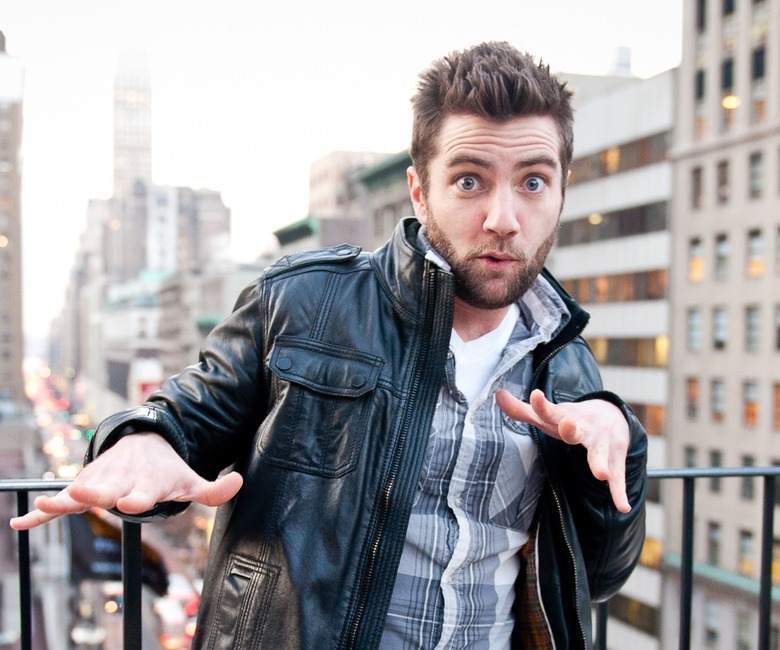 Marcel Vigneron
Call him what you want: foam king, hair guy, "that quantum cooking dude on Syfy," but Marcel Vigneron can cook. From his edgy exploits as a scrappy young molecular gastronomist on the second season of Top Chef, where he won runner-up, to his pervasive presence on the party circuit, Marcel has launched his passion for technological cooking into a full-fledged career. Long story short, get used to it. Beyond the tour de force is a dedicated, classically trained chef with a long career full of fluid gels, basil air and wine noodles ahead of him.
Marcel stopped by Food Republic Headquarters to answer a few of our burning questions, talk kitchen injuries and dish on the Bourdain gossip du jour.
When was the last time...a chef inspired you?
I draw inspiration from other chefs all the time. There's a chef I work with a lot in Los Angeles, Harataka Kishi, and we constantly play off each other. I would say he inspires me to just go with the flow, to cook more freely and not just be like, "I'm going to make this dish and that's it." But to look around the room and think, "Okay I'm going to incorporate this phone jack. I'm going to plate up on top of the T.V." Actually utilizing all the things you have at your exposure. Whenever I work with this guy we have this crazy synergestic effect that happens.
You fired someone...
Last week. No call, no show. I just fired the girl. I was doing a cooking class for Thrillist teaching 50 people a five-course menu, basically just doing modern cooking at home. One of my cooks who works me with on a regular basis totally no called, no showed, so she got the axe.
You read something false about yourself in print or online...
Like five minutes ago, Anthony Bourdain in Playboy magazine. They asked him "What's a food trend gone bad?" Bourdain said, "people cooking like Marcel." I can understand where he's coming from and a lot of people, younger chefs, want to make a fluid gel before making a béchamel. I would agree with him there. But I'm French classically trained. I was trained by Robuchon and Michael Mina, some of the best chefs in the world. I know how to make a béchamel. So it took me aback, and I was pissed off. And then I read the rest of the article and he was popping Wolfgang and Emeril, so...not such a bad club to be in.
Saw a bloody kitchen injury...
Recently one of my cooks had just gotten done working a whole event and was washing his knives. He had his knife in his right hand and a side towel in his left hand and went to clean it off. Then he sliced his pinky through the towel to where it was dangling off and you could see the bone. It wasn't a serrated knife, so it was a nice clean cut, but it was a gusher. We took his finger and pushed it back on. And I was like "hold this really hard, apply a lot of pressure, put it over your heart and let's get you to the hospital!"
Dated a staff member...
I've dated hostesses obviously because...chef/hostess...that's kind of a no-brainer — everybody in the industry has done that at one point or another. I've dated pastry chefs that have worked in the same restaurant as me. I've dated waitresses. The only staff member I haven't dated is line cooks — no shortage of opportunities there, but I put my foot down. It would just make it way too complicated. I try and run a happy staff that isn't jealous or competitive. Front of the house is totally fair game, though.
Improvised a dish to instant perfection...
I was doing Sundance a couple of weeks ago, working with a winery. My booth was basically like NASCAR because all the sponsors paid me to be there so you have to use the products. I made pulled braised lamb neck with caramelized cipollini onions, super-crispy fried black trumpet mushrooms and wine noodles. I used gelling gum and agar agar and set the wine in thin sheets, then cut it into noodles. I've never tried that sort of technique. It was a last-minute, cool way to use the wine. The winery loved it and the guests loved it.
Felt defeated...
This morning when I woke up with a crazy hangover, after drinking entirely too much cachaça last night. I was like, "Oh my god, I'm totally not going to survive." Yeah, I was super-defeated this morning.
Felt overjoyed...
Most recently it would be the last party I did. I catered a party for 85 people for the executive producer of Two And A Half Men. It was a birthday party, and I was super-stressed out about it, but everybody had a really nice time. We did 12 courses for 85 people.
---
See what these chefs have seen: