Calamity Chang On Pleasuring Your Mouth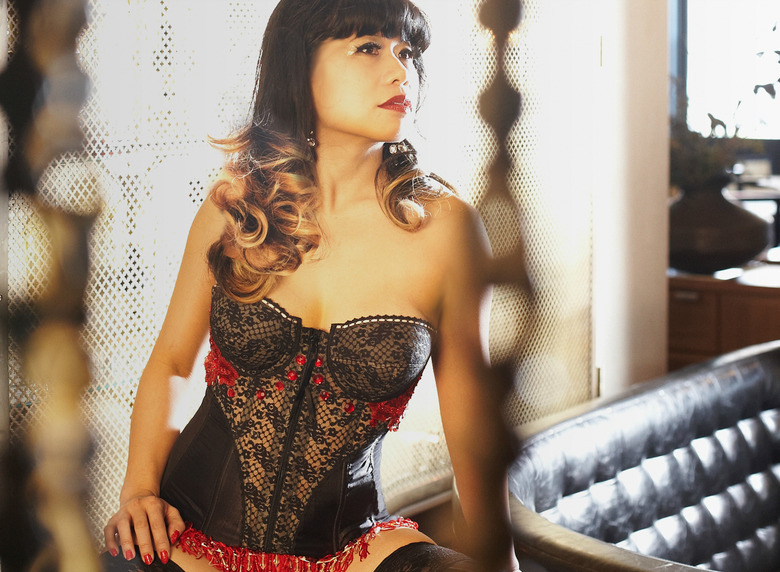 Calamity Chang
Calamity Chang, a.k.a. the Asian Sexsation, is a burlesque performer – and, no, her job does not involve a pole. Think more signing, dancing, costume design, choreography, feathers, pasties and shedding her clothes to reveal her perfectly tattooed body. And a whole lot of suggestive wordplay. All this and you get to eat a satisfying meal as you watch. We sat down with her to talk sexy foods, spicing up dinner theater and why your girlfriend might like burlesque as much as you do. She performs tonight at Duane Park in New York City.
There's been something of a burlesque renaissance lately. Why?
Burlesque, originally, was not considered an art form. It was seen as just stripping. Now, post-feminism, people have rediscovered it as a form of art. When you think of burlesque, you often think of the Christina Aguilera film or pole dancing. But that's not really accurate. In a strip club, there's no narrative. It's just a woman who's naked. We put the tease back in strip tease.
And it's a great date night activity...
When I discovered it, I thought it was a fun way to access female sexuality, without it feeling threatening. That's why it's so popular with couples, singles, men, women, straight people or gay people. It's a friendly way to get a glimpse into female sexuality. Plus, you get romance and a great dinner in an upscale, elegant environment.
You do a lot of shows at restaurants. Why do food and sex go so well together?
For me, the answer is so very obvious—food is pleasure for your mouth and your taste buds. Coupling that with visual sensuality is a no-brainer. Experiencing something delicious while you're watching something beautiful is amazing.
You're originally from Taipei and grew up in Texas. What foods do you miss?
We still speak Chinese at home; my mom only cooks Chinese food. She makes sautéed green beans that are so much better than what you get in a restaurant, which is all wilted. And she makes a lot of fish dishes, which is amazing because I can't cook fish at all. We keep the head on in Chinese cooking—we don't depersonalize it by taking the head off. She also does cold cucumbers with sesame oil and garlic that are delicious.
You've lived in South America and several American cities. Do you have a favorite food city?
I eat everything. I love South American roast chicken with yucca fries, which we ate all the time when we lived in Bolivia. I love rice and beans. Because I grew up in Texas, I love Tex-Mex, which you can't really find in New York so I try to get it when I go home. I love Indian food... I don't know where that came from. I guess I just like things spicy.
What do you eat to prepare for a show?
I always take a nap before a show. I have a day job so that nap is necessary. I'll usually eat something that digests quickly, like avocado or quinoa with vegetables. I think I'm a closet vegetarian, but I just haven't come out yet. And when I get home, which is usually late – like, 2 a.m.– I'll have a Lean Cuisine. I know: funny, right? I have portion control issues so, if left to my own devices, I would eat everything in sight.
What's the sexiest food you can think of?
I love wine. Wine is sexy. I think what's most sexy is a charcuterie plate with an assortment of cheese and a glass of wine. Plus good conversation is a must.
Least sexy food?
You do not want to be around me after having Indian food. You know what I mean. I never eat it with my boyfriend.
---
Catch Calamity Chang at Duane Park in New York City February 28 for "Les Fleurs de Shanghai," a chic show featuring classic Chinese songs from the 1920s through the '50s. She also has weekly shows at Macao Trading Co., Hotel Chantelle and Nurse Bettie Bar, all in NYC.