Chris Cosentino Takes On Hong Kong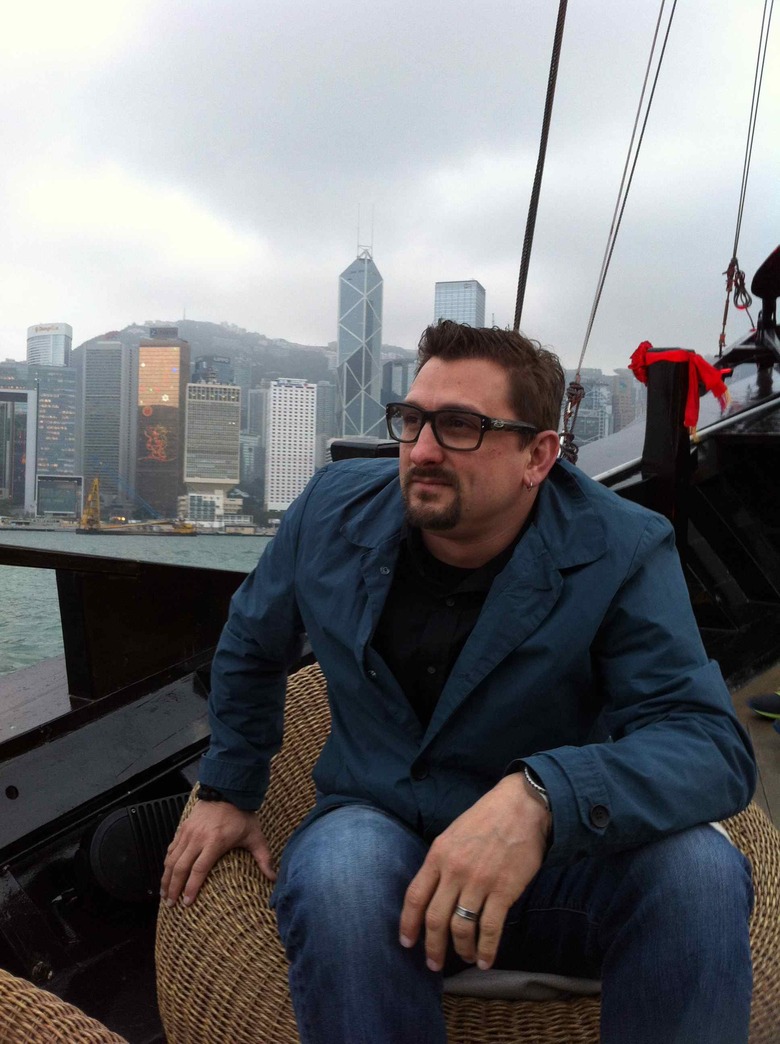 Arriving in Hong Kong with two hours sleep and starving is the way to go. A 30-minute ride to the Mandarin Oriental check-in, where I find my other travel companions, a drink in the bar out of the giant metal mugs and off to walk the city to find Yardbird.
We wander around the streets at 10 p.m. until we find it—a Japanese restaurant owned by Matt Abergel, who used to work in NYC serving amazing chicken yakatori and a lengthy Hitachino beer list, most of which I had never seen. Yardbird is the late-night spot to eat and drink — the food keeps rolling out, every dish is a winner. We all agree this is the best way to start our trip, with a taste of the new. We ate the whole menu!
We start with assorted pickles. Then:
Liver mousse
Pork belly
KFC – Korean fried cauliflower
Sea urchin, nori and panko
We also had every possible yakitori, thigh, soft bone, liver, gizzard, heart wings, neck, butt, skin.
I can't stop eating and the Hitachino Nest Nipponia is a perfect beer.
Morimoto arrives with a huge crew and then he brings Fugu as well as huge plates of food to share with our table.
We head back to the hotel at around 1:45 a.m., all talking about how we want to go back again tomorrow. Yardbird is a hit. I leave wanting more.
Next morning is early to rise to head to the Lin Heung Tea House, which is an old school style dim sum house. You need to stand over your table and wait for people to leave to get a seat, and you need to go to the cart —they don't come to you. We get so many dishes we lose count quick: Duck foot, wrapped in yuba stuffed with taro and ground pork; dried fish belly dim sum— it's a dried and rehydrated fish air bladder, which has a great texture and tons of protein.
We learn how ask for more tea by using signals with the tea pot, which is really cool.
We are now off to have congee, which is one of my all-time favorite foods, so this place Sang Kee is the place to go. There is a line out the door but worth the wait.
I get a bowl of chicken with sliced beef congee and we get the Chinese donut to share for the table. The best technique is to have the condiments on the side and dip the meat in the chile, soy mix then let the excess drip into the bowl.
We order fish mousse that surprises me when it arrives as a delicate fried pancake that's light and airy, served with a dipping sauce of soy sauce. A fortuitous treat—went for a bowl of congee, got a cool fish cake.
After a quick stop back at the Mandarin Oriental for a change of a shirt we are headed back out to Tung Po. This is my kind of place — a long beer hall style of place on top of a market which has many different kitchens and beer girls, each one wearing a special uniform in the colors of the beer brand they are serving. Once the beer — which is served in a rice bowl — is procured, we place a huge order.
Squid ink noodles are amazing and everything I was hoping for and more, rich brines and perfect texture of noodle and squid.
An order of big belly fried rice—the name is meant to represent pregnant women, as this is a dish heavy with ginger, which is said to be restorative for women after birth.
Golden shrimp, which is an egg yolk batter fried shrimp in the shell. I love the richness balanced with the sweetness of the shrimp it is glistening yellow and really rich, I could eat this all day.
Fried pigs knuckles with garlic and black vinegar. This is a home run in so many ways: crispy, unctuous and delicious.
Pak choi in XO sauce.
Fried sweet fish and fried oysters.
In total we order eight dishes, which is said to mean prosperity and money in the New Year.
Next up: it's time for my Sean Connery/James Bond moment as we ride on the bay in a junk at dusk and it can't be any cooler. The neon lights from the buildings are shining on the water and it feels like an old movie. We're drinking beer and taking pictures as all the other boats speed by with passengers traveling from Kowloon to Hong Kong and vice versa. This one-hour tour of the bay on Aqua Luna is just awesome! This is the Hong Kong I remember from watching old movies as a kid and let those memories linger a bit. Next: Adult Chris gets off the boat for an EPIC dinner at Sea King Garden Restaurant in the fish market and eats...everything.
Done.
---
More Hong Kong travel on Food Republic: