Cochon 555: Bringing Home The Bacon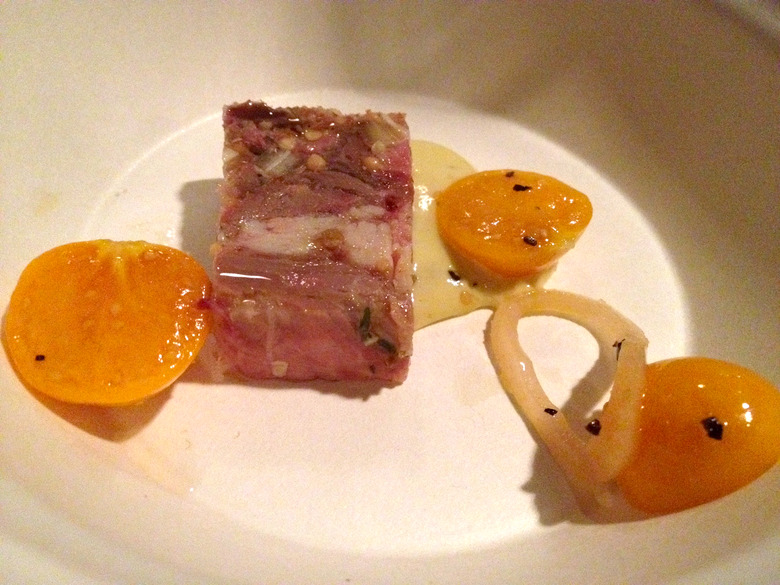 I couldn't fit this into the hed or deck, but last night's nose-to-tail porkfest, better known as Cochon 555, was swinetastic. No, no, no...wait. Div-swine. Wait, wait hang on. It was fan-tasso-cheek! Alright, I'm done.
Chefs Marc Forgione of Restaurant Marc Forgione, Ralf Kuettel of Trestle on Tenth, Shaunna Sargent of Betto, Bobby Hellen of Resto and The Cannibal and Damon Wise of Monkey Bar plied carnivorous New Yorkers with all manners of pork. In the center of the Lighthouse at Chelsea Piers, where the glorious event took place, was a massive table with no fewer than four butchers at a time taking apart whole pigs for our dining pleasure, with dexterity, skill and the proud smiles that only come from total satisfaction.
I spent the evening making the rounds (I lost count around 6) of chefs' pig-laden tables, sampling small plates as well as wines from Elk Cove Vineyards, Turly Wine Cellars and my personal favorite, Scholium Project. Long has it been known that swine and pinot noir are a match made in heaven, and Cochon gave me the opportunity to pair impressive pours with impressive pork.
Marc Forgione was the night's winning chef, moving on to the Grand Cochon event at this year's Aspen Food and Wine Classic, the crowning event of Brady Lowe's magical pig-story tour. I walked in a healthy 20 minutes late, headed straight to Forgione's table for the meat juice and peanut-infused brown liquor I'd heard so much about on Instagram 12 minutes prior, and found that he'd all but run out of his first round of food. There was still plenty of pig-booze, though, and some truffled chicharrones that kept me going while I waited for the return of pork loin over polenta and crispy, fatty belly.
My favorite offerings of the evening came from Swiss chef Ralph Kuettel (whose fondue recipe we can't get enough of), serving up an impressive array of charcuterie. I can honestly say I'd never had stuffed ear before. I left happy, full and with no less desire to eat pork as soon as I woke up this morning.
Consult our friends at Eater for full coverage on the juicy, succulent evening. I bet I ate more than them, though.