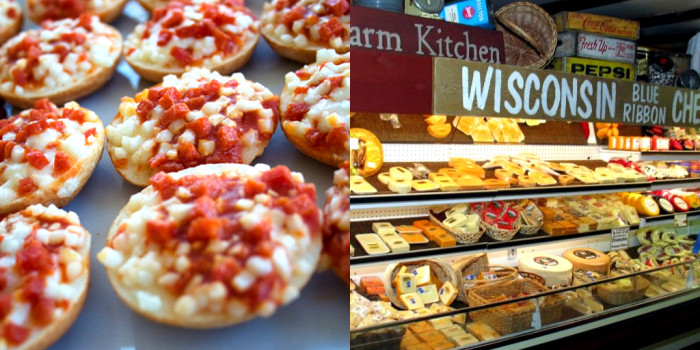 At this point in the season everyone is, no doubt, playing to win the game. To be at their best, the athletic gladiators still vying for Super Bowl glory will need to be well nourished. Here's our prediction for who will take it this weekend—on the field, and in the parking lot.
Saints vs. 49ers
I'm a known gumbo enthusiast, but in no way am I an aficionado. First, you need to have made your own roux from scratch to qualify. Secondly, I'm pretty sure you need a charming, McConaughey-esque Southern accent. On the flip side I have no qualms touting zero genetic ties to Mexico while boasting a fine appreciation for and knowledge of the Mission burrito. I did take four years of High School Spanish – I think I meet the necessary criteria to be an expert. Like the middle of a Venn diagram, both dishes boast rice, beans, meat and heat. They just don't speak the same language.
On Saturday we're going to find out either how good the Saints' offense is or how good the Niners' defense is. The boys from the Bayou just put up 45 points against the Lions thanks to a 466 passing yards and 3 TD performance by Drew Brees – only enhanced by super free agent pickup Darren Sproles' 85 total yards and 2 TDs. Then again, Patrick Willis, Navarro Bowman and Carlos Rogers don't play for Detroit. This game is going to come down to San Francisco's rushing attack – ranked 8th through the regular season – and how they can fare against New Orleans' 12th ranked run-stopping D. At the end of the day, Sean Payton's squad has been here before, whereas rookie coach Jim Harbaugh and his playoff-virgin signal caller might not be able to get up for the game.
FOOD PICK: Gumbo 35, Mission Burrito 38 (In 2 OT) | GAME PICK: Saints, 24, 49ers 13
Broncos vs. Patriots
A good omelet, like a good egg in the people sense, is hard to find. Yellow yolk, peppers, onions and ham meet in Denver, have themselves a nice little orgy of flavor, get digested, and call it a day. Similarly, a good New England clam chowder isn't easy to locate. One batch is too cream heavy, another has funky tasting clams…it's like a Goldilocks porridge-tasting party. Still, you can get each of these orders right, or an avante-garde take on them at some gastronomy-happy chef's restaurant, and understand why the region is happy to put their name on the dish.
Michael Corleone famously once said: "Just when I thought I was out…they pull me back in." He might as well have been talking about Tim Tebow and the Broncos. Everyone dismissed his chances last week against the Steelers. Including me. He certainly took John Elway's advice and "pulled the trigger" in that game, compiling 316 yards in the air, including a game winning TD pass in OT. Yet Tom Brady has been known to win a big game or two. Denver will need Elvis Dumervil to really disrupt the Golden Boy in the pocket if they want to keep the ball away from a pair of stud Tight Ends and a pesky slot receiver named Wes.
FOOD PICK: Denver Omelet 14, Clam Chowder 20 | GAME PICK: Broncos 10, Patriots, 21
Texans vs. Ravens
At this point in my life I think I've taken down enough fajitas to know that the sizzling black pan they come in, with the sauce still bubbling, is hot without the waiter telling me so. Save your breath, slick, and just make sure you bring over the Cholula. Perhaps I've seen one too many Applebee's commercials. Perhaps I've seen one too many a-lot-of-things. I mean, call me a Disney inspired vegan, but I started eating significantly less crab after memorizing the words to "Under the Sea." In Maryland, the crabs don't sing but they lend themselves to one helluva cake.
Arian Foster introduced himself to the playoffs in a big way – 153 yards and 2 scores on the ground. Oh – and Andre Johnson brought enough attention to the passing game to open up some holes for the spry RB. But the stellar play by Brian Cusshing, JJ Watt and Jonathan Joseph is what sent Cincy home…from their own stadium. Sure that D may be able to keep Ray Rice's stats in check, but Ray Lewis, Terrell Suggs and Ed Reed will gladly return the favor. And if the 4th quarter comes down to TJ Yates vs. Joe Flacco – I'd be hard-pressed to not give Baltimore a huge advantage.
FOOD PICK: Fajitas 23, Crab Cakes 17 | GAME PICK: Texans 14, Ravens 31
Giants vs. Packers
Pizza and bagels have been running Broadway longer than Phantom of the Opera. You put the two together…in pizza-bagel form (one that can be eaten anytime)…and you have at least seven Tony Awards for taste. With the mozzarella from NY and every other export from Green Bay, we should have a real cheesy match up here. Cheese and rice, I'm not entirely sure how many lactose puns I can come up with! Regardless, in Wisconsin…and in the dell…the cheese stands alone, with no bagel to stand on.
I remember the last time Eli Manning, Corey Webster and Justin Tuck had to win a big game at Lambeau Field. Granted, Aaron Rogers wasn't a Packer back in '08…then again Jason Pierre Paul wasn't a Giant then either. A banged up secondary for the G-Men is the key here. If Aaron Ross and Dieon Grant aren't good to go, Rogers might discount double check all over their asses with the help of Jordy Nelson and Greg Jennings. The key to this game is simple – who can hit the opponent's QB harder and more often. Call me a homer – but I love the way the NY D-Line looks.
FOOD PICK: Pizza Bagels 28, Cheese 23 | GAME PICK: Giants 30, Packers 27