5 Craft Beers Worth Saving For New Year's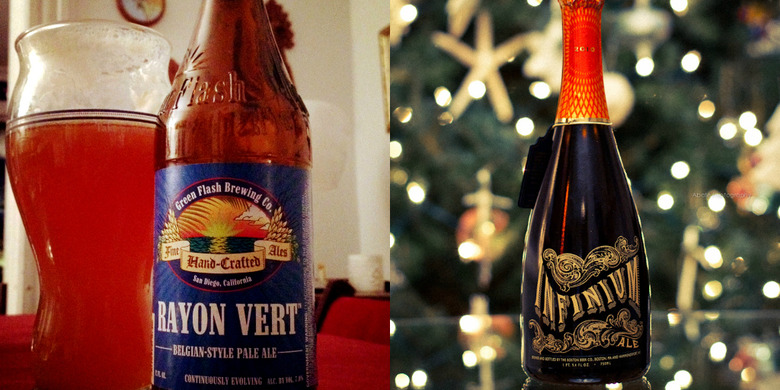 Champagne is not my best friend. Due to the bubbly hooch's high sugar content, and the ease with which it slides down my throat, the simple toast turns too easily into a guzzling fest that lead to the next morning's hammering hangover.
We all can agree that the bubbles are most hazardous on New Year's Eve. That night, drinkers who barely sip Champagne (or sparkling wine) all year arrive at parties bearing armloads of Andre or other low-budget fizz best suited for spraying on ass-shaking dancers found in 1990s hip-hop videos.
That's why I'm leaving the Champagne and sparkling wine bottles corked this New Year's Eve. Instead, I'm turning to my trusted buddy, beer. This is not a penny-pinching copout. In the last decade, craft breweries have created splurge-worthy suds suited for celebration. When clock strikes midnight on January 1, make sure your cup is filled with one of these festive beers.
1. Evil Twin: Disco
Consider Disco as the delicious offspring of a brewery and a winery. To craft this hybrid, the Danish brewery blends a rich, potent IPA with 10 percent chardonnay. The madcap result has the classic West Coast IPA aroma of pine and tropical fruit, but the bitterness is basted in buttery notes of vanilla and oak. Disco is a lovely, luscious brew.
2. Green Flash: Rayon Vert
The team at San Diego's Green Flash spent four years devising the recipe for Rayon Vert (translation: "Green Flash"), a hop-forward Belgian-style pale ale dosed with the wild yeast Brettanomyces. Inside the bottle these microbes go to work, creating a bone-dry, appealingly funky character backed by the crisp, delightful effervescence you adore in Champagne.
3. Brouwerij Liefmans: Cuvée-Brut
This Belgian brew begins life as a brown beer that is then blended with macerated cherries. The mixture then hangs out in shallow tanks for about a year, before it's blended with several aged brews. The pink-hued sparkler packs a refreshing tartness, with sweetness seriously dialed back.
4. Samuel Adams: Infinium
Can't fathom New Year's Eve without Champagne? Well, lay your mitts on Infinium, Samuel Adams sublime libation. The brewery spent several years collaborating with Germany's Weihenstephan brewery to create this effervescent delight boasting a riotous effervescence, a fruity complexity and a smidgen of prickly spice. Consider it Champagne for lovers of beer.
5. Brouwerij Bosteels: DeuS
One of the most curious new brew styles is bière de champagne, or bière brut. It borrows some of the same painstaking techniques used to create Champagne, including lengthy multiple fermentations and even removing the yeast from the beer bottle. One of the best of the bunch is DeuS, a stunningly bubbly revelation with plenty of citrus, spice and a wee bit of funk to boot.
---
More craft beer coverage on Food Republic: