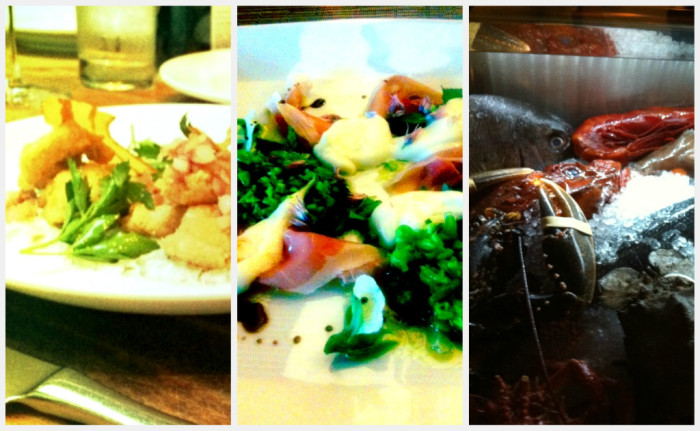 In terms of eating at noteworthy (OK, some damn near dreamworthy) restaurants around the country, this was a pretty breakout year for me. As an editor at a NYC-based restaurant and nightlife guide for the past four and a half years, I'd spent plenty of time trecking around the five boroughs to taste the best horchata, grandma slices, buttermilk fried chicken and XLBs my morning gym regimen could afford me.
But in 2011, I was fortunate enough to travel to some pretty sweet places like Louisville, Mexico, Chicago and New Orleans. I had a 15-course brunch at Woodberry Kitchen in Baltimore that still sets the meter for ordering insanity before noon. As chef-owner Spike Gjerde watched in amusment, and at his publicist's suggestion, we pretty near ordered the menu. At the annual Food and Wine Classic in Aspen, I slurped laksa and went H*A*M on some beef rendang skewers prepared by a team of chefs flown in from Sinagapore, incuding Asian street food guru and Top Chef contestant whisperer K.F. Seetoh.
But the best meal hands down was at Jory at the Allison Inn in Newberg, Oregon. Chef Sunny Jin has spent time at both elBulli and The French Laundry before taking over the kitchen duties less than a year ago. A plate of peas and prosciutto represents the chef's dedication to seeing local products to the most delicious results. The hog — raised by a farmer down the road—was fed hazelnuts 30 days before slaughter and finished with five gallons of Pinot Noir. The earthy, sweet pork was dressed with fresh mozzarella and balsamic.
Wine, of course, plays a major role in a meal at Jory, and bar manager/sommelier Tom Bean is a master at pairing dishes with his ridiculous stash—we sampled rare vintages from Archery Summet, Natalie's Estate and Shea Wine Cellars. Are you listening, Kate Krader! —Matt Rodbard
---
Since I moved back to New York from LA, all I can seem to do is praise the food of the east and express my continued and totally unmitigated criticism of Southern California's restaurants. The best meal of my year, to my surprise, was at Animal, the über-simplistic and wildly innovative nose-to-tail venture right on La Brea headed by chefs Jon Shook and Vinny Dotolo.
I always look forward to meeting my West Coast friends for dinner at the resto du jour when I'm in town. Everyone agreed that Animal was the place to be, I over-metered my parking spot and headed in. I was encouraged to order for the table, but stalwartly refused. Animal is simply not that kind of place. When you see something — anything — in a dish's description that intrigues you, that's the dish you order, I said. These are the people I used to make Kraft Mac 'n Cheese with at 4AM, and the people who still call me at 4AM (technically 1AM their time) with such queries as "how do I microwave this baked potato?" and "what's that shit in the bottom of my vinegar bottle?"
We ended up with as close to a perfect spread as I think I've ever gotten at a restaurant. Among the highlights were the buffalo pig tails, crispy pig ear salad with fried egg, ginger-scented squab with edible flower salad, sweetbread nuggets, two orders of bone marrow toast, a crunchy chocolate bar served with salt and pepper ice cream and, of course, their signature poutine covered with impossibly thick oxtail ragout and a mountain of white cheddar so sharp it made the roof of my mouth itch.
I found this clever limerick on Yelp which should boil down the whole experience in a few poetic verses:
Though the kitchen merits love & respect
You may leave with your arteries wrecked.
It's still well worth the trouble;
Dine here on the double,
'Ere the ban on foie gras takes effect. —Jess Kapadia
---
I've eaten what seems like millions of calories this year and isolating the best two to three thousand of those is no small feat. Luckily, my Meal of the Year™ happened to coincide with my craziest day of 2011, so it's forever etched in my mind.
I was in Vegas with a friend in late July. The day started by racing exotic cars on the Las Vegas Motor Speedway. That was quickly followed by an exquisite lunch at Wazuzu from Pan-Asian mastermind Jet Tila and immediately after that, we took to the skies in fighter jets to play laser tag. I set the record for most barf bags used and then it was time for dinner.
This was obviously a "what's the craziest stuff we can do in Vegas" trip and the fact that dinner was the most memorable part should tell you something. Bartolotta in the Wynn is the ultimate in Italian seafood. On the tranquil patio, I enjoyed one of the best meals of my life: six courses, 11 different dishes (not counting dessert), and six incredible wine pairings.
The Ligurian octopus salad with olive oil and lemon set the standard for how all octopi should be cooked. The baked live langoustines, sourced personally by Paul Bartolotta from some private dock in Italy, were sweet and sumptuous, the epitome of freshness. Even the ravioli made with sheep's milk ricotta and Tuscan pecorino—a dish with no seafood whatsoever—was a shining example of the form. As I sat back and marveled at the perfection of course after course, I knew one thing for certain: these were calories I would never forget. –Jason Kessler
---
I've spent the better part of the last year extolling the virtues of eating less meat. And yet, my best meal of 2011 was probably the meatfest that is dinner at Takashi, a Japanese restaurant in Manhattan's West Village, where fresh meat is brought out, sometimes butchered before you, and cooked at your table.
It's not a meatfest the way Texas barbecue or Brazilian churrasco is a meatfest. It's a quiet, dignified meal that may be all meat, but is fest only in the most civilized of manners. My meal, in fact, began with a plate of seasonal raw vegetables so pristine and candy-colorful that they might have been the superlative by which all future vegetables will henceforth be judged and, inevitably, fall short of.
Then came the animal protein, much of which was innards. If you're going to eat four-legged creatures, after all, you should eat every nasty little bit of them. There were sweetbreads and liver and stomach (both first and fourth) and a tongue the size of a newborn human being carefully dissected in front of me to extract only its most prized sinews. I alternated sips of namazake (unpasteurized sake) and a clear collagen broth. I sliced into fresh hatsu (that's cow heart to you, pilgrim) so fresh it could have been beating only moments earlier.
I nibbled cow cheek so baby-tender it made be blush. The whole experience was performance art, natural science class and beef deification all at once. It was no meatfest to be yeehawed at, but an almost operatic celebration of animal parts, to be appreciated in hushed tones and polite applause. Brava. —Chantal Martineau
---
Oh man, I have to choose one? Like my compadre Matt Rodbard, I had a breakout year in dining as well, and well beyond my usual borders. After spending the past four years editing magazines in Manhattan and Miami (simultaneously), I got to know that major borough's and that tropical city's restaurant scenes like few other diners — though I should note that there are an impressive legion of dedicated eaters out there — and I often felt blessed as I supped in the name of "research."
This past year, freed of my geographical restraints, I had memorable meals in Paris during two trips (at Frenchie, Spoon, Rose Bakery, Café Breizh and L'Assiette, to name a few), and loved a quick culinary tour through LA — with Son of a Gun (that mahi dip with crackers!) and My Father's Office among the standouts. I spent my birthday at Dan Barber's upstate New York fine dining redoubt, Blue Hill at Stone Barns, where dinner included carrots pulled from soil à table and ran past the four hour mark before I cut it off in the name of sanity (and sadly, before the meat courses had concluded). Wow, what a meal. During a late-summer sojourn on the east end of Long Island, there were lobster rolls and a few spots that are probably the closest we'll have to New Nordic cuisine for awhile, all local seafood and minimalist design and indie music and quirky wines.
Closer to home, new chef friends like Roberto Santibañez (the excellent Fonda in Brooklyn), Zak Pelaccio (the various Fattys, but for these purposes the Fatty Cue West Village and Brooklyn) and, yes, Food Republic co-founder Marcus Samuelsson (serving up Red Rooster Harlem favorites at an Outstanding in the Field dinner on a beautiful summer night on a farm in Queens) left me with awesome culinary memories of 2011 (though sometimes hazy ones, thanks to the barkeeps at said establishments).
So, um, what's theeeee most memorable meal in a restaurant? Well my fiancée is saying it's because I'm sentimental, but about an hour after our engagement on the banks of the Hudson River earlier this year, we went to an inspirational gem of a spot called Local 111 in Philmont, NY and sipped champagne and dined on grass-fed beef from a nearby farm and finished off the meal with regional cheeses, and these were the tastes that I remember most vividly from 2011. So am I being sappy? Perhaps, but eating local, sustainably sourced food in a restaurant far from a city seems like a good note to end on in a year of food messaging, and by the way, that beef was fantastic.
Here's to more mouth-watering meals in 2012! — Richard Martin, editorial director