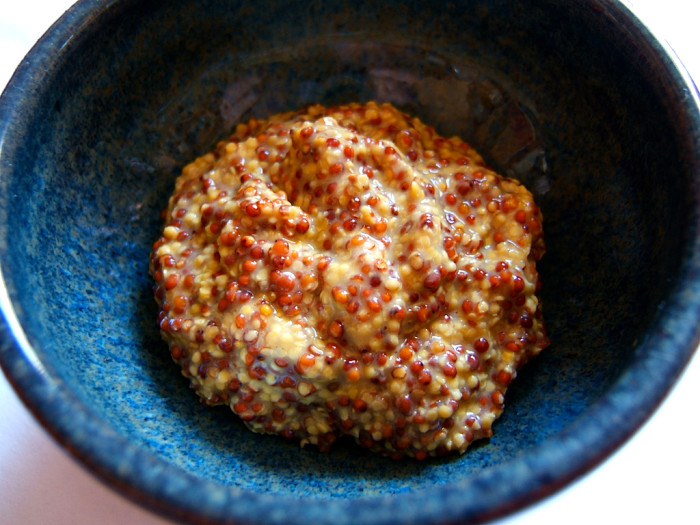 I'm almost over my Germany trip, but there's one thing I still can't get out of my mind. Everywhere there is sausage, which is everywhere, especially at Christkindlmarkts, there is an abundance of mustard. And it's not all the same. It definitely doesn't taste like our standard mustards — tart yellow, spicy brown deli, spicy but still half-assed Yankee attempt at Dijon (Maille or death). It's more complex, sweeter, mellower, more…friendly. It's almost like mustard-flavored ketchup. And I seriously miss it, especially with the promise of so, so very much ham over the next few days. That, mixed with (insert Christmas ham twist generator suggestion here) would make the best glaze!
This cannot be said of many condiments: some things are not worth eating without mustard. I say this only because it's true. If you don't like mustard on your ballpark dog, there is something awry with your taste buds, and maybe brain. Ditto deviled eggs. If you love wings, really love wings, mustard could easily be your second to go-to sauce option. And if you're going to eat rabbit, which you absolutely should, there's nothing sweeter than Bunny Dijon.
In my youth, I went through a mustard and sliced pickle sandwich phase. Knowing my devotion to the cubano and medianoche now, I look back and assume I was putting myself through gruelingly acidic bootcamp in preparation for the glory of rich, fatty ham and cheese. Dramatic, right? Here are some less weird affirmations:
Additionally, I just received this Gchat message from a beer writer in response to "sorry I'm in mustard world":
the best mustard man
is from Finland
it comes in a tube
like paint
…fuck
now I'm thinking about Katz's meat.
And those are mustard affirmations. On a related note, if anybody knows where I can buy authentic German mustard, the sweet medium-grain kind (or the Finnish tube kind, apparently), do share. I have a sandwich on the way.