Pitmasters Gone Wild In Uruguay: Day 4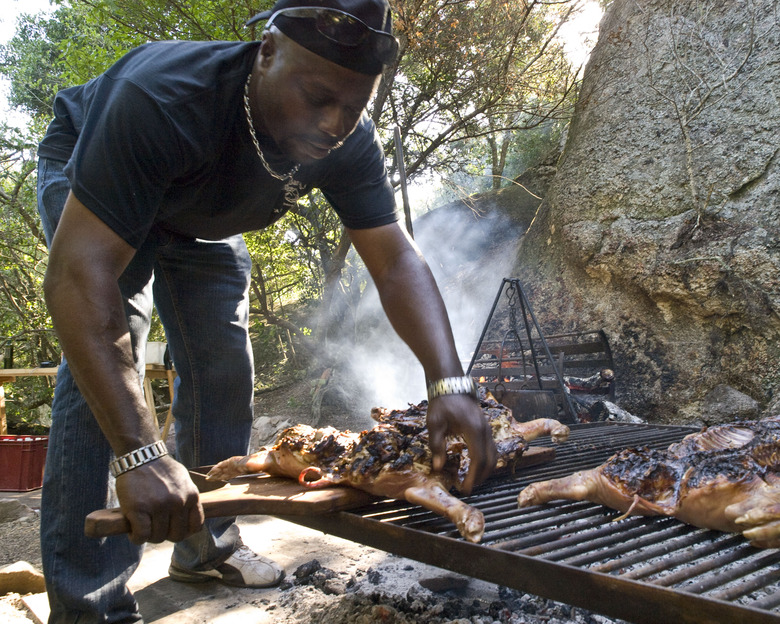 In South America there's a tradition of throwing the most badass meat + fire cooking events called asados. This week, six American pitmasters are traveling throughout Uruguay to learn the finer points of the process. Drew Robinson of Jim 'N Nick's will be documenting the action for Food Republic.
After a few days of relaxing and having others cook for us, Friday was our day to cook for our hosts and the chefs who have served us this week. Everyone was pretty excited to be able to share some of our culture. It was important to us to make a good showing so that the South American crew could be as excited about our food as we've been about theirs. Crews arrived in two stages: those that needed to build fires and get meat going, and those that needed to go to the garden to harvest vegetables.
Being on "Team Vegetable"— as we dubbed ourselves — Ashley, Chris, and I took off to the gardens. Once there we all went our separate ways to divide and conquer. Fortunately for me, I was accompanied by Suzanna, who runs the day to day of the gardens and has a wonderful mind for sustainable farming. With her assistance I gathered herbs, strawberries, beautiful braising greens and hot peppers. Chris showed up with garlic, onions, carrots, squash blossoms and beets. Ashley circled back with fava beans, arugula, broccoli leaves, potatoes and fresh farm eggs. With our larder stocked we put together the menu of garden offerings to accompany the evening meats and had a menu:
Deviled eggs
Cochon-style boudin
Fried squash blossoms stuffed with goat cheese
Donald's smothered chicken
Whole hog varbecue Fatback-style from Rodney, Pat and Nick
Arugula, fava beans and strawberries with honey vinaigrette
Broccoli leaf cole slaw
Meaty beans from the Cochon boys
"Peas and carrots" with basil and orange
Seared potatoes with farm egg, lemon and olive oil
Coal-roasted beets and olive oil
Greens braised in olive oil over the fire
Roasted potato and zucchini salad
Cast iron peach cobbler baked in the coals à la Angie Mosier
When we got back to the fires, the Cochon boys had a cauldron going with the pork that would ultimately become boudin. They had cast iron ovens full of simmering beans and braising chickens. It was really not dissimilar to what you would see in the heart of Cajun country and somehow it was very similar to the asado culture. Away from the transplanted scene from Louisiana, Rodney, Pat, and Nick had the pigs going. Again, it was so similar to a scene from the asado. The differences in cooking with fire are few, but the end results are significantly dissimilar. What in our culture will ultimately become shredded meat spiked heavily with vinegar and sweetness, in Uruguay would be finished with the garlicy, olive oil flavors of chimichurri. The meats here cooked in the asado fashion are generally cooked more quickly than we would cook them, leaving more of the meat's natural texture. Both final results have been wonderful for us.
While the meats were smoking and braising away, team vegetable started to bust a move. Chris took point on coal roasting the vegetables. He had some things directly in the coals and others buried in salt and smothered with more coal. Ashley brought style and finesse to the outdoor kitchen that could have easily been at home where we were in Garzon the day before. She crafted the vinaigrettes and sauces that balanced the rustic flavors Chris coaxed from the fire and coals. My role was supportive, which was perfect. The opportunity to cook with friends in a foreign land proved to be as educational as what we had learned from the new friends we had made in Uruguay.
Once everything was pulled together, we served our new friends under candlelight. The flavors that our crew of chefs produced were incredible and we were all proud of that. More importantly, we had a lot of gratitude for the fact that our hosts from Belcampo and their chefs enjoyed the flavors of our culture. They ate with the sense of newness and wonder that we had experienced when they fed us. That, we all know, is the real beauty of food.
When the flavors of your home can be the best and most honest reflection of your people, you can have a conversation uninterrupted by any language barrier. That was the best part of the whole trip and something I think both Belcampo and the Fatback Collective are committed to. It is something we learned and something we left behind with the promise that we would all find the opportunity to unite again.
---
Read more about Drew Robinson's asado adventure in Uruguay: