Pitmasters Gone Wild In Uruguay: Day 3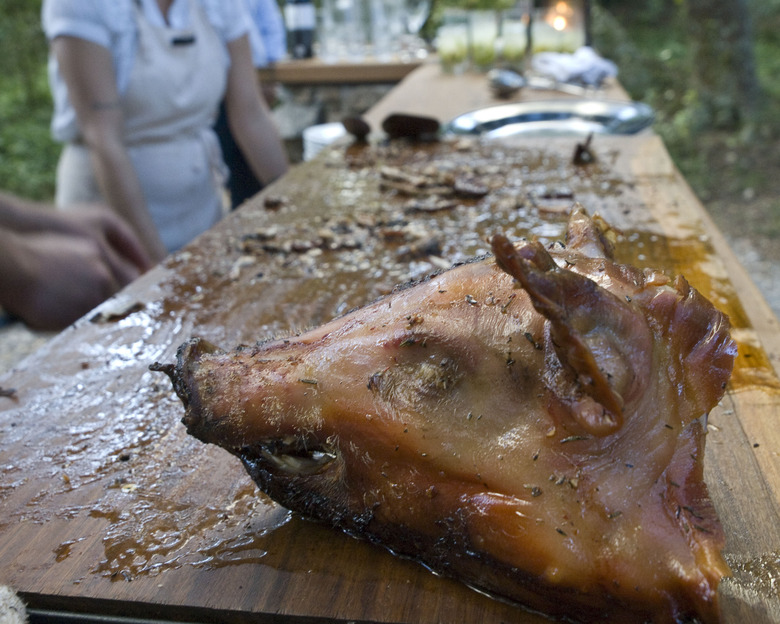 In South America there's a tradition of throwing the most badass meat + fire cooking events called asados. This week, six American pitmasters are traveling throughout Uruguay to learn the finer points of the process. Drew Robinson of Jim 'N Nick's will be documenting the action for Food Republic.
With the Wednesday night's asado behind us, we had a free day to relax and make our plans for the dinner we are cooking and serving on Friday. Some of us rode horses on the Belcampo farm in the early morning. The horse ride took us through the very young olive groves that will ultimately produce Belcampo oil. The cattle grazed close enough to touch as the horses passed by. Others in the group lingered on the beach and some relaxed and collected their thoughts after taking in a lively, new culture over the past couple days. After a leisurely morning, we gathered so that our hosts could take us to Cabo Polonio for a day on the beach.
Cabo Polonio is a funky little beach town that is restricted to only foot traffic. Our first stop was for a little picnic on the beach of some local beef that had been roasted for sandwiches. After a quick bite, we headed into the town proper—the restaurants, bars, and shops were all very small and compacted together. We stopped into a little hole in the wall bar with no signs indicating a name. The place was run by a gentleman who was blind and had a dead penguin as a companion. He poured us some sort of date flavored liquor that was described by Ashley Christensen (of Poole's Diner in Raleigh, NC) as "creepy".
Fortunately, the fellow was blind, so we abandoned the drinks without offending him. As we left he invited us to come back closer to 10 PM, which we found out was his actual opening time. With the creepy liquor behind us we all headed back to the beach to relax and discuss our plans for the next day.
Our plan to execute the following evening's dinner was centered on Southern style barbecue and Cajun food. Rodney Scott, Patrick Martin and Nick Pihakis took responsibility for barbecuing whole suckling pigs. Donald Link, Stephen Stryjewski and Ryan Prewitt made plans for smothered chicken, boudin, and beans seasoned heavily with sausages. Ashley, Chris, and I took the vegetables and decided our best option was to request a small pantry of oils, vinegars, and other seasonings; and on the day of the dinner, we would head to the garden in the morning and let the dishes create themselves very organically. With our plan loosely sketched out and our requests for ingredients turned in, the casualness of the day continued.
After we left the little beach town, our next stop was Garzon—the town that is home to Francis Mallman's restaurant of the same name. Norberto was there tending the fires, just as he did at the previous nights asado. To describe this setting as picturesque would be an injustice. Everything in the restaurant was of the highest quality. We relaxed at a large, shaded table in the courtyard and had a few light snacks. A type of hummus made from an indigenous bean, anchovies, and bread; a zucchini salad with some wonderful cheeses and very fine rosé all exemplified how the asado can transcend the rustic setting of the open land for refined elegance.
Despite this being our lightest day of activity we were treated to dinner by our hotel at Butia. The restaurant is not yet officially open but it is in preparation by a chef name Chlo who spent a decade in Buenos Aires working for Francis Mallman. She graciously opened her doors to us and fed us simple pizzas and fish that was roasted and topped with a spicy fresh pepper salsa. A little more wine helped us finish the day and we were off to bed, excited and ready to cook when we woke the next day.
---
Read more about Drew Robinson's asado adventure in Uruguay: