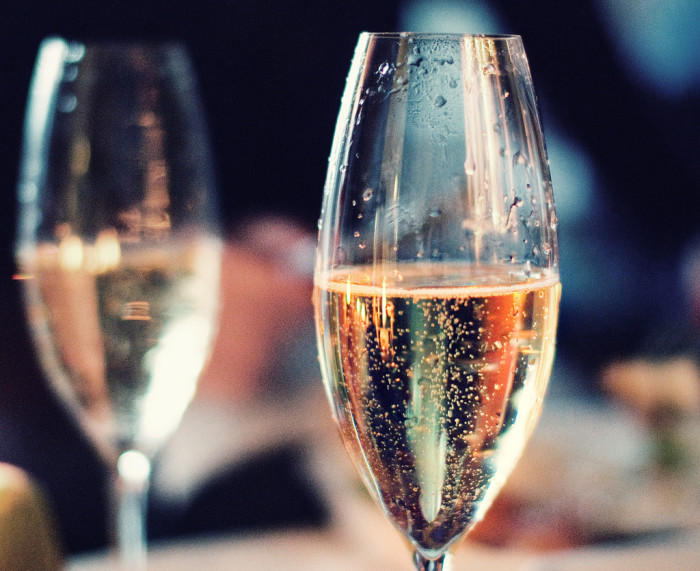 This is a column about champagne and which bottle you should bring to the next party you attend. Seven different brands and 10 different bottles were sampled by the panel of experts I assembled at a research workshop conducted at the Imbiber's West Coast Headquarters. And by "experts," "research," "workshop," and "headquarters," I mean a bunch of my friends came over, and we sat around my living room getting banged-up on bubbly. In the interests of science, of course.
But before we get to the results of the tasting, I must indulge in my favorite holiday tradition: the bastardization of a beloved Christmas classic.
The Bash Before Christmas
'Twas the bash before Christmas, and all through the house
Were family and friends who were getting quite soused
The nog had been spiked with some rum, I should say
It could have been Gosling's or maybe Mount Gay
The children were nestled all snug in their beds
Drunk grown-ups downstairs with lampshades on their heads
There was pinot, merlot, and syrah being poured
And malbec and riesling and port and…good Lord!
I'd imbibed so much hooch in the course of this year
That I figured I'd share some, to spread the good cheer
The Cazadores tequila with lime was a hit
But when mixed with the eggnog it tasted like shit
The men drank enough beer to fill a whale's bladder
Chicks sipped vodka-sodas so as not to get fatter
My single-malt stash in a flash disappeared
Along with my date, who said I was weird
But then, who needs a date when you've got lots of Dom?
And Krug and Heidsieck and some fruitcake from mom
And no girlfriend at Christmas means no costly presents
Which means not spending six months in debt like a peasant
This is the part where I should mention St. Nick
But to be perfectly honest he's kind of a dick
Early this evening he drank all the punch
Then threw up on my rug what was left of his lunch
'Cause a few slugs are fine, but too many is wrong
And we probably should never have pulled out the bong
It just goes to show, kids, drugs aren't the answer
Unless you're in Cali and come down with cancer
But before I pass out, let me leave you with this
(I regret that it's not free booze, cash or a kiss)
It's a wish for this holiday that good cheer abounds
And that Santa comes to and picks up a few rounds
Right, then. On to the champagne:
Nicolas Feuillatte
We sampled two wines from Feuillatte, a non-vintage Brut Réserve Particulière ($38) and a 1998 Palmes D'Or Brut ($135). The former is quite pleasant and an amazing value at only 38 smackers a bottle. The latter, meanwhile, is off the hizzy. Look, 1998 was simply one of the best grape-growing years in recent memory in the champagne region (1990, 1996 and 2002 being other notables). One taster gushed that the Palmes D'Or was "breathtaking," while another raved about its "funky unctuousness." I have no idea what that means but nonetheless dug the secondary aromas of mocha, and the spicy aftertaste. The dimpled bottle is pretty dope, too.
Veuve Clicquot
As expected from a producer of such consistent quality, the Veuve was a big hit. Three different wines were put to palate. The fan favorite was the fabled 1998 La Grande Dame ($140), though more than a few tasters were wowed by the 1985 Rare Vintage Rose ($120). While it's held up nicely over the past 25 years, the 1985 was nonetheless a little too musky for my taste. I like my champagne like I like my women — young, frisky and not too expensive. Frankly, I was blown away by the effervescent 2002 Vintage Blanc ($65). It's already developed into a gem with the potential to age well for another 10 to 12 years.
Champagne Henriot
Henriot is one of the very last champagne houses to be continuously family owned and operated (since 1808), and we love a feisty mom-and-pop shop willing to take on the big boys. It's the insider's champagne, and those in the know love the Brut Souverain NV ($50). One taster opined, "It is a wine of austere finesse." That about nails it. And you simply will not find better bubbly for that price.
Laurent-Perrier
As the name implies, their Ultra Brut ($70) is Brut on 'roids, meaning it's drier than Eddie Izzard and nuttier than Glenn Beck. Ah, but this half-chardonnay, half-pinot noir sparkling beauty is delightfully creamy as well, with enticing citrus and vanilla notes. In short, there's a whole lot going on here. Extremely interesting, but perhaps more than the average party guest wants to take on.
Piper Heidsieck Brut
Possibly the most delicate champagne we sampled, the Heidsieck Brut ($32) is a steal at this price point. More than one taster pointed out the crisp grapefruit flavor, and I certainly picked up notes of green apple and chestnuts, as well.
Delamotte
The 1999 Blanc de Blancs ($90) is pure joy in a flute. There's a strong mineral character to this wine, with hints of jasmine and mint on the nose. The finish is well-rounded with notes of apricot and peach. This is a top-notch blanc de blancs from a damn fine vintage.
Moet & Chandon
Their Imperial ($40) has long been my go-to gift bottle because I know exactly what I'm getting — consistency and great taste at a bargain-basement price. No wonder it's the best-selling champagne in the world.
To sum up: If you're headed to a party and want to arrive with something good that won't break the bank, you want the Moet, the Piper, or the Feuillatte Brut Réserve Particulière. If it's a smaller gathering where you're fond of the folks and people are really going to be tasting the stuff instead of knocking it back, bring the Henriot, the lesser Veuve Clicquots, the Laurent Perrier or the Delamotte. They all cost a little more but are worth it. If you've got some cash lying around, as well as a thirst for the best champagne can be, get your hands on the Feuillate 1998 Palmes D'Or Brut or the Veuve Clicquot 1998 La Grande Dame.
Above all, as we say goodbye to the bitch of a year that was 2011, don't forget inveterate imbiber Mark Twain's words on the subject. "Too much of anything is bad, but too much champagne is just right."
---
Read the previous installment of The Imbiber on Food Republic.
---
Dan Dunn's book Living Loaded: Tales of Sex, Salvation and the Pursuit of the Never-Ending Happy Hour is available wherever books are sold. Follow Dan on Twitter and Facebook, and hear him on The Imbiber Show podcast.