A Cyber Potluck With Our Internet Friends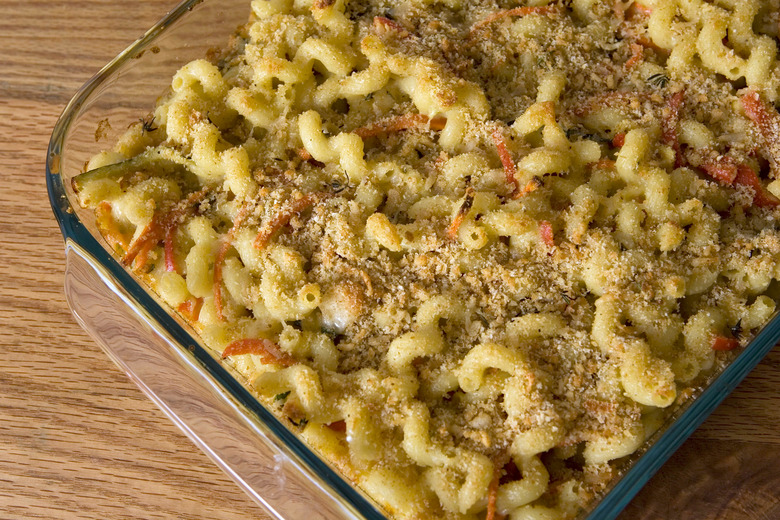 Read our mac and cheese recipe: Cavatappi with Fontina & Fall Veggies
When the nice folks at the Food Network asked us to create a dish for their Virtual Thanksgiving Table they requested that we pick one dish for a number of available categories, from which we—and only we—would represent. These categories included mashed potatoes, turkey, stuffing, green beans, mac and cheese (record skip).
Wait, so let's get this straight. Well-respected outlets like Real Simple, Food and Wine and Epicurious actually passed over mac and cheese for dishes like vegetable pot pie and chestnut and sherry soup. Insanity. Ask yourself: Who at your Thanksgiving table wouldn't want to dig into a steaming pan of the stuff? You see that photo at the top of the page. You're hungry now, no? Thought so.
We think you will really dig our recipe, which marries buttery fontina and sharp gruyère with tubular cavatappi. We also promise there will be no leftovers at your Thanksgiving table.
Other participating media outlets:
Cocktails, Appetizers, Salads and Breads:
Liquor.com: Thanksgiving Cocktails
The Kitchn: Goat Cheese Panna Cotta Topped With Canned Cranberry Jelly Cut-Outs
Big Girls Small Kitchen: Braided Biscuits
Epicurious: Chestnut and Sherry Soup
Yahoo! Shine: Spicy Caramelized Onion Jam With Goat Cheese
YumSugar: Kale and Chard Salad with Pomegranates and Hazelnuts
Whole Foods Market: Mixed Green Salad With Pears, Hazelnuts, Blue Cheese and Homemade Croutons
Mains:
FN Dish: Alton Brown's Good Eats Roast Turkey
BlogHer Food: Root Vegetable Pot Pie With Cheddar Biscuit Crust
Sides:
Cooking Light: Fennel, Sausage, and Caramelized Apple Stuffing
Bon Appetit: Maxine Rapoport's Turkey Stuffing
EatingWell: Green Bean Casserole
Serious Eats: Ultra-Crispy Roasted Potatoes
Oprah.com: David Chang's Roasted Brussels Sprouts With Asian Vinaigrette
Food Republic: Cavatappi With Fontina and Fall Vegetables
Healthy Eats: Green Bean Casserole With Crispy Shallots
Real Simple: Brown Sugar-Glazed Carrots With Rosemary and Pecans
The Daily Meal: Bacon Brussels Sprouts
AP/ J.M. Hirsch: Ginger-Pear Cranberry Sauce
Food52: Mashed Potatoes with Caramelized Onions and Goat Cheese
Food.com: Make-Ahead Mashed Potatoes
Food & Wine: Swiss Chard and Leek Gratin
All You: Sweet Potato Bake
Desserts:
The Blender/ Williams-Sonoma: Deep-Dish Apple Bourbon Streusel Pie
Southern Living: Pumpkin-Pecan Cheesecake
Cooking Channel: Apple Bread Pudding
Fox News: Molasses Sugar Cookies
Gourmet Live: Pumpkin Coconut Panna Cotta
Melissa Clark: Sweet Potato Ginger Custard Pie
MyRecipes.com: White Chocolate Cheesecake With Cranberry Currant Compote