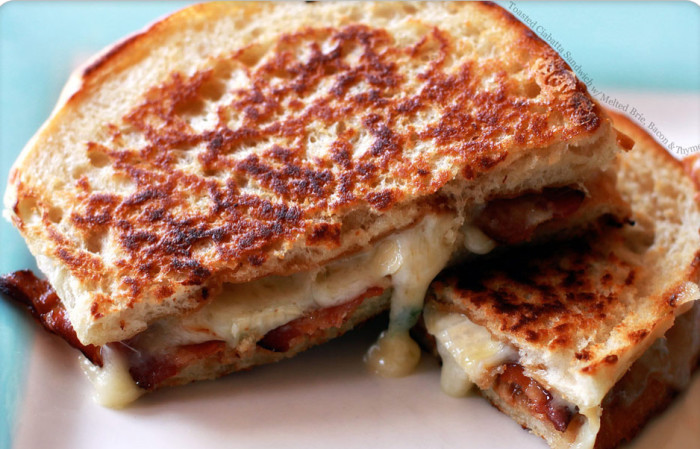 You've stumbled into work late, downed your coffee, and scanned your emails to find nothing even slightly amusing. You sit at your desk with your eyes fixated on the clock, counting each minute as it passes. Forty-eight, forty-seven, forty-six minutes until lunch…
At this point you're really, really hungry. You can't get your mind to focus on anything at all. After scanning Food Republic's What To Eat: Lunch and perhaps Gojee's fully loaded recipes database, you seek something in the digital realm to stave off hunger. Yes, we're of the opinion that the hunger pangs can go away when presented with beautiful food photography. Don't knock it 'til you try it.
Here are five of our favorite food porn blogs. Bon appétit to your eyes.
1. Food Porn Daily
Regarded as the originator of the food porn movement, Food Porn Daily is a blog dedicated to deliciousness. The high-res images will h​ave you salivating click after click. Founder Amanda Simpson has published a book, also titled Food Porn Daily, after the website's success.
2. Scanwiches
Although we've already introduced you to the glorious scanwich, we had to give Jon Chonko a shout out in this round-up. Chonko took his scan-do attitude to a new level when he introduced the world to scans of sandwiches sliced crosswise to reveal their delectable guts. Our favorite is the homemade fresh turkey, spouts, swiss cheese and purple onions on baguette. But after bringing you a Sandwich Of The Week every Tuesday you must have realized how sandwich-obsessed we are. Looking back, we noticed that we've featured quite a few sandwiches in our day. As in, over 300. So we're just going to go out there and say that, next to Scanwiches, FR might be the #1 source for sandwich porn. Thank you, thank you.
3. Fuck Yeah Pho
Fuckyeahpho is a visual feast that feeds our phobsession (especially at 3am.) This blog will have you running to your nearest Vietnamese joint, or perhaps inspire you to whip some up yourself for dinner.
4. Food Gawker
Food Gawker brings you a compilation of crisp images from all over the Internet that make everything from a plate of French fries to a stack of cookies look like they belong in the Louvre.
5. TasteSpotting
Another one of food porn's founding fathers, TasteSpotting is a compilation of delicious food photographed at its best angle. Think virtual gourmet potluck that will make your mouth water. Proof that we do eat with our eyes first.