Warming Up To The Joys Of Cask Ale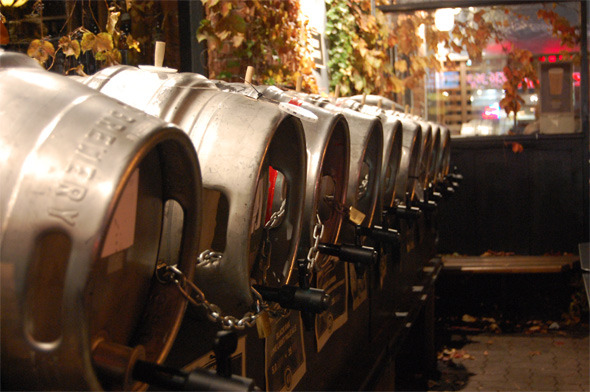 We may receive a commission on purchases made from links.
My wife is not one for cask ale.
"It's too warm," she bemoans whenever I try to pass her a pint. "And where are all the bubbles?"
I sigh, that deep sigh of a married man for whom this will be an ongoing issue till death do us part. "That's how it's supposed to be served," I explain, once more running down the intricacies of cask-conditioned (or real) ales.
By and large, most beers are filtered and pasteurized to remove the living yeasts. Doing so can create a clearer beer, as well as ensure a more stable shelf life. But if you pour an unpasteurized and unfiltered beer into a firkin—a wood, plastic or more often metal keg that holds 10.8 gallons, also called a "cask"— the live yeasts develop a gentle, natural carbonation. Because firkins aren't pressurized, hand-pumped "beer engines" or gravity dispense the nectar. It's best savored at 55 degrees, a moderate temperature that accentuates the nuanced flavors and fragrant aromas.
"I still don't like it," my wife says, ignoring my most salient point: Though cask ales were once a cultish British import, they've now become a mainstay in modern American craft brewing. Any good-beer bar worth its tap lines has at least one cask ale on offer (there are five listed below).
That can be a misguided blessing. See, cask ale is a finicky living product: Hot or cold spells ruin yeast, the firkins are prone to breakage and the beer has a woefully brief shelf life once opened—just three or four days, on average. Cask ale deserves care behind the bar, something you'll find in spades my favorite East Coast spot to sip cask ale, Washington, D.C.'s ChurchKey.
Consider it the beer mecca for our nation's capitol: In the upstairs bar (the companion to restaurant Birch & Barley), beer maestro Greg Engert curates a constantly changing list of 50 national and international drafts, as well as—here's the delicious kicker—five cask ales. When I popped into ChurchKey earlier this week, on the D.C. leg of my whirlwind Brewed Awakening tour, I was gobsmacked by delicious cask ales from standout local breweries such as Heavy Seas' Sour Cherry Peg Leg, Stillwater Artisanal Ales' Cellar Door saison and Flying Dog's the Fear Imperial Pumpkin Ale.
Though assembling a good cask ale list takes talent, more crucially is the care that Engert's crew puts into the brews. Whenever a cask is kicked, the tap lines are thoroughly cleansed—because the beer is served at a higher temperature, they're more prone to bacterial growth. Going one step beyond, once a week the vinyl tap lines are ripped out, replaced and recycled.
"What do you think?" the bearded Engert asked me, pointing to my snifter of Stillwater Harvest Saison dry-hopped with the tropical Citra variety. "I think," I said, savoring the intoxicating aromatics and soft, complex mouthfeel, "I'll have another glass."
Five favorite cask ale bars around the country:
Brewers Union Local 180 (Oregon)
At this brewpub in Oakridge, Oregon, brewmaster Ted Sobel solely makes cask ales such as the quaffable Black Wooly dry Irish stout.
Toronado (San Francisc0)
A legend in San Francisco, this craft-beer dive bar complements its selection of hoppy IPAs (namely, plenty of Russian River's Pliny the Elder) with a quartet of rotating cask ales.
Blind Tiger Ale House (NYC)
Widely regarded as one of New York City's best beer bars, this perpetually packed haunt offers up a trio of assiduously sourced, always interesting cask ales.
Owen & Engine (Chicago)
The British-inspired Owen & Engine dispenses four cask ales, and employs a certified Cicerone (basically a beer server) to match brews to dishes including fish and chips and homemade bangers and mash.
ChurchKey (Washington DC)
You don't have to ask: At this Washington DC, drinkery, Greg Engert's ace curation (he often secures limited-edition one-offs) and attention to detail ensure that these cask ales are guaranteed to be fresh.