Drew Bledsoe, All-Pro Winemaker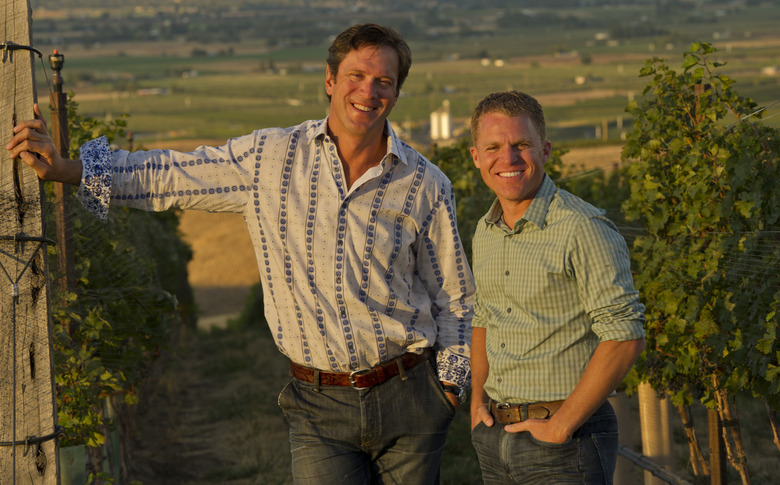 Drew Bledsoe and Chris Figgins of Doubleback Winery
Drew Bledsoe will forever be remembered in New England as the reliable Pro Bowl quarterback who led Patriots teams into the playoffs throughout the '90s and helped set up the Tom Brady era (and win the team's first Super Bowl). This year, Bledsoe was even voted into the Patriots Hall of Fame. But while he's a legend in the Northeast, in his hometown of Walla Walla, Washington he's the highest profile winemaker in a burgeoning scene.
After retiring from pro football in 2007, Bledsoe returned to his hometown intent in parlaying his growing interest in wine into a new career. "I was in my mid-30s. It's too early to sit in a rocking chair or play golf ever day," he says during an interview in September, just before the start of the NFL season. Bledsoe met up with an old high school acquaintance, the acclaimed winemaker Chris Figgins, and the two soon launched Doubleback. The company's 2008 Cabernet Sauvignon is its latest and most high-profile release, and it's earning high marks — including an "outstanding" rank from wine ratings overlord Robert Parker.
Bledsoe and Figgins talked winemaking, football, and then, in a shocker, Bledsoe, who lives in Bend, Oregon with his wife Maura and four children, offered a bold prediction about this season's breakout team, which has since come true!
Let's start with Doubleback. How's it going?
Drew Bledsoe: It's going as well or better than I anticipated. We came out pretty aggressive price-wise for a Washington wine, and I think the wine is standing up and justifying the prices, so we've sold out of the first two vintages very quickly and now we just need to make more wine. So we're growing. We acquired a new vineyard this year, which will help us accelerate our growth a little bit. But really on all fronts, the response has been great.
Chris, can you tell me how Doubleback came together. How did you and Drew kick it off?
CF: We were kind of set up on a blind date, if you will, by a cousin of mine who knew Drew better than I did in high school. I had known Drew in high school and knew his folks, and had the utmost admiration for his family, but I've seen money change people, so I kind of had my guard up. When we first met, back here in Walla Walla, I figured he'd be the same guy, but you never know. We just hit it off and realized we could put something special together pretty quick. One of my biggest fears was that he would think he knew a lot about wine, but not have a clue at all, and it turned out that he knew more than I thought he would.
DB: When he asked me what kind of wines I liked, the first thing out of my mouth was that I love Barolo, and I think that piqued his interest. Barolos and Brunellos, I just love those wines, mostly because they do so well with food.
How'd you get into wine? Would you ever go out to a steak dinner with teammates and order a bottle of wine? Did anyone really care what kind of a bottle it was?
DB: Yeah, particularly later in my career, there were a handful of guys who started to appreciate and learn about wine. It made it a lot of fun; we would go to dinner and order a bottle... obviously, if we were on the road and had a game the next day, we weren't going to drink 3 bottles. But we'd pick out a bottle with dinner and try something. Surprisingly, there are a lot of guys in the NFL who appreciate good wine.
Have you sent a bottle of Doubleback to Tom Brady?
DB: Yes, that's one of the things that's been pretty cool. One of the components of our packaging is that we hand number all the bottles, so I made sure that when all the guys that I played with ordered wine, they got their jersey number. Peyton Manning has 18 and Brady has 12.
Let's talk about Walla Walla and Washington's growing wine scene. Obviously you both have ties there, but wouldn't it be easier to do this in California? Why Walla Walla?
DB: A number of reasons, really. The obvious one being that Walla Walla is my hometown, but beyond that, I think that the fact that we're still relatively unknown compared to California is a great opportunity. The opportunity for growth here is huge. Even though the wine industry in Walla Walla has really taken off, it's still in its relative infancy. Beyond that, I felt like every time I opened a bottle of Washington wine, specifically from Walla Walla, I felt like I was getting a great value.
CF: It was actually an advantage that it was a Walla Walla project, instead of a Napa project, which would have been so obvious. It almost would have been impossible to get past the stigma of yeah, another Napa ego project, you know?
What's the story behind the name?
DB: I thought there would be this magical name that just fell out of the sky and that would be the name for the wine, but it was a much harder process. First of all, we wanted our name to reflect our story, leaving Walla Walla with this football odyssey and then doubling back and coming home. And then our logo is a D and a B that are linked together, and that's supposed to represent Chris and myself on our respective journeys: Chris becoming a rock star of the wine world and me traveling my own route. We wanted the package to be simple, memorable, and we wanted the name to be pronounceable. We wanted it to be something that people would recognize both the name and the package, and I think that we've accomplished that. It's a bottle that stands out.
OK Drew, I can't let you get away without your picks for the season and the Super Bowl...
DB: I think it's gonna be pretty hard to knock off the Packers. They won it last year and they had a lot of significant injuries, so I think they've got a chance to be even better this year than last year. The Patriots are going to be good again; they just seem to keep reloading. I think the sleeper team this year might be the Detroit Lions, of all teams. They've got a defense that looks legit. They've got a good young quarterback who's got some weapons. So they might surprise people this year.
So I'm gonna put it in the article that if the Lions win this year, they're getting a free case of Doubleback, right?
DB: There ya go.