Interview: DJ Irie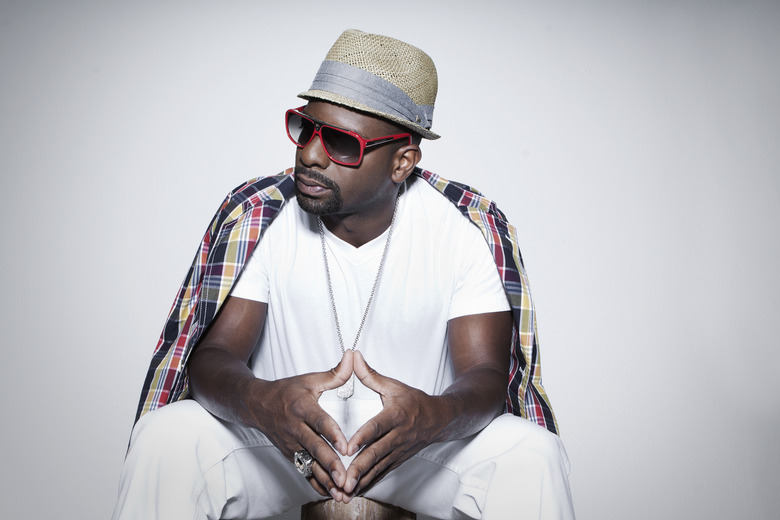 DJ Irie
The Miami-based spinner originally known as Ian Grosner has grown into the DJ Irie name (he's Jamaican), flashing his smile from behind the decks all over the world as Jamie Foxx's touring DJ, and at home as the first in-house DJ for any NBA team. LeBron and Dwyane may rule the hardcourt at the American Airlines Arena (when the league isn't on lockout), but it's Irie who brings the Heat from his courtside set-up, playing awesomely timed tunes to go with the action.
It's in the clubs where Irie's really made his mark though. The always upbeat dude's encyclopedic knowledge of everything from hip-hop to hard rock to pop has made him a fixture at Miami's hottest parties for the past decade. He's also been known to hop behind the decks in Vegas, NYC and the Bahamas. Such jetsetting has exposed Irie to a lot of food, which suits him fine since he loves to eat. Just not before a gig...
Who parties harder: Chefs or DJs?
This may come as a shocker but I'd have to say chefs party harder hands down. I've had some nights on the town with some well-known chefs and I've been the first to tap out every time.
If you get hungry during a set, what kinds of food do you snack on that won't get the equipment all greasy?
Well I'm ALWAYS hungry and have been caught munching in the middle of a set many times. I've found the best thing to eat during a set is anything on a skewer, like kabobs. The stick is the perfect medium for delivery to your mouth. Fast & clean, baby!
What's your favorite food city to visit while on tour?
Favorite food city by far is New Orleans. I just cannot miss going to restaurants like Drago's and Mother's. Coming in a close second is good ol' Los Angeles. Roscoe's House of Chicken & Waffles, The Fresh Market and Mastro's are all favorites.
Name three staples in your refrigerator.
Mustard, ice cold Heinekens and day-old Pucci's Pizza are always present.
What was the last meal you made at home?
Breakfast burritos.
Do you have any quirky (or strange) dietary habits?
Not really, but I have some crazy allergies to peanuts, wheat and corn. One interaction with those and I end up looking like Hitch!
The first food to hit your lips in the morning/afternoon is...?
Cuban toast. What can I say? I live in Miami.
Do you have any pre-show food rituals/habits?
Yes and that's NOT eating. I try my best NOT to eat before a show because I'm incapable of eating sparingly. When I eat I EAT, so I refrain from eating before shows so I can stay nimble, and then usually pig out right after the gig.
Any food or drink requirements for shows in your rider?
Some of the items you'll find on my hospitality rider are chicken wings (dry, with sauces on the side), almond Snickers bars, Skittles and Lays Original Potato Chips.
What was your earliest cooking memory as a child?
The first thing I ever tried to cook was a boiled egg. I just remember boiling it too long and the egg exploded. I've never tried to boil an egg since.
Send your best example of food porn you taken (everyone does it).
Ok you got me. This sexy lil' thing (fried oysters, at right) is from my last visit to Drago's in New Orleans.. I call it the grilled aphrodisiac.
Can you give us a playlist of songs you cook to?
Well, since I don't really cook, here is a list of fun food-related songs:
Kelis, "Milkshake"
Snoop Dogg, "Gin & Juice"
Raekwon, "Ice Cream"
Gucci Mane, "Lemonade"
Timbaland, Justin Timberlake, "Carry Out"
Ying Yang Twins, "Salt Shaker"
LL Cool J, "Pink Cookies in a Plastic Bag Getting Crushed by Buildings"
112, "Peaches & Cream"
Mariah Carey, "Honey (Bad Boy Remix)"
Mtume, "Juicy Fruit"
UB40, "Red Red Wine"
Flo Rida, "Sugar"
50 Cent, "Candy Shop"
Lil Wayne, "Lollipop"
69 Boyz, "Tootsie Roll"
Soul For Real, "Candy Rain"
Cameo, "Candy"
Listen to Irie's playlist: