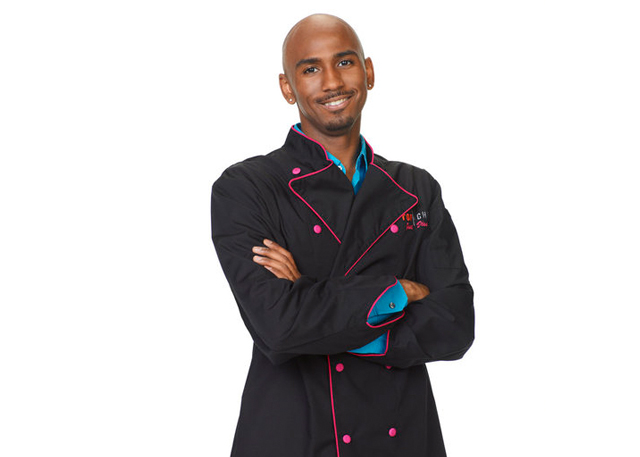 For any viewers who prefer the savory battles of Top Chef over the dessert drama of Top Chef Just Desserts, last night was the challenge for you. For the elimination, Gail Simmons brought out several flags from different countries and instructed the chefs to each choose one. Naturally, they assumed they would be making a dessert from said country, but in true Top Chef Just Desserts style, they were in for a big twist. Simmons dropped the bomb: Each chef had to create a dessert perfectly disguised as a savory dish from the country they chose. The contestants looked shell-shocked, and instead of the usual rush for supplies they sat in front of their empty notepads wondering what to make.
Sally, who chose Cuba, was particularly despondent, but in the end she whipped out a delectable looking "Cuban sandwich" which earned her a ticket to the finale. Orlando's Spanish paella, however, failed to meet the judges' approval and he was the last contestant sent home before the finale.
Orlando Santos told us about being at Judges' Table and how he would have changed his paella.
How was Judges' Table? Did you think what they had to say was fair?
Judges' Table is the most brutal task ever – it's not as easy as it seems. For the most part I thought what they had to say was interesting. Whether or not I agreed with it is a whole different matter. I have a very boisterous personality.
What would you have done differently if you could do the challenge over again?
I would have made the paellas in individual sauté pans to get the crunchy bottom that Hubert Keller mentioned. I don't think I could have fit many more ingredients in there though. I was very pleased with how the colors turned out and I would definitely have stuck with the paella dish.
How did you feel when they announced that the challenge would be dessert in disguise?
It was shocking. I completely expected to make a dessert from the country I chose.
Would you do another reality cooking show?
In a heartbeat.
What's next?
I'm taking a step back and evaluating to figure out what my next move will be.