How To Get Your Girlfriend Into Football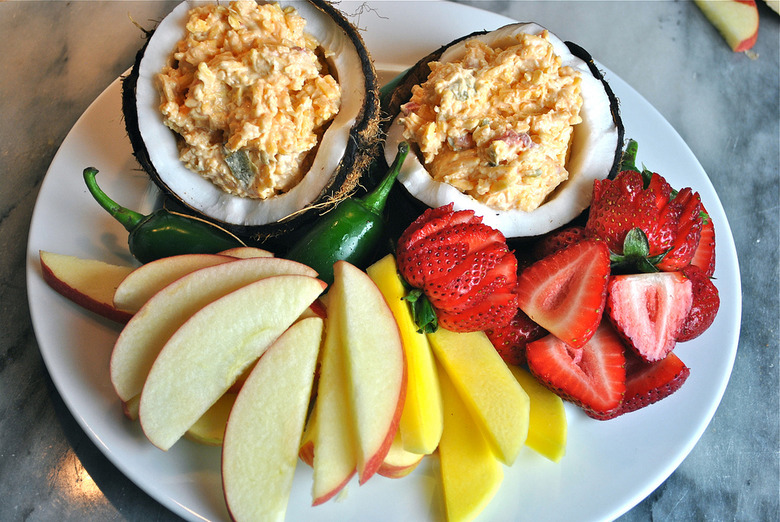 Pimento cheese plate
In the great gender divide, there are so many clichéd topics that separate men from women: motorcycles, asking for directions, the value of various types of poultry stuffed inside each other. The biggest category that separates us, however, is sports. That gender gap is never bigger than right now, when most guys just want to sit in front of a giant TV and watch football all weekend (and Monday night and Thursday night and sometimes Friday night). While we men may come from Mars with our love of turducken – it just seems wrong to women – our passion for sports should be completely understandable. But good luck explaining that to your girlfriend.
Trying to convince a woman to get interested in football is like trying to teach a cat to juggle. It just doesn't make sense to them. If you're lucky enough to have a football-loving lady in your life, hold on to her with all of your strength. She's a rare gem, that one. If you're like me, though, and your sig-o can't stand the sight of modern-day gladiators fighting over pigskin, then you've got your work cut out for you. So how do you convince your girl to get onboard the SportsCenter Express? With food, of course.
Food is the answer to most of life's questions and it works regardless of gender. Here's a tip, ladies: if you want to take a guy shopping with you, make sure the trip ends with burgers. The same applies for guys trying to get over the female-sports hurdle. If you make girl-friendly food part of the sports experience, your better half will hopefully get over her issues and chow down with the boys.
There are two main situations you have to prepare for. The first is actually going to a game. This can be pretty tough, especially if there's weather to contend with. A summertime Cubs game is one big party, but a mid-November afternoon at Soldier Field is more of a frozen battle – for the fans as much as the players. The key is the perfect tailgate. Start with a huge thermos of hot spiced something. With enough vodka mixed in, the cold just becomes part of the fun. Add some superstar tailgate food like these pimento cheese bites and you've got yourself a gender-blind celebration of sport. Who cares if you have to explain what a field goal is? At least you get to enjoy the game with someone who will keep you warm.
The second, and much more typical situation, is watching the game at home. When you're spending your whole weekend in front of the tube, it really cuts into quality time with your loved ones. That's why you have to really up your A-game with the food spread. Ditch the sausage platter and set up a make-your-own taco party. If your special someone is health-conscious or, Ditka-forbid, vegan, you can swap out the tortillas for lettuce wraps and offer some rajas in addition to your heartier meat options. Make the experience fun for her and she'll forget she's watching a football game altogether.
If food is the answer to all questions and compromise is the key to happy relationships, then compromising on game day food should be just the ticket to sharing kickoff with your sports-averse loved ones. Make a real goal-line stand with your halftime buffet and you'll be getting extra points in no time. Sports metaphors!
---